DuckDuckGo is Free, but They're Spending Millions on TV Advertising. Where's the Money Coming From?
We've written about DuckDuckGo search before and we've recommended it to those of you who think Google's tracking and accumulation of data is creepy. We've even written about DuckDuckGo's new browser – though, in our opinion, it's still not ready for prime time. But they are adding more compelling features which we'll review soon.
Recently. I've seen many advertisements for DuckDuckGo appearing quite frequently on TV. I'm not an avid TV watcher but I do some streaming in the evening and watch shows and movies on ad-support streaming TV apps like Pluto TV, Tubi TV, Freevee TV,  Plex TV, and others. I also watch some non-streaming TV, but not as often. At the bottom of this post, you can watch one of the DuckDuckGo ads that I've seen on TV.
I know that professionally produced TV advertisements are not cheap to make and airtime is not cheap, so my cynical brain said to me … "Hey! If DuckDuckGo is free, where are they getting millions of dollars to spend on TV advertising?" I am not very trusting of companies who claim to protect your data and privacy, and then turn around and spend millions on TV commercials that appear frequently across a variety of channels.
Skeptical me. There is an "old" saying: If you're using a service and not paying for it, then "you're not the customer, you're the product". So yeah, I'm skeptical that someone like DuckDuckGo can provide free search services, a free internet browser, and free private email addresses – and spend millions of dollars on advertising. Something just didn't add up.
Data is money — ask Facebook, Google, Apple, and Microsoft – all of which rake in gazillions of dollars by collecting user data. I looked at DuckDuckGo's flourish of TV ads with a jaded eye. So, I did some research about DuckDuckGo to see if I could find out how they make money – because we're not talking about a "mom & pop" shop – we're talking about a company that has always claimed they don't collect any data from their users yet is spending millions of dollars on TV advertising.
Here's what I found out about how DuckDuckGo…
DuckDuckGo makes money in two simple ways
Private ads
These are ads that are not targeted to you based on your personal information. Instead, they are targeted to the search results page you are viewing.
The advertising side is pretty simple. DuckDuckGo says that it is a myth that you have to track users to advertise. In fact, once a person enters a keyword into the search box, if that keyword could be related to a product then the search engine may return an ad within the results. For instance, if you're searching for "car insurance" then the search engine will return an ad related to car insurance. It's as simple as that.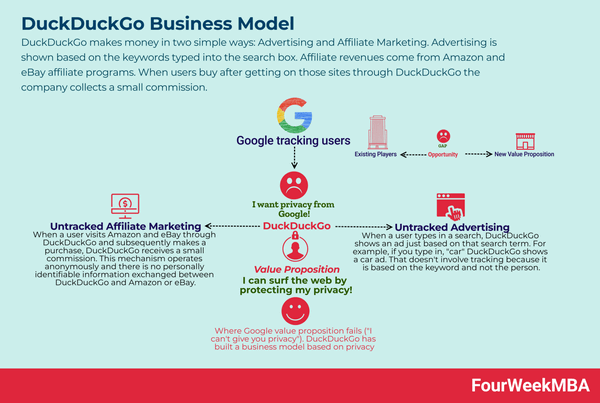 Image courtesy of FourWeekMBA.
Affiliate partnerships
DuckDuckGo has affiliate partnerships with some merchants, such as Amazon and eBay. When you click on an affiliate link on DuckDuckGo, and then make a purchase from the merchant, DuckDuckGo gets a small commission.
DuckDuckGo says… "Any affiliate links that appear in our regular organic links do not influence our ranking or relevancy functions in any way. That is, they are not advertising like paid placements or paid inclusions, and we only generate revenue from them if you ultimately find them relevant enough to end up purchasing an item. And just like our search advertising, they are not based on any profiling, because we don't do that. Using the Internet doesn't have to feel like you're being watched, listened to, and monitored…"
The company can make a lot of money through private ads and affiliate partnerships because they have such a large user base. In 2022, DuckDuckGo had over 120 million active users. This means that there are a lot of people who are seeing the ads and clicking on the affiliate links.
DuckDuckGo does not sell your personal data to anyone. This means they do not sell your search history, browsing history, or any other information about you.
DuckDuckGo is also working on other ways to make money, such as selling premium features and selling data anonymization services to businesses. But promises it will never make money by tracking its users or collecting data from its users and then selling that data.
From what I could find out, DuckDuckGo seems committed to protecting the privacy of its users. The company does not track users or collect any personal information about them. This is why DuckDuckGo is such a popular choice for users concerned about their privacy.
I'm skeptical about free stuff, however, I'm now convinced DuckDuckGo is a legitimate, trustworthy company that seems committed to protecting its users privacy.
Watch one of DuckDuckGo's many TV advertisements below…