Cleanmgr+
Windows Disk Cleanup has been around since Windows 95. It's been the venerable disk cleanup that many people have used for years. You can still run it in Windows 10 through version 1903 by typing CLEANMGR.EXE in taskbar search and pressing Enter.
However, nothing lasts forever. Microsoft is retiring Windows Disk Cleanup and replacing it with Storage Sense. You can read more about that here.
One developer says – not so fast there Microsoft, and has taken Windows Disk Cleanup, modernized it a bit, added a few new features and renamed it Cleanmgr +.  Cleanmgr+ is available free to anyone who wants it. So, those who do not like Storage Sense, or who miss Disk Cleanup have an alternative that's very much like Windows Disk Cleanup only updated and with more features.
Here's what the developer has to say:
A  Improved Replacement for Microsoft Disk Cleanup

Disk Cleanup (Cleanmgr.exe) is a Microsoft software utility first introduced with Windows 98 and included in all subsequent releases of Windows. It allows users to remove files that are no longer needed or that can be safely deleted.

With Windows 10 Microsoft will be retiring Disk Cleanup tool and replace it with Storage Sense. Cleanmgr+ is a modern take of Microsoft Disk Cleanup and comes with all the features that the original Cleanmgr.exe offers plus several extra ones. It uses identical technical terms and descriptions and does exactly the same thing that the classic Windows Disk Clean-up utility does.

Info

For a more thorough clean-up, please run Cleanmgr+ as Administrator, i.e. for a Windows update cleanup, the Windows update service needs to be stopped and restarted by Cleanmgr+ Therefore administrative privileges are required. Windows Smartscreen, Google Chrome and some other antivirus engines may warn you from downloading this program. This is caused to the small user base. Sadly I can't change anything about that. Cleanmgr+ is currently seven weeks old.

Currently also several AV Engines are hitting alarm. All these reports are false positive messages…

I'm working with AV vendors and requests for whitelisting are in progress. Please report these false positive messages also to your AV vendor to speed up the process.
Indeed, we feel his pain. When we tested Cleanmgr+ the only thing that balked at it was Windows Smart Screen, which we refer to sometimes as DumbScreen.
It's too bad that Microsoft can't fix Windows SmartScreen so it actually lives up to its name. Just because a program is not widely downloaded, comes from an obscure developer, or is new, does not make the program dangerous or bad.
When we saw that Cleanmgr+ raised the ire of SmartScreen we almost decided not to feature it. But that would not be fair to the developer or to anyone looking for a long-range replacement for the soon-to-be-retired Windows Disk Cleanup.
So if you download Cleanmgr+, you're going to see this when you unzip it and try to run the program: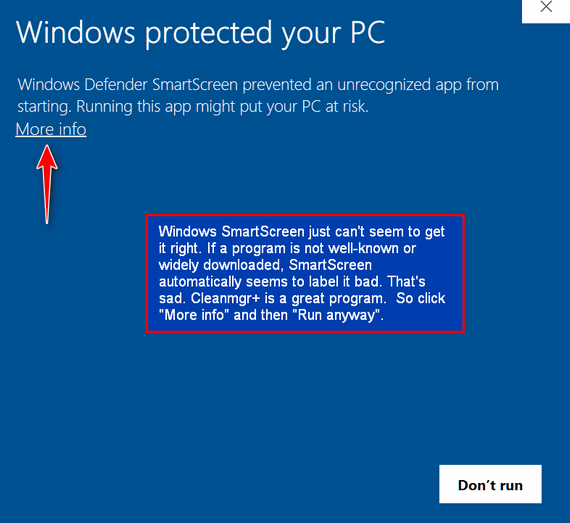 And it's scary, but do not fear. Don't let Windows SmartScreen keep you from using a really nice program.
Click "More info" then click "Run anyway".
Cleanmg+ does not install. It comes as a zip file. Just unzip it and run the exe file – no installation required. We suggest when you do unzip it, that you right-click on the exe file and choose "Pin to Start" so you can run whenever you want to.
Cleanmgr+ has all the familiar features of Windows Disk Cleanup and then some. One of the nicest things about Cleanmgr+ is that you can choose any of the options and get a simple definition of what it does. And another nice feature is that you can preview your cleanup before you actually run it.
About the only area where users could get themselves in trouble is by clicking the box next to "Previous Windows installations". If you upgrade to a newer version of Windows 10, the previous installation gives you the option to go back to the previous version of Windows. So, caution is needed here. If you install a new version of Windows 10 and you're sure all is well, you can remove the previous Windows installation. Keep in mind too, Windows will automatically remove the previous installation after 10 days. So, we recommend you leave that box next to "Previous Windows installations, unchecked.
Here are some screenshots from Cleanmgr+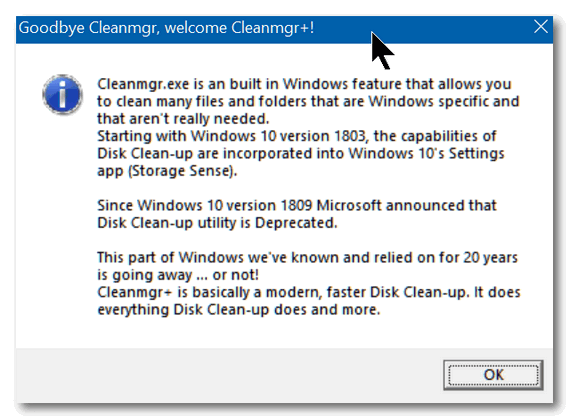 Above: Opening message from Cleanmgr+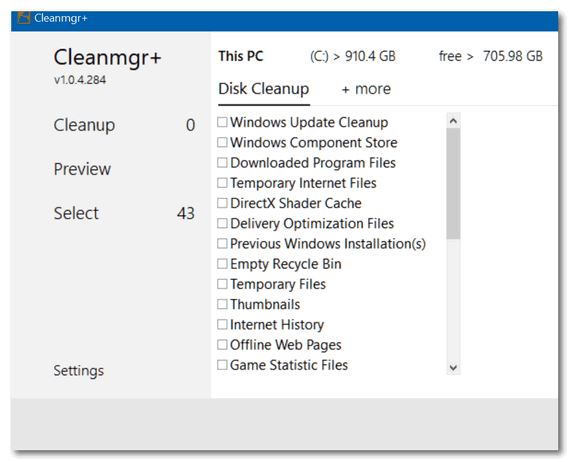 Above: The Cleanmgr+ interface. You can see it resembles Windows Disk Cleanup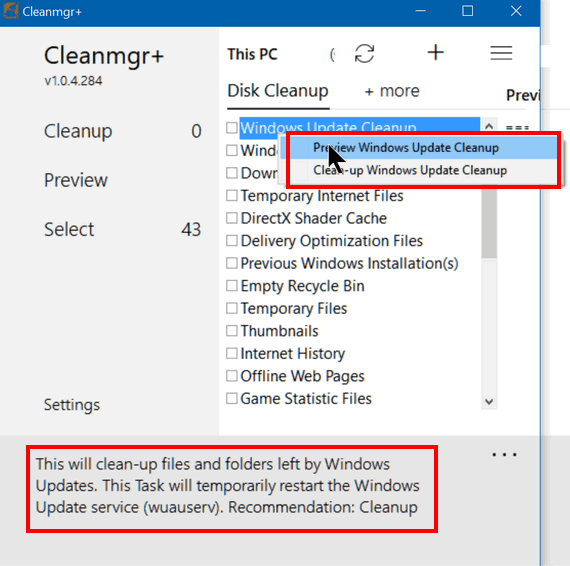 Above: Choose any option and you'll find out what it does. Notice you can run Cleanmgr+ in preview mode to see exactly what is being cleaned up.
Running Cleanmgr+ in my test run cleared up 2.44 GB of space.
Windows Disk Cleanup will soon be retired, but you now have an option. Learn more about Cleanmgr+ and/or download it here.