How to Find the Default User Name and Password Of Almost Any Router
New routers all come with the information you need to access the router. Some have no passwords at all, but most have default usernames and passwords you can use to access the router's settings and features.  Every router brand we know of urges users to change their router passwords, but many folks don't.
So what happens if you bought your router 2 years ago and you threw out the box and the information that came with your router. Now you need to access your router, but you don't have a clue how to do that.
That's where a little freeware program called Router Default Passwords comes in mighty handy. Just download it, unzip it and run it – no installation necessary.  To run the program after you unzip it, just click on the RouterDP application.
When you first run it, it will scan your network and give you a link (see below) to access your router. Clicking the link opens the router's settings and control panel where you change turn features on or off and/or change the router's settings.
You will need a password to log in to your router's settings and control panel.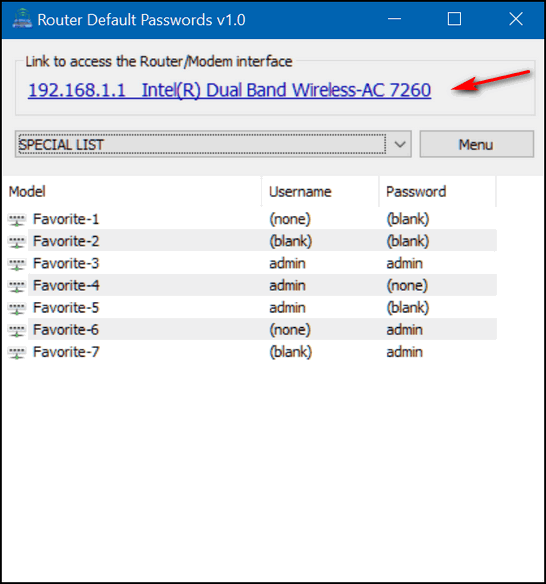 If you haven't changed your password (i.e. it's still at factory default) you can find the default password using the program. If you're trying to find the default password for your router brand, switch the list view from SPECIAL LIST to SHOW All LIST:

Once you've changed the list views to SHOW ALL LIST, scroll though the list to find your router brand and model and you'll see the various username and password combinations for your router brand and model – as well as some generic usernames and passwords for your router brand.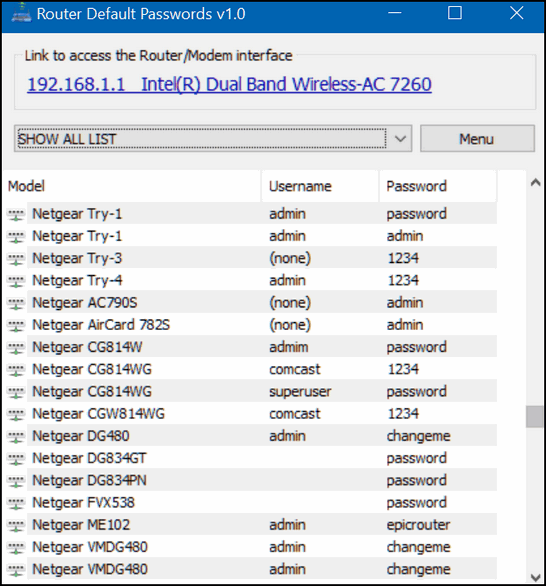 When you find your router, you can right-click on it and copy the username and password. And hopefully, you'll be able to log in.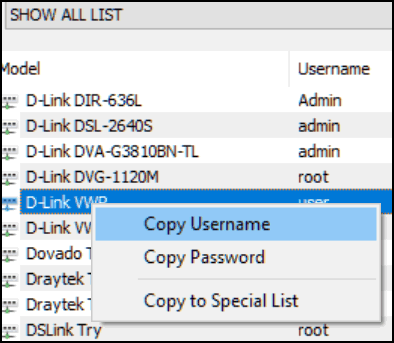 But what happens if you have changed your router username and password (like you should have 🙂 ) …what can you do then? If you forgot the router's password, you can reset the router to its default factory settings. To do this, press and hold the Reset button for 10 seconds or whatever is recommended by your router manufacturer. (See your router manufacturer's website if you can't find the reset button on your router).
Resetting your router to its default factory settings will also reset your router's password to its default settings. Then you can use the default password/username you can find in the lists included with the Router Default Passwords program.
You can read more and/or download Router Default Passwords freeware from this page.