How to Put Control Panel Back On Your Win X Menu in Windows 10 Creators Update
IMPORTANT: YOU MUST BE LOGGED IN WITH AN ADMINISTRATOR ACCOUNT TO USE THIS TIP
Those of you who have installed Windows 10 Creators Update (Version 1703) have noticed that Control Panel has been replaced by "Settings" on the Windows 10 Creators Update (Version 1703) Win X menu. The Win X menu is menu you see when you right-click on the Start button, or press the Windows Key + the X key.
We've covered how to add a Control Panel shortcut to your desktop, Start menu and taskbar in Windows 10 version 1703, but I noticed that I had become so used to right-clicking the Start button and clicking on Control Panel, that I'm still doing it in Windows 10 version 1703, even though I know it's not there. But where there's a will, there's a way.
Today, we are going to show you a very simple way to get Control Panel back on the Win X menu.
Right-click on your desktop and choose "New" then "Shortcut"
In the location field type(or copy & paste) this:

Click Next and name the shortcut Control Panel
Now, right-click on your Start button and choose Run. Paste the following in the Run dialog:
%LocalAppData%\Microsoft\Windows\WinX
You'll see the following Explorer window open:

Drag the Control Panel into one of these folders named Group 1, Group 2, Group 3. We recommend Group 2 since that will put Control Panel back where it was on the Win X menu before you updated to the Creators Update (version 1703). When you drag and drop the Control Panel shortcut into the folders named Group 1, Group 2, or Group 3, you'll see that it just shows up as "Control" – and not Control Panel. But you'll see another item in the folder name Group2 called, Control Panel. Interesting. It's not Control Panel as you know it, it's Settings, and it appears on the Win  X menu as "Settings" too.

Once you've dragged the Control Panel into Group1, Group2, or Group3 folder, it will appear on your Win X menu.
Below you'll see the areas of the Win X menu corresponding to the Group1, Group2, Group3 folders.

Since I dragged my Control Panel shortcut into the folder named Group2, my Control Panel shows in the same part of the Win X menu as it did in previous versions of Windows 10 (see the screen shot below). You can drag & drop the Control Panel into any one of the Group folders. The location of the Control Panel link on your Win X menu depends on which Group folder you drag the shortcut in to.
I'll still vote for the Group2 folder. How about you?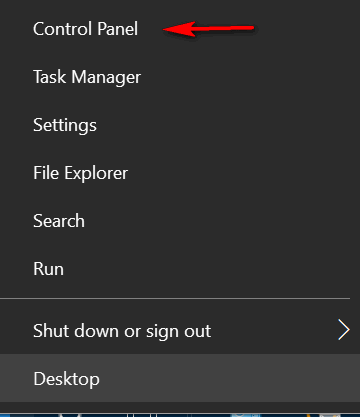 If you're not logged on as an administrator, this tip will not work for you. If you're looking for a freeware app that does the same thing (and with admin privileges) see this page.