Saturday Bonus Questions and Answers – 021922
It's hard to believe the weekend is here already… and you know what that means. It's time for more Bonus Questions & Answers.
Sometimes the best tips and tricks are hidden in the questions and answers we publish. And rarely do we post questions and answers on this website. Today, we're featuring some of the questions and answers from past issues of our InfoAve Weekly newsletters. 
These answers were selected at random from past InfoAve Weekly newsletters.
---
Saturday Bonus Questions and Answers – 021922
Jean is concerned because Windows shows her recovery drive is nearly out of space
I am a bit concerned about my laptop because my son was using it last week, but I don't know whether this problem is a result of his usage or if it just happened. When I click on This PC Devices and Drives, this page has just changed and shows me that Recovery Drive has 3.08GB free from 27.69GB. I don't know anything about this drive, but I am worried that my laptop is going to crash or cost me a heap of money to repair. I'm really sorry if this doesn't make sense to you but I'm an 83year old not very technical-minded with today's world, I struggle a lot but am really thankful for being able to receive your newsletter. You are wonderful xx. Kindest regards and Thank You, Jean.
Our answer
Hi Jean. Thank you!
On HP computers, and I'm sure on other brands of computers too, there's a recovery drive. It will show almost full as yours does. It's supposed to. Sometimes Windows will show a red warning on the drive because it's nearly full – or because users have added something to it. It's possible that your son added things to that drive which he shouldn't have done – but adding things won't make it unusable. The only time you'd ever use the recovery drive is if you were going to do a factory reset. And with Windows 10 that's not very likely since Windows 10 has 4 recovery options available to you that do not use the manufacturer's "recovery drive" those options are:
1. Reset your computer and keep your files. (This reinstalls Windows, and lets you keep your personal files.)
2. Reset your computer and remove everything. (This reinstalls Windows and wipes all files and folders.)
3. Reset your computer and wipe everything. (This formats your drive and clean installs Windows.)
What all this means is that it is very unlikely you'd ever have to do a factory reset and actually use the recovery drive.
Thanks for your nice comments, Jean.
—–
Jean wrote back: "Hi TC. Oh, you are so wonderful, giving me such a detailed answer to my query. I was so worried when I sent the query, but you really made my day, BLESS YOU I will be making a donation later you are really worth it. Thanks so very much. Jean."
---
Bonnie's text size on her Windows 10 PC suddenly became very tiny
Hi Darcy and TC. It's me again, bugging you two. How do I change the font size in my control panel and the font size on the start button panel etc.? It's so small I can barely read it. It all started yesterday I don't know if it's something I did or what. But it is tiny! Thanks and God bless, Bonnie
Our answer
Hi Bonnie. Thanks!
To fix your tiny font problem, do this:  Press and hold down the Windows key and tap the U key. This opens the Ease of Access center.
Under Display > Make text bigger. Use the slider to make it as big as you need it to be.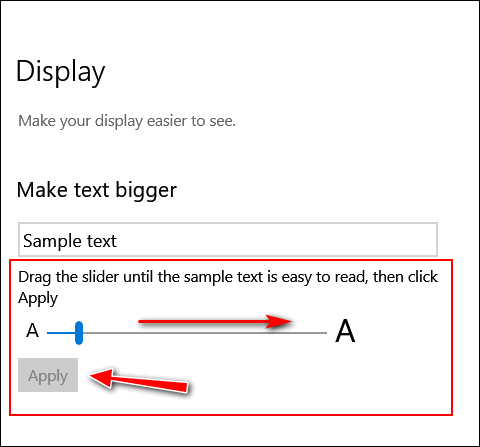 Click "Apply" and that's it.
You may have to restart your computer to see the changes.
—————–
Bonnie wrote back: "Thank you so much. It's working now. I have no idea what I did wrong, but it had to be me hitting the wrong button and the wrong time. Thanks again, Bonnie."
---
Terry's right-click function on Windows 10 no longer works
The right-click function on my Windows 10 laptop has stopped working. It is driving me crazy because I used that feature all the time. I really miss being able to quickly right-click when I need to. I have been using Windows 10 for 3 years and I have never had any trouble with it until now. Do you have any advice for me? Thanks, Terry.
Our answer
Hi Terry. Have you tried this simple fix?
1. Shut down your PC completely (all power lights off)
2. Wait for 4 or 5 minutes.
3. Turn on your computer.
4. Let Windows 10 load completely.
5. Try your computer and check to see if you still have problems.
If you still have the right-click problem, follow the alternate instructions on this page.
I hope this helps you, Terry.
——-
Terry wrote back: "It Worked! Thanks a lot. I can't believe that just by shutting off my computer for a few minutes fixed my annoying problem. You guys are great! Thanks, Terry"
---
Carolyn can't find System Restore on Windows 10 anymore
Just a quick question. I used to be able to fix some problems with the computer by running "System Restore" and it was quick and easy. But now I can no longer access the setting to create a restore point or to run System Restore. Did Microsoft remove System Restore with the latest update or am I missing something?
Our answer
Hi Carolyn. You'll be happy to know that System Restore is alive and well on the current versions of Windows 10 and Windows 11.
To create a restore point, just type RESTORE in taskbar search and you'll see this: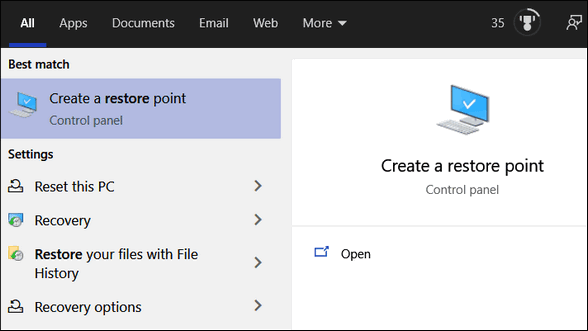 If you want to use a restore point to restore your computer to a previous time:
1. Right-click the Start button
2. Click "Run"
3. Type RSTRUI in the run box and press Enter and you'll see this: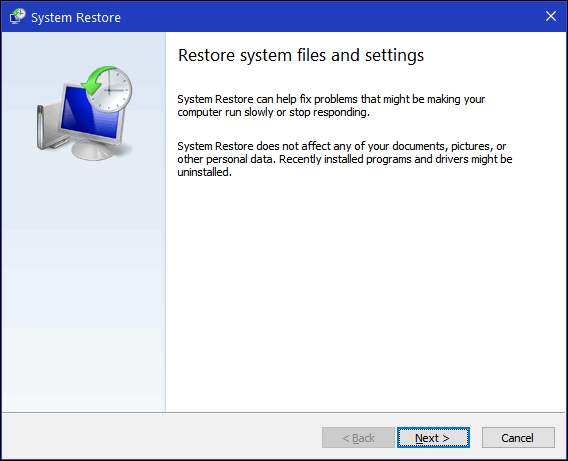 Let us know if this helps you, Carolyn.
——-
Carolyn wrote back: "You guys make everything seem so simple! That's why I love your newsletters and your tips & tricks! Thanks so much! Carolyn."
---
Debbie is looking for fonts
I am using Windows 10. I'm looking for script and handwriting-type fonts. I'm hoping you can steer me in the right direction. Where can I find nice fonts without getting infected with malware? I would really like free fonts, but I want them to be from safe sites without risking getting infected. Thanks, Debbie.
Our answer
Hi Debbie. You're in luck. We have a tip on our InfoAve website that lists three safe sites from which you can download some really great fonts for free. Additionally, we show you how to install, find and preview fonts on Windows 10.
See our 3 site picks for fonts as well as how to install and preview fonts on Windows 10.
We hope this helps you, Debbie!
---
Bob asks about a BSOD (Blue Screen of Death)
Hi TC & EB. Tonight as I was about to power off my desktop PC it went to a Blue Screen and said it was restarting and what failed was "tcpipsys" with SYSTEM SERVICE EXCEPTION in all caps. It seems to be working okay but should I do something or worry that my PC is on its last legs? Thank you.
Our answer
Hi Robert. If you only get a BSOD (Blue Screen) once in a blue moon you don't need to worry. It's usually a hardware fault that won't occur again. But if you get them frequently such as every day or two, you might have a hardware issue that needs to be fixed.
I think every Windows user has seen a Blue Screen at some time or other. If this is the first one you've seen or the first one you've seen in a long time, don't worry about it. Seeing one does not meet your computer is chomping on its last byte.
I hope this eases your mind.
————
Robert wrote back: "Thank you TC for the reply. This is the first Blue Screen I have seen on any of my machines since my original 1995 Gateway model with 562 MB of RAM (powerful eh?) and I have had a few machines since then. You and EB always ease my mind when I see anything of yours online. Thank you again. Robert."
---
Dick asks about Windows 10 installation media
To my favorite duo: Quick question if you don't mind. Would it be beneficial to create a Windows 10 Installation USB Flash Drive (or disk) after each of the Windows semi-annual feature updates? Or would the creation of just one suffice if ever needed? I want to thank you for taking the time to answer this in your busy schedule. Take care and may God Bless the two of you,
Our answer
Hi Dick. Thanks so much for your long-time support and your kind comments.
You only need to create one Windows 10 installation USB. If/when you use it will automatically download any updates. While you can create a new installation USB flash drive or DVD each time there's a major version update, it's not necessary and it wouldn't really save you much time.
I hope this helps you, Dick.
---
Sheryl has a search engine hijacker
How do I stop hphemailaccesshere from popping up on my computer? When I run Emsisoft it doesn't find malware on my computer. I thought that's what this was? Can you help? Thanks so much. Warmly, Sheryl.
Our answer
Hi Sheryl. It's a browser extension (search hijacker) that you installed – most likely by mistake or by accident.  It most likely came bundled with a freeware program you installed.
The best way to get rid of it is to reset your browser. We have written tutorials on to do this for the 3 most popular browsers:
Click here to learn how to reset Chrome.
Click here to learn how to reset Microsoft Edge
Click here to learn to reset Firefox.
Once you reset your browser, it would be a good idea to restart your computer.
——-
Sheryl wrote back: "Hello. Thank you so much for the tutorials… it got rid of my browser hijacker. I sure appreciate the help. Warmly, Sheryl "
---
Beverly wants to stop repetitive spam emails
Hi EB & TC, I still enjoy your newsletters with so much info to peruse over or to find answers to any issues. wish to show you a Spam I got 2 days ago. How bold they are and to try and take advantage of people. So disappointing but at least with you folks we learned to recognize. I need to know how to stop repetitive spam e-mails which are so aggravating. Every day I have to add them to the spam folder I use in Windows 10. I add to Block Sender, add to Spam Folder and every day same ones.
Our answer
Hi Beverly. If we had the secret to stop repetitive or all spam emails, we would be millionaires! We've tried every anti-spam program known to mankind and the trouble with all of them is they let some spam through – but put good email in the spam folder.
There is no secret. We control spam – we cannot stop it. We received thousands of emails every week and we see very little if any spam. It's no secret because we share it with everyone.
If you want to learn how to control spam the way we control spam, take a look at the following page:
https://www.thundercloud.net/infoave/new/control-spam-the-way-we-control-spam/.
This is how we manage spam and it just plain works.
One more thing…The miscreants that send spam don't use real email addresses to send them from, they use forged or stolen email addresses with forged headers to make identifying or blocking the real sender nearly impossible. It takes a lot of digging through email headers to identify the real source of the spam. Google's spam algorithms work so well at picking up and identifying spam, we rarely get any spam in our inbox, but our spam folder fills up quickly. Every week or so we look in the spam folder to make sure no good email was mistakenly sent to the spam folder – and very rarely do we ever find a legitimate email in the spam folder – or a spam email in our inbox. Nothing's perfect, but Google spam algorithms are as close to perfect as they can be.
We hope this helps you, Beverly.
---
Darlene has a browser opening to a search page on startup
Every time I open Windows. it opens with Edge on a Bing search page, even though I have set Chrome as my default browser in Windows Settings. Is there any way to stop this?
As soon as that page closes, a window opens with a little message telling me that if I want to continue using Handy Address Book, I will need to purchase a license. As soon as I click okay, another mini-window opens asking me if I want to buy Handy Address Book. I click no, then I have to go up to the corner to close the page of Handy Address
Our answer
First, neither Chrome nor Edge should be in your Startups. Open Task Manager and click on the Startup Tab and right-click on Edge and disable it. Disable Bing if it's there. Disable Chrome if it's in Startups and disable "Address book" too, if it's listed in Startups.
Next, you'll need to reset both Edge and Chrome. I am guessing "Address Book" is not something installed on Windows, it's something added to your browser. And it's almost certainly something that you don't need or want: malware or a PUP.
I hope this helps you, Darlene.
---

The Best Computer Care and Repair – Anywhere!
We can fix your computer while you watch. You never have to leave your home. Just sit back, relax, and watch us work. Get PC service from folks you trust at the best prices you'll find anywhere.
---
Ted's laptop screen went black
My laptop just went black yesterday; it will not boot on or to any menu. I get a black screen with no activity other than a slight sound when turning on or off but nothing on the screen at all. Is there anything I can try or is it history? Yes, I have I do have it backed up.  Thanks, Ted.
Our answer
Hi Ted. Try this. Make sure the laptop is turned off. Unplug the laptop from the power source (if it's plugged in). After it's unplugged, if it has a removable battery, remove the battery. Leave the computer off for 5 minutes. Plug the computer back into a power source, replace the battery, hold down the SHIFT key, and while continuing to hold down the SHIFT key turn the laptop on. Keep holding down the SHIFT key and hopefully, you'll see Advanced Boot Options appear. If you get that far, click on Troubleshooting in the Advanced Boot Options menu and run Startup Repair.
If that does not work, you can try this: 
Turn your computer on using the power switch – when you see the manufacturer's logo (HP, Dell, Lenovo, Acer, etc.) turn the power off. Repeat this. The third time you do this you should see the Advanced Boot Options menu > Startup repair.
If you cannot boot to the Advanced Boot Options menu, you can try to boot with a Windows 10 installation disc or Windows 10 USB installation drive. If you don't have one of these, you can create installation media at any time. If you need help with this, let us know.
---
Jim has a strange search tab on his Chrome browser
I have a search tab button that just appeared after I updated chrome. It is a black circle with an inverted triangle. I find it annoying. I have tried to find out how to delete it without any luck. This is on my laptop – my desktop does not have this. I have tried to attach a screenshot with no luck
Our answer
Hi Jim. I think you enabled Chrome's "Tab search" by accident. To check, copy and paste the following into Chrome's address bar:
chrome://flags/#enable-tab-search
You can disable it from that location. It should be the first option on the list.
I hope this helps you, Jim.
—–
Jim wrote back: "Hi. Thanks so much for this information. It worked. I don't know how I turned it on, but it is gone. Jim"
---
Andrew wants to format a flash drive
Dear Darcy & TC. In the past, you have recommended Puran File Recovery to recover deleted files on a USB memory stick. I have found this software invaluable; thank you for your recommendation. However, I now wish to securely delete all data on a USB memory stick so that all items are irrecoverable (even when using file recovery software) in order to pass the memory stick on to friends or my children. Can you please recommend a suitable software program that will permanently erase all the data on the memory stick but that will not damage the stick?
Thank you in anticipation of your most valued advice and too for your treasured weekly and daily newsletters. Andrew
Our answer
Hi Andrew. Thanks for your nice comments. You don't need a program to format a flash drive or any drive. You can use Windows File Explorer.
Here's how to format a USB flash drive using File Explorer:
1. Open File Explorer (Windows Key + E)
2. Click on This PC from the left pane.
3. Right-click on the flash drive and select the Format option.
4. Use the "File system" drop-down menu and select the NTFS option.
5. In the "Allocation unit size" leave it set to default.
6. In the "Volume label" field, you can type in a descriptive name for example "16GB_Flash" (no quotes) or just leave it blank.
7. Under the "Format options" section, select the Quick format option. Unless the person you're giving it to is a forensic expert, Quick Format is fine. If you don't want to take any chances uncheck "Quick Format" this will set up a full format (which takes a lot longer) but any data that was on the drive will not be recoverable.
8. Click the Start button
9. Click the Yes button.
Once the format is complete the drive will be empty and ready to use.
——–
Andrew wrote back: "Dear TC. Thank you for your prompt reply and excellent advice and information. Your help and assistance are much appreciated and greatly valued. Thank you so much for being there and for the vast knowledge that you kindly share with others. Please take care and keep safe. Best wishes, Andrew.
---
Suzanne wants a Gmail shortcut on her desktop & she wants Cloudie also
A few newsletters back you told us how to put an icon for Gmail and Cloudie the dragon on the desktop. Now I cannot find those instructions. Can you help me? Thank you for your help and keep up the good work.
Our answer
Hi Suzanne. We haven't featured either of these in my recent memory. But we'll try to help you to do both.
You can put the Cloudie icon on your desktop by creating a shortcut to any of our Cloudeight pages.
1. Right-click on your desktop
2. Click "New" > "Shortcut"
3. Under "Type the location of the item" type the URL to any of our pages. For example:
https://thundercloud.net/infoave/new/index.htm  (our Tips & Tricks site) or https://thudercloud.net/start/index.htm (our Start page).
Then, click "Next".
Under "Type a name for this shortcut" you can use whatever you like that will help you recognize it, for instance, Cloudeight Tips & Tricks or Cloudeight Start Page. Then click "Finish".
And when you're done, you'll have a shortcut with Cloudie on your desktop.

Now, let's do the Gmail Shortcut
Here's the correct way to create a Gmail shortcut on your taskbar.
If after you create a shortcut to Gmail on your taskbar, you still feel you need a desktop shortcut to Gmail, do this:
1.  Right-click on the Gmail taskbar shortcut you created by following the instructions in our tutorial.
2.  Right-click on "Gmail" in the menu that appears, then click "Pin to Start".
3.  Open your Start menu, find Gmail, and right-click on it. Click on "More" then choose "Open File Location"
4.  Right-click the Gmail shortcut and choose "Send to > Desktop (Create shortcut)".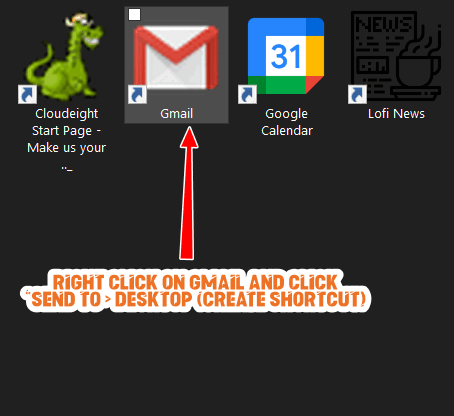 We hope this helps you, Suzanne.
---
Lindsay can't get rid of a program on the Start menu
Hi. Initially installed an app via Microsoft Edge. This app was later uninstalled and does not appear anywhere on my PC, but the app's description remains in the Start menu. Any ideas as to how I can remove this leftover description from the start menu? Thank you in advance for any help with this annoying anomaly. Lindsay.
Our answer
Hi Lindsay. We run into this quite often when we work on computers with our Cloudeight Direct Computer Care service. We wrote an article about the same problem you're having – a program being removed but items related to that program still remain in the Start menu. You can read that article here.
Another way to do it (and this will sound rather strange, but it works) is to reinstall the problem-causing program, and then immediately uninstall it.
I hope this helps you, Lindsay. If you need anything else, please let us know.
———
Lindsay wrote back: "Hi TC. Thanks so much for your prompt reply to my problem. Thanks to you the problem is solved. I used the reinstall then uninstall method recommended by you and it was successful. Thank you for all you do for us old guys that use PCs as a hobby. Lindsay"
---
Audrey says Microsoft called
I received a phone call this morning and it was Windows saying that I have had a lot of errors on my account. How do they know? Do they usually call a person? I never said any of my information and just told her I will have the person who looks after my accounts look at it. The lady who called had an accent. Did I do the right thing?
Our answer
Hi Audrey. You were almost the victim of a scam. Microsoft NEVER calls Windows users out of the blue. Never. So, yes you did the right thing by not letting her on your computer and by not taking instructions from her.
There is only one way Microsoft will ever call you and that's if you contact Microsoft as outlined on this page and set up a call-back time. Otherwise, if you receive a call saying it's Microsoft calling and they tell you something's wrong with your computer- it is ALWAYS a scam.
You did the right thing, Audrey… good job!
---
Wait! Before you go…
Every week we help dozens of people with their computers without charge or any expectation of payment. And we have helped many folks who have fallen for tech support scams or other scams designed to steal their money.
And we now depend more on readers like you to help keep us going. Your donation helps us to help more people with their computers and helps us keep everyone safer online.
Please help support our small business and help us to keep on helping you.