Saturday Bonus Questions and Answers – 041622
It's Easter weekend and it's Saturday. And that means it's time for our Saturday Bonus Questions & Answers.
Sometimes the best tips and tricks are hidden in the questions and answers we publish. And rarely do we post questions and answers on this website. Today, we're featuring some of the questions and answers from past issues of our InfoAve Weekly newsletters. 
These answers were selected at random from past InfoAve Weekly newsletters.
---
Saturday Bonus Questions and Answers – 041622
Tammy wants to know what PDF conversion site we recommend
There are so many sites that convert PDF files to work. I'm afraid to try them without some guidance. What site do you recommend for converting PDF files to Word? Any help is appreciated. Thanks, Tammy.
Our answer
Hi Tammy. There are many PDF conversion sites online. I tried three of them today and this one seems to me to be the easiest to use and works very well.
Just click on "Select a file to convert" and Windows Explorer opens. Navigate to the PDF file you want to convert and click "Convert". When it's done you'll see a download link to download your Word document. You can do as many as you like, just click "Do another conversion." I did 3 PDF to Word conversions in less than 2 minutes.
We hope this helps you, Tammy.
---
Cathy's computer becomes non-responsive
My desktop computer keeps freezing and nothing responds. I can't even bring up the CTRL+ALT+DELETE to turn it off. Then I have to shut down the computer by using the power button. After I do this it starts working again but when I walk away from the computer and come back later it does not respond.
I have to shut it down again using the power button. Was there an update that may cause this to happen? It's been doing this for 2 days now. Is there anything I can do to fix it? I have windows 10…Thanks, Cathy
Our answer
Hi Cathy. I wish I could give you a simple one-two-three presto answer, but I cannot. This is the kind of thing we work on almost every day with our Cloudeight Direct Computer Care service. It could be too many programs running at Windows startup. Open Task Manager, click the Startup tab and disable as many startup programs as you can. Be careful not to disable your antivirus, sound, and graphics.
It could be Windows corruption. You can try running SFC and DISM scans to see if they help.
It could be you have only 4GB of RAM which is not enough to do extensive multitasking. You should have at least 8GB of RAM. To find how much RAM (memory) you have, type ABOUT in the taskbar search and press Enter when you see "About your PC" appear in the search results. Look next to "Installed RAM" in About Your PC. You can add RAM inexpensively.
It may be Windows search indexing and SysMain (SuperFetch) services using up too much CPU (processor) or RAM or disk.
It could be dozens of other things. Sometimes when we work on a PC it takes us a while to diagnose the problem. There is no easy answer.
I hope something in our answer helps you to pinpoint your problem. Or if you want us to look at it, we'd be happy to. You can buy our repair keys here.
---
Leora doesn't want Windows 11
I do not want Windows 11. I don't think my computer can handle it but I want to make sure I don't get it. What do I do to make sure I don't? Thank you. Leora.
Our answer
Hi Leora. Microsoft is not going to force you to upgrade to Windows 11 even if your computer supports it. It will be an optional update until October 84, 2025. And if you should install it by mistake, you have 10 days to go back to Windows 10 without losing anything.
Just an FYI: After using Windows 11 for a few months now, I think the press has not been fair. Keep in mind that Windows 11 was supposed to be Windows 10 21H2 "Sun Valley" – it did not start out to be a completely new operating system. And honestly, those who do move from Windows 10 to Windows 11 will find it a lot smaller leap than going from Windows 7 to Windows 10 or even Windows 8 to Windows 10.
But no worries – it will be an available update but it will not install automatically – at least that is what Microsoft is saying at this point. And Windows 10 is safe to use until October 14, 2025. 
---
Dennis appears to be getting a lot of spam
Some guys might enjoy it, but I am so fed up with getting invited by the "ladies" at various email locations but all the email addresses end with appspot.com. Using outook.com, I block them but they keep at it. Is there a way to block an address that has several dots before ending with the final ".appspot.com"?
Our answer
Hi Dennis. This sounds like spam to me. Since you're using an Outlook.com address, you'll be glad to know that you can block entire domains in Outlook.com. I cannot tell by your question whether you're using Outlook.com on the Web or the Outlook email client on your PC. Either way, this should work.
Log in to your Outlook.com on the web.
1. After you log in to your account click the gear icon in the upper right. In Outlook settings choose View all settings.
2. In Outlook settings, choose Mail > Junk email.
3. Under Blocked senders and domains, choose Add.
4. Enter a domain name appspot.com and click Save.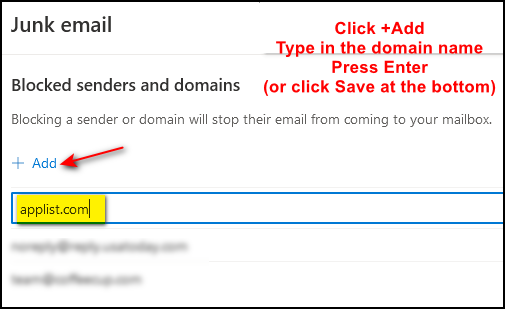 Once you press Enter or click "Save" you'll see the name appear below as a blocked domain.
All mail that comes from appspot.com will be trashed.
We hope this helps you. Dennis.
---
Gary asks about Firefox and "Google"
Hello Darcy: For some time I have been using Firefox. Just a day or so ago Google comes up as my go-to search engine even though I click on the Firefox icon. Is there any fix for this or am I stuck with Microsoft abusing its power? Gary.
Our answer
Hi Gary. I'm not sure if you're asking about a default search engine or a default browser. Google is not a browser, it's a search engine.
Google and Microsoft are fierce competitors. If Microsoft was going to force you to use a search engine it would not be Google – it would be Bing. If Microsoft were going to force you to use a browser it would not be Google Chrome, it would be Microsoft Edge. Google is the default search engine for Firefox. So it's likely Firefox updated or you changed a setting. You can choose whatever search engine you want. Just go to Settings > Search > Default search engine and choose whatever you want.
Chrome is Google's browser and Edge is Microsoft's browser. If Google Chrome is coming up when you click Firefox – I'm not sure how that would happen. Do you mean when you click a link it opens with something other than Firefox? If so, since you're using Windows 10, that's easy to fix also. Type DEFAULT in the Taskbar search and click "Open" when you see "Default apps" appear. When Default apps opens, look under Web browser. If you don't see Firefox there, click the browser's name you see there and a list will appear. Choose Firefox from the list and close your browser.
---
Robert asks about Windows Updates
Just a question, answer when you can please. If you know, are the updates to windows that Microsoft puts out on the second Tuesday each month and any updates during the month, when do the updates get added to the windows download so you can get a fresh copy of Windows? I hope I asked this right.
Our answer
Hi Robert. I believe you are asking about Windows 10 version updates such as Windows 10 version 2004, Windows 10 Version 21H1, Windows 10 Version 21H2, etc. Version updates (called "Feature updates" by Microsoft, roll out slowly, so not everyone gets them at the same time. Version (Feature) updates roll out over weeks, even months. When the version update is offered to you, it will appear in Settings > Updates & Security > Windows Update. It will look something like this:
When you see the above in Windows Update you can click "Download and install" if you want to install it. If you don't want to wait, you can download the newest "feature" update of Windows 10 from this page.
It may take a few days for Microsoft to update that page whenever a new "feature" update becomes available. However, this is a good time to remind you that is always best to wait a while when Microsoft introduces a new feature update – many early adopters often feel like they are MS guinea pigs.
We hope this helps you, Robert.
---
Terrence has problems with Windows updates
I just tried your directive "How to Reset Windows 10 and Keep all your Files, Apps and Programs", followed the directions which were very good, but alas windows wouldn't reinstall. Error code 0x8007001F – 0x20006 popped up as the code in SAFE-OS phase. I have been wallowing with error code0x80070002 plaguing me for the past several weeks as any Windows update attempt ends in this error code.
Have tried a number of the solutions proffered at various sites but none seem to solve the problem. I'm in dire need of keeping some of those old programs/apps in my system as they're almost as old as I am (85) and no longer exist. My grandson says I'm going to have to bite the bullet and do a FULL reset. I'm just about at the point where I buy an OEM Windows 10 and install it on my second blank 1TB SSD drive, then try and move critical apps over there. Grandson doesn't think much of that idea.
Our answer
Hi Terrence. First, you said, "I'm in dire need of keeping some of those old programs/apps in my system…". So you should be aware that doing a reset (Reset and keep my files) wipes out your programs – so if the reset had been successful, you would have kept your personal files but lost all your programs.
Sometimes there are physical reasons (bad hard drive, old hardware, etc.) that prevent you from doing a reset – our guide applies to most cases, but like everything else there are exceptions. Windows error codes are so vague as to be useless.
If your case I suggest you do a Windows repair installation, which not only allows you to keep your files but also your programs. It takes longer to do than a reset and requires more attention to detail, but it's yet another way to fix a corrupted or aging Windows system. Our tutorial for doing a repair install can be found here.
Since I don't know what drove you to want to do a reset, I am going to suggest before you do a repair installation, that you run SFC and DISM scans to see if they help solve whatever problem(s) led you to think about doing a reset. Instructions for doing those scans are here.
We hope this helps you, Terrence.
---
Larry wants to know how to exempt websites in uBlock Origin
I have been using uBlock Origin for some time now and was glad to see your recommendation in today's newsletter. However, I have not had any luck finding out how to add Trusted Sites. I went to their site and had no luck there either. Would you point me in the right direction? Thank you in advance, Larry.
Our answer
Hi Larry. If you want to exempt a website from ad filtering – in other words, you want to support a site by allowing advertising on a site -it's easy to do. Open the uBlock Origin dashboard, and click on the "Trusted sites" tab.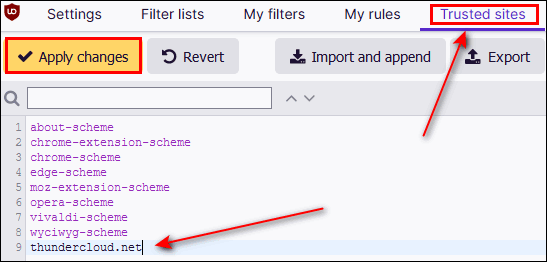 Type the site's URL (minus the http:// or https:// or www) that you want to allow to show you ads. As you can see in the screenshot above, I've added thundercloud.net to the Trusted sites list. Once you have added the site, don't forget to click "Apply changes".
We hope this helps you, Larry.
---
Leslie wants to know how to reinstall Windows and also where to download Windows 11
Hi, Darcy & TC. I know you have the info, but I have searched for a half an hour and can't find the instructions on how to make a Windows 10 installation disc or thumb drive so that I can reload Windows when I clear the hard drive so that I can load the operating system again. Also, is there a place to download Windows 11?
Our answer
Hi Leslie. You can do a clean install of Windows 10 without using a disk or USB drive. In Windows 10, can go to Settings > Update & Security > Recovery and click "Reset this PC". If you want to wipe out everything and do a clean install choose "Remove Everything" then choose the Cloud option to download the Windows 10 installation file.
If you want to install Windows 11, go to this page and choose the "Create installation media" option. Please be sure your PC can run Windows 11 before you do this. Use the updated Windows PC health check app to check your computer for Windows 11 compatibility.
Keep in mind you don't have to upgrade to Windows 11 yet as Windows 10 will be supported for three more years.
We hope this helps you, Leslie.
——
Leslie wrote back: "Thanks again for your expertise. As always, it is much appreciated. Best & Stay Safe. Leslie"
---
Allan wants to know what cheap laptop we bought to run Windows 11
In an issue in the past, you discussed a laptop you bought to run Windows 11. I thought I had it bookmarked, but not sure I have the correct laptop. Could you post that again, please? Thanks! Allan.
Our answer
Hi Allen. Here is the article you're looking for.
https://www.thundercloud.net/infoave/new/windows-11-first-impressions/
It's still running great!
We hope this helps you, Allan.
---
Delores wants her beautiful daily desktop wallpaper back
Hi there. Since installing Windows 10 Version 21H2, my Bing wallpaper is gone. I miss those beautiful pictures on my desktop that automatically changed each day.
Do you know how I can get this back on my computer? I always looked forward to the next beautiful picture every day. Thank you so much for your help – you two are the best! Delores
Our answer
Hi Delores. Thanks for your nice comments.
Here's the article we wrote about the Bing wallpaper app. It contains a download link and other information.
We hope this helps you, Delores. If you need anything else, just let us know.
---

Don't have a Cloudeight SeniorPass? It's a great deal. Learn more here.
Our Cloudeight SeniorPass is a great deal. You get unlimited support for one full year from the date you first use your SeniorPass. We can help keep your computer running well, fix all kinds of computer problems, clean up malware, and a whole lot more. Our SeniorPass is like having insurance for your computer. And it's only $99 for an entire year.
Get your SeniorPass today for just $99.  It's just like having insurance for your computer – only better!
To learn more about our SeniorPass, please see this page.
---
Sally has something strange going on with her Google Chrome searches
Hi, you two. All of a sudden when I search from the search bar in Chrome, I get a list of "Trending Searches" that drops down from the address/search bar. None of them are relevant to my search. It's crazy. Have you ever heard of this? Help!
Our answer
Hi Sally. It sounds like you may have unintentionally installed an extension that is causing the "trending searches" dropdown – which sounds like an advertisement trying to get you to click something.
You should reset Chrome and clear its history by following the instructions on this page.
After you reset Chrome, close it and then reopen it. You should not see any "trending" because "trending" is not part of Google search on Windows.
————-
Sally wrote back: "Thanks so much! I reset Chrome and now the trending searches dropdown is gone. You guys are great! Sally.
---
Shari can't log into her Outlook account
Hello again. Trying to get onto my email/internet (outlook – live.com – and incurred the following message. What to do now?
"Corrupted Content Error. The site at https://outlook.live.com/mail/?bO=1&sessionId=5236e974-9c49-496d-870c-0547d0dcdb0e has experienced a network protocol violation that cannot be repaired. The page you are trying to view cannot be shown because an error in the data transmission was detected. Please contact the website owners to inform them of this problem…"
(The email I'm using for this email is some red herring whose name I don't know, but it's a backup). Thanks, Shari
Our answer
Hi Shari. It looks like you bookmarked or created a shortcut to the Outlook site AFTER you logged in. When you do that the login expires. So always create a shortcut or bookmark the login page, before you log in.
The correct page to sign in to your Microsoft account (live.com, live.ca, hotmail.com, msn.com, outlook.com) is this:
Create a shortcut to the Outlook sign-in page and then sign in. Don't create shortcuts to webmail using the URL displayed after you log in. That link expires and you'll end up getting error messages.
---
Patsy's printer does not work since the last Windows update
After my last update in windows 10 version 1909, I get an error message when I try to print. The message is (printer has experienced an unexpected configuration error OX80040154). I ran the printer troubleshooter but it didn't help. I'm 73 and no nothing about fixing these problems. I have followed you since I found your website and you have taught me everything I know about cps. Thanks.
Our answer
Hi Patsy. Thanks for your nice comments.
The best way to fix a printer that's not working because of an upgrade is to remove the printer this way:
Type PRINTER in taskbar search.
Press Enter when you see "Printers & Scanners" appear.
Click on your printer and click "Remove"
Unplug your printer from its power source
Restart your computer
Then reinstall the printer exactly like you did when it was new. If you don't have installation software, you can download it from the manufacturer's website. But whatever you do, don't ever search for printer drivers or printer software, always go to the manufacturer's website & look for installation software for your printer brand and model. If you have trouble finding it, don't worry. Just let me know your printer brand and model and I'll find it for you and send you a link to download it.
The method above works every time if it's done correctly. At least it does for me 🙂
---
George wants Office 365 for his daughter's computer
First, I would really be lost without you guys and your weekly letter(s).
Problem: I went in to buy a copy of Office 365 for my daughter's computer. I bought the $69 version, but it appears that if I'm using my computer and I order the $69 version I can only install it on my computer.
Question: Must I change my subscription now to put it on her computer? I don't need it on mine.
I have already paid the $74+ for the current subscription and need to know either how to put it on her computer or how to change the subscription now without having to pay both subscription charges. WHEW! Lots of words there and probably clear as mud. Thanks.
Our answer
Hi George. Thanks! Office 365 is based on your Microsoft sign-in. Office 365 Personal ($69 version) can only be used on one computer. Once you install it on your PC it can't be installed on another PC. If you choose the $99 subscription, up to 5 people can use it.
Unfortunately, there is no way to move an Office 365 subscription to a different Microsoft account. To continue using Office under the current scenario, she would have to log into your account in Office at least once every 30 days. The only alternative, as you've probably already guessed, is to upgrade to Office 365 Home. If you do that, you would need to share your subscription as described below…
Share your Office 365 Home subscription
https://support.office.com/en-us/article/share-your-office-365-home-subscription-b389b9ce-3ae3-4a82-9017-39d79972fcba
We hope this helps you, George.
---
Sue has a question about Windows Photos
Hi TC…Thank you so much for all the information! I opened the Photos for Windows 10 suggestion, that works great! But if you will humor me with one more question…if all my photos are on my laptop in one app, is it possible to safely remove the other apps…such as Dropbox and Amazon Drive where photos are stored as well? I am fairly certain that all of the photos on Dropbox and Amazon photos are also in Google Photos. But I have been a bit scared to remove those apps! I am still going to purchase a Repair Key, I think my laptop needs a general cleanup and check for anything that shouldn't be there! Thanks again TC!
Our answer
Hi Sue. Thanks so much.
Programs like Windows Photos, FastStone Image Viewer, etc. only collate the photos on your PC, they don't find or collate images in the "cloud" (Amazon, Google Photos, Dropbox, etc.). They find all the images on your computer and display them all in one place.
Hope this answers your questions, Sue.
---
Tricia sees some strange things when using Chrome
Hi Darcy and/or TC. I have a lot of pages I want to view come up with:
Click Continue
Click Add to Chrome
Click Enjoy
Should I add these pages to Chrome as suggested or avoid doing so? Cheers, Tricia
Our answer
Hi Tricia. Don't add anything to Chrome-based on what you are seeing.
I think you've installed extensions in your Chrome browser that have corrupted it. You should not see "Add to Chrome" unless intentionally adding an extension. "Continue" may be more common but certainly not on most pages.
I think your Chrome browser has been corrupted by some bad extensions. The best thing you can do is reset it.
Please follow the instructions on this page to reset Chrome.
Let me know if this helps you.
—–
Tricia wrote back: "Thank you TC for your emails helping me to solve my problem. I think you and Darcy should be called Saint TC and Saint Darcy. I also think that if you liked to double or triple your charges for anything you do, I for one would be happy to pay and I am sure others would too. We want to keep you two in business if not luxury. Cheers, Tricia from Australia."
---
Wait! Before you go…
Every week we help dozens of people with their computers without charge or any expectation of payment. And we have helped many folks who have fallen for tech support scams or other scams designed to steal their money.
And we now depend more on readers like you to help keep us going. Your donation helps us to help more people with their computers and helps us keep everyone safer online.
Please help support our small business and help us to keep on helping you.