Get a Beautiful New Desktop Wallpaper Every Day
Most of you know that Bing is Microsoft's search engine and another example of its Googe envy. Bing search isn't as good as Google's. If you don't believe that Google is much better than Bing, search COVID FEET.
But one thing that Bing has that Google does not have is beautiful background pictures on its search page
Bing has a huge collection of beautiful photographs from all over the globe and they feature them on Bing https://www.Bing.com/ every day. If you have Spotlight turned on in Windows 10 then you will see some of these lovely pictures on your Windows 10 lock screen.
Introducing the Bing Wallpaper app
Now, Microsoft is making its large collection of beautiful photos available for your desktop background and the new Bing Wallpaper app automatically changes the desktop wallpaper every day. And if for some reason you don't fancy the wallpaper of the day, you can choose different wallpapers from within the app.
Here's what Microsoft says:
Discover a new place each day

Bing Wallpaper includes a collection of beautiful images from around the world that have been featured on the Bing homepage. Not only will you see a new image on your desktop each day, but you can also browse images and learn where they're from.

Install Bing Wallpaper in 6 easy steps
Download the Bing Wallpaper app
Run BingWallpaper.exe
Click Install now
Click Finish
If prompted from your browser, add the extension
Explore the Bing Wallpaper app in the system tray
Here's what we say…
The Bing Wallpaper app works great and many of the photographs are stunning. But, as with many things Microsoft you have to be careful. If you're not careful you'll end up with Bing as your default search engine and Bing as your start page. It's hard to imagine a multi-gazillion-dollar company like Microsoft having to resort to hijacking, but that's what it is. Luckily, if you're careful you can avoid this trap.
If you do not uncheck the two boxes when you install the Bing Wallpaper app, you end up with Bing as your default search engine and your browser's home page switched to Bing. So please heed our warning and uncheck the two boxes as shown in the screenshot below.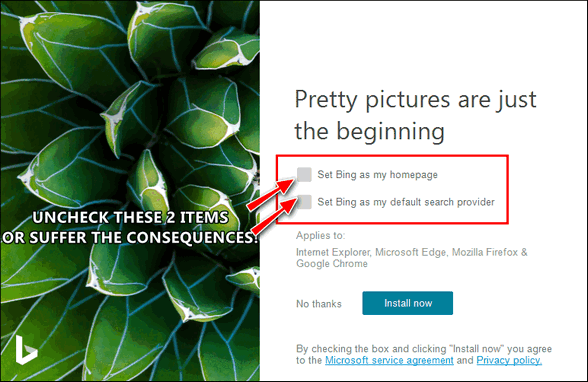 Remember –be smart and uncheck those boxes. Then you can go ahead and click on the "Install now" button.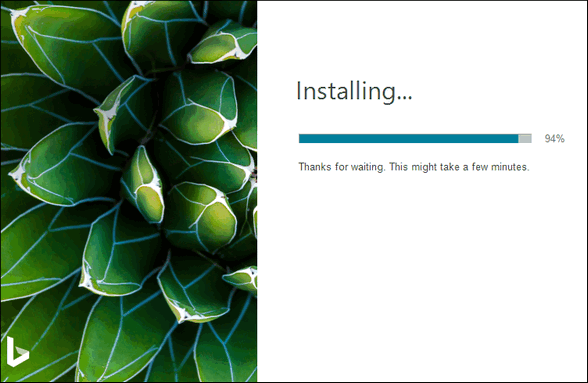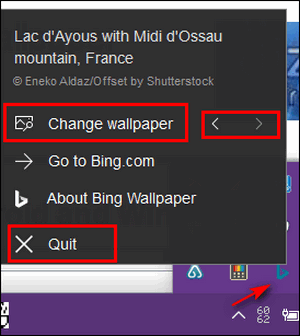 Once you install Bing Wallpaper, you can open its small interface from the notification area. 
If you don't like Bing's current wallpaper offering click the back arrow for more choices. You will have a choice of several different wallpapers each day.
If you wish, you can also turn off the Bing Wallpaper app by clicking on "Quit".
And, of course, if you don't like the Bing Wallpaper app, you can uninstall it from Settings > Apps > Apps & Features, or by using your favorite uninstaller.
I installed the Bing Wallpaper app today and I was quite impressed with the choice of images available. Here are three screenshots, showing some of the choices I had today.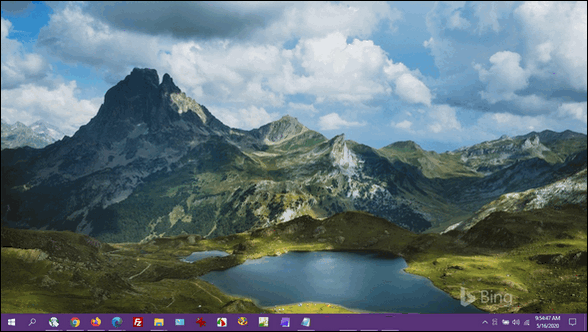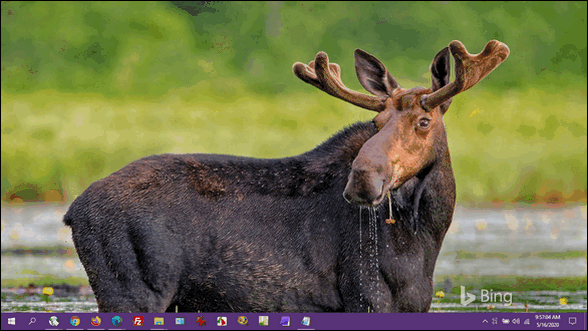 Above, the boss, EB, hits the big time. She's featured in this desktop wallpaper!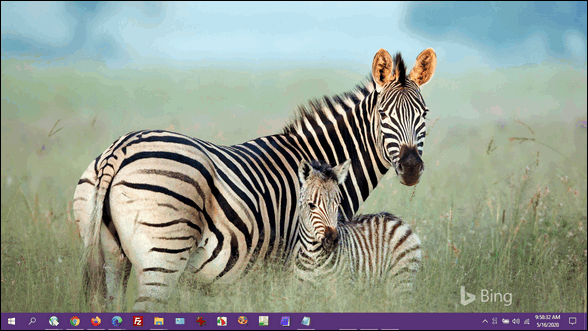 Other than the hijacking attempts and the faint "Bing" watermark on each image, there's a lot to like about the Bing Wallpaper app. And plenty of free beautiful desktop images available every day for your desktop.
Download the Bing Wallpaper app for your Windows 10 computer here.
It's also available for your Android device here.
And if you just want the Bing wallpaper without installing the app or just don't like the watermarks, see this page.