Saturday Bonus Questions and Answers – 080622
It's the first Saturday in August and that means it's time for another issue of Saturday Bonus Questions & Answers.
Sometimes the best tips and tricks are hidden in the questions and answers we publish. And rarely do we post questions and answers on this website. Today, we're featuring some of the questions and answers from past issues of our InfoAve Weekly newsletters. 
These questions & answers were selected at random from past InfoAve Weekly newsletters.
---
Saturday Bonus Questions and Answers – 080622
Elaine wants to know how to email us when she gets a new computer
Hi, my computer is quite old, I don't know how to find out how old it is. I will be getting a new one at some stage and will want Thunderbird email installed again. If this computer crashes how do I email you about the new one and do you just need my email address to come on to the new one and help me set it up and whatever else I need to be done? Thanks so much. Elaine.
Our answer
Hi Elaine. Since you have an Outlook.com account, you can email us from any internet-connected device including a brand-new computer. So, if you get a new computer with Windows 11 on it, it will come with Microsoft Edge (browser). You can open Edge and go to https://www.outlook.com/ and log into your Outlook.com account and email us. It's that easy.
You can also contact us on your new computer by opening the Edge browser that comes with Windows 11 and going to https://thundercloud.net/contact.htm and contacting us from there. Just be sure to include your email address so we can reply to you.
This is a tip for everyone. One of the best things about having a Gmail or Outlook.com (or any webmail account) is that you don't need Outlook or any other email program to send and receive email.
While having an email client like Thunderbird, OE Classic, Outlook, etc. is more convenient for most people – if you have a webmail account and you get a new computer you can open a browser and send and receive email even if you haven't yet installed an email program.
We hope this helps you, Elaine.
---
Carol uses AbleWord and wants to know if it handles Excel files too
I am so glad, thanks to you, that I won't be forced to pay Microsoft in order to continue using MS Word. AbleWord is a great option. My question is: Will this also cover my Excel documents? Thanks so much for all your advice. It is much appreciated!
Our answer
Hi Carol. Thanks for your kind comments. AbleWord only replaces MS WORD, it does not replace Microsoft Office. To open Excel docs you need to have MS Excel or equivalent.
Open Office (www.openoffice.org) and Libre Office (www.libreoffice.org) are both complete office suites that replace Microsoft Office. Both Open Office and Libre Office offer alternate programs equivalent to MS Word, MS PowerPoint, MS Excel, and MS Access. There are other free office suites too, but these are the two we're most familiar with.
---
Joyce wants to know where to download Irfanview
Concerning Irfanview: I would like to download this program that you recommended in your newsletter. It has been such a long time since I downloaded a new program that I don't remember which download I should use to download just the correct program for my 64-bit computer. Can you please help me? I guess I am just getting too old and afraid to do these things anymore.
Our answer
Hi Joyce. Go to the following page:
https://www.snapfiles.com/downloads/irfan/dlirfan.html
On that page, click on the "Download the 64-bit version" link. Just FYI, if you have a 64-bit computer you can run any 32-bit program, so even if you downloaded the 32-bit version it would work
Let us know if you need anything else.
---

Please consider making a small donation and help us to keep on helping you!
---
Uwe wants to know how to send large files via email
I tried to send a file(below) through email, but It seems to be too large. How do I send a larger file via email?
(MP4 File (.mp4) 14.0 MB (14,694,417 bytes)
Thanks, Uwe.
Our answer
Hi Uwe. Most email providers have a limit on how large a file you can send via email. The limit varies by email provider. The maximum file size you can send with Gmail is 25 MB.
There are dozens of services (many free) that allow you to send large files by email. Here are three:
https://www.dropsend.com/#send_file
And there are many more.
You can also share large files if you have a Google account using Google drive. You can also share large files via email (links) using OneDrive or Dropbox.
---
Kenneth wants to know the best way to transfer files from an old computer to a new one
Which way do you recommend transferring data from an old computer to a new computer? I'm in the process of buying a new desktop and would like to know the best way to accomplish this task. Thank you.
Our answer
The best and easiest way to transfer data from one computer to another, in my opinion, is this way.
1. Use an external hard drive. If you don't have one, you can buy a 1 TB external hard drive for less than $60.
2. Plug the external drive into a USB port on the old computer and copy the contents of C:\Users\Your User Name (If you don't know your username, open a command prompt. Type CMD in the taskbar search and press Enter when Command Prompt appears. Or if you're using Windows 7 type Cmd in the Start menu search and press Enter when the Command prompt appears. In the command prompt type WHOAM. Your computer name and user name will be displayed in this format: computer-name/username.
3. Once you've copied the entire C:\Users\Your Username folder to the external drive you'll have all your files and folders copied to your external drive.
4. Plug the external drive into your new computer, and open the folder you copied. Then, one at a time, open Pictures, Documents, Music, Videos, and Desktop. On the new computer open the corresponding folder and copy the contents of the folder on the external drive to the corresponding folder on the new computer. DO NOT MOVE THE ENTIRE FOLDER FROM THE EXTERNAL DRIVE TO THE NEW COMPUTER. Only copy the contents of the folders to the corresponding folders on the new computer.
If you need more help or something isn't clear to you, let me know.
---
Paul's SD card reader isn't working
I have an HP Pavillion PC and the SD Memory card reader has stopped working, I've searched the net but can not find any answers. Your help and advice, please. Kind regards, Paul.
Our answer
Hi Paul. This is a hardware problem. It's most likely the card reader that is bad. You can tell by trying a different card with it and see if it works. If you can't get it to work, don't spend a lot of time or money on it. You can buy a portable SD Memory Card Reader for less than $15. It plugs into any available USB port so no installation is required. If your card reader is not working, don't spend time trying to fix it.
Here one at Walmart that is an SD and Micro SD card reader that plugs into any USB port on your computer for around $12.00. You can also buy them at BestBuy, Amazon, and other stores that sell computer products and peripherals.
I hope this helps you, Paul.
---
Linda wants to know where to find temporary Internet files on Windows 10
Hello. It has been a few years since I have written with a question, but now is the time.
I was in the Paradise Campfire, the deadliest fire in California history. We survived, Praise the Lord, but we lost our computers. I didn't play on the computer for many months afterward but we finally bought new ones. I was pleased to discover that I still had all my friends' email addresses and mail saved in "Old Mail" on AOL. I am learning how to use the new computer but I do have a question for you. How do I view my "temporary internet files?"
I used to be able to go there to retrieve things that normally I would not be able to save. I think they were found in temporary files but I am not sure. I would click on an email link to listen to a song but there was no way to save it on my computer until I discovered I could get it from temporary internet files. Please tell me how to find that list now on the new Windows 10 computer. Thank you, Linda
Our answer
Hi Linda. We are all is well for you now. That must have been a harrowing experience. We're glad you're doing well. It is nice to hear from you again.
The location of Temporary Internet Files varies by browser. First, before you will be able to see the folders below, you'll need to show hidden files and folders. To do that type FOLDER OPTIONS in the taskbar search. When you see "File Explorer Options" appear in the search results, press "Enter".
In the Folder Options dialog that opens, click on the View tab at the top. Tick the circle next to "View hidden files, folders and drives" and click "Apply/OK".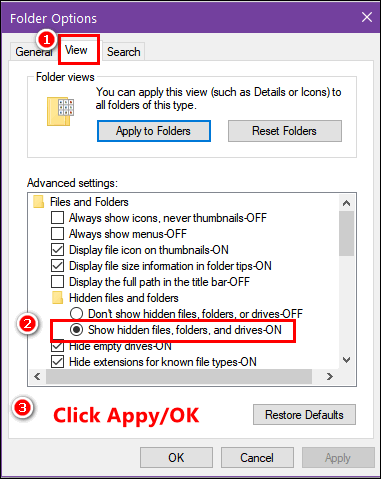 Once you do that, you'll be able to navigate to the hidden directories where temp Internet files are stored. Here are the locations for the most popular browsers.
Chrome stores temporary Internet files at:
"C:\Users\<Your Username>e\AppData\Local\Google\Chrome\User Data\Default\Cache"
Microsoft Edge stores temporary Internet files at
"C:\Users\<Your Username>\AppData\Local\Microsoft\Windows\Caches"
Firefox stores temporary Internet files at
"C:\Users\<Your Username>\AppData\Local\Mozilla\Firefox\Profiles\<profile>" (Firefox profile is numerical)
I hope this helps you, Linda.
———–
Linda wrote back: "Thank you so very much for your quick reply and for all the help you give me and so many others through your emails and website. Have a wonderful day! Linda."
---
Paul D. wants to put a shortcut to Microsoft Edge on his desktop
I have a window 10 and 8.1. My question is how do I put a Microsoft Edge icon on my desktop and not the taskbar?
Our answer
Hi Paul. To put a shortcut to MS Edge on your desktop open the following location:
C:\Program Files (x86)\Microsoft\Edge\Application\
Find msedge.exe and right-click on it. Choose "Send to > Desktop (Create shortcut)" from the right-click menu.
You can remove the MS Edge taskbar icon by right-clicking it and choosing "Unpin from taskbar" from the right-click menu.
——-
Paul D. wrote back: "Thanks for the great help. Stay safe and take care. Paul."
---
Susan has trouble with Firefox
Hi TC & Darcy… My current problem has to do with my Firefox. When I get an email with a link I want to click on, instead of opening a new tab in my current Firefox, it opens a new browser and closes the current one. It never used to do that. What can I do to stop that and go back to the way it was? I sure don't want to close my current browser and open a new one. I usually have several tabs open on my current browser and don't want to close them. Thank you for your help. You always have a solution. Cheers, Susan.
Our answer
Hi Susan. I'm not aware of any changes in Firefox that would cause this. It may have been an extension you installed, one you installed that was bundled with a freeware program, or one you installed that auto-updated and changed your settings. If you reset Firefox it will return Firefox to its default settings. If you want to try resetting Firefox, read our instructions on resetting Firefox here.
Good luck, Susan.
---
Shari can't log into her Outlook account
Hello again. Trying to get onto my email/internet (outlook – live.com – and incurred the following message. What to do now?
"Corrupted Content Error
The site at https://outlook.live.com/mail/?bO=1&sessionId=5236e974-9c49-496d-870c-0547d0dcdb0e has experienced a network protocol violation that cannot be repaired. The page you are trying to view cannot be shown because an error in the data transmission was detected. Please contact the website owners to inform them of this problem…"
(The email I'm using for this email is some red herring whose name I don't know, but it's a backup). Thanks, Shari
Our answer
Hi Shari. It looks like you bookmarked or created a shortcut to the Outlook site AFTER you logged in. When you do that the login expires. So always create a shortcut or bookmark the login page, before you log in.
The correct page to sign in to your Microsoft account (live.com, live.ca, hotmail.com, msn.com, outlook.com) is this:
Create a shortcut to the Outlook sign-in page and then sign in. Don't create shortcuts to webmail using the URL displayed after you log in. That link expires and you'll end up getting error messages.
---

Don't have a Cloudeight SeniorPass? It's a great deal. Learn more here.
Our Cloudeight SeniorPass is a great deal. You get unlimited support for one full year from the date you first use your SeniorPass. We can help keep your computer running well, fix all kinds of computer problems, clean up malware, and a whole lot more. Our SeniorPass is like having insurance for your computer. And it's only $99 for an entire year.
Get your SeniorPass today for just $99.  It's just like having insurance for your computer – only better!
To learn more about our SeniorPass, please see this page.
---
Patsy's printer does not work since the last Windows update
After my last update in windows 10, I get an error message when I try to print. The message is (printer has experienced an unexpected configuration error OX80040154). I ran the printer troubleshooter but it didn't help. I'm 73 and no nothing about fixing these problems. I have followed you since I found your website and you have taught me everything I know about cps. Thanks.
Our answer
Hi Patsy. Thanks for your nice comments.
The best way to fix a printer that's not working because of an upgrade is to remove the printer this way:
Type PRINTER in taskbar search.
Press Enter when you see "Printers & Scanners" appear.
Click on your printer and click "Remove"
Unplug your printer from its power source
Restart your computer
Then reinstall the printer exactly like you did when it was new. If you don't have installation software, you can download it from the manufacturer's website. But whatever you do, don't ever search for printer drivers or printer software, always go to the manufacturer's website & look for installation software for your printer brand and model. If you have trouble finding it, don't worry. Just let me know your printer brand and model and I'll find it for you and send you a link to download it.
The method above works every time if it's done correctly. At least it does for us.
---
Jim wants a good, inexpensive PDF editor
What do you recommend for PDF editing software either free or reasonably priced?
Our answer
Hi Jim. There are a few good online PDF editors you can use without installing any software on your computer, here's one:
Here's a free PDF reader/editor with OCR capabilities ( free for home use with some restrictions) It's called PDF-XChange and you can download it here:
https://www.tracker-software.com/product/pdf-xchange-editor
To download the limited-but-useful free version click the green Download button under PDF-XChange Editor and not the one under PDF-XChange Editor Plus
Keep in mind that not all features in the free version work without a license but more than 60% of the features do not require a license to use. The remaining features, which are clearly identified, will place a 'trial' watermark on output if they are used without a license. If you want to pay for a license to unlock all features the cost is $43.50. But I suggest you try it first to see if all the free features meet your requirements.
There are others, of course, but these two I have used before and the worked for me without games or bundled software or malware. To be honest, I only rarely need to edit PDF documents.
I hope this helps you, Jim.
---
Every week we help dozens of people with their computers without charge or any expectation of payment. And we have helped many folks who have fallen for tech support scams or other scams designed to steal their money.
And we now depend more on readers like you to help keep us going. Your donation helps us to help more people with their computers and helps us keep everyone safer online.
Please help support our small business and help us to keep on helping you.