Saturday Bonus Questions & Answers – 102321
It's Saturday! And you know what that means. It's time for more Bonus Questions & Answers.
Sometimes the best tips and tricks are hidden in the questions and answers we publish. And rarely do we post questions and answers on this website. Today, we're featuring some of the questions and answers from past issues of our InfoAve Weekly newsletters. 
These answers were selected at random from past InfoAve Weekly newsletters.
---
Saturday Bonus Questions & Answers – 102321
Margaret K. cannot delete a file
I saved a message that I had created in Live Mail. I saved it to my Documents folder, but now I cannot delete it. There is no option to delete the message. Is there another way to do this? Thank you.
Our answer
Hi Margaret. If you can't delete a file it either means it's in use by another program, it doesn't really exist, or it's a zero-byte file.
There's a free program you can download and install called "LockHunter". It can tell you what's locking the file and help you delete it.
It's really easy to use, once you install it you'll be able to right-click on the file you can't delete and click on "What's locking this file". You'll have several options, and one is to delete the file.
Be sure you read the information on the product's home page – you'll see how easy it is to use.
You can read more about and download LockHunter (free) from this page.
We've used this program many times to delete files that were difficult to delete any other way.
---
Pete wants to give donate his Dell laptop to his church
I want to give my Dell laptop (3 years old with Windows10) to my church. They have an annual auction to raise money and since this laptop has hardly been used it should help the church raise some extra dollars. I'm concerned about my personal stuff being on the PC. Can you tell me an easy way to erase personal info from the laptop and reinstall Windows 10 so whoever buys it can use it?  Thanks so much for all the great info over the years.
Our answer
Hi Pete. If you are going to be donating your laptop to the church, we recommend that you do a Windows 10 reset. When you do the reset you'll have two options:  Keep my files or "Remove everything". Choose "Remove everything". Windows will wipe out all your programs and personal files, wipe your hard drive, and then reinstall Windows 10 – all in one operation.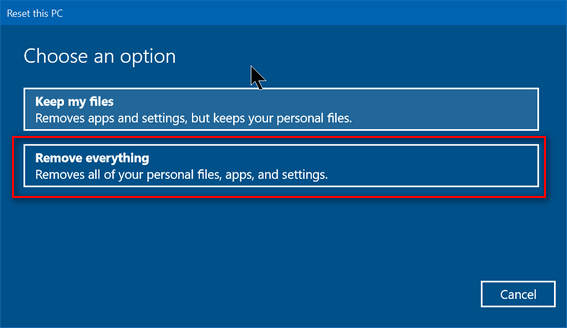 After you click "Remove everything", you'll see another window appear with two more options. You'll want to choose the second option: "Remove files and clean the hard drive"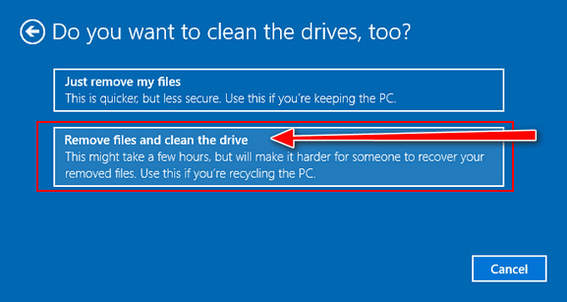 After you initiate the process, you don't even have to be near the computer. It's automatic. This process will take several hours. Once everything has been removed and the hard drive has been wiped, Windows 10 will be reinstalled.  Once Windows is reinstalled, you may have to set up things like "Time zone", "Language" — i.e. the typical things you had to do when you first got the computer – but you won't need a product key since Windows 10 had already been installed and the key is hardcoded into your computer's hardware. 
---
Sharon wants to know why she frequently gets "This site cannot be reached…" messages in her browser
When I click on a link to take me to a site I order from frequently I get "This site can't be reached, the connection was reset." Why does this happen and how do I fix it? Thanks!
Our answer
Hi Sharon. There are several reasons why this would happen:
1. Your Internet connection temporarily stopped working.
2. The Web site is having problems at the time you tried to use it.
3. You have an extension installed in your browser (for instance an ad blocker) that is causing problems with the site.
If your wireless internet stops working frequently, then it's most likely your router. You should call your Internet provider and have them test your connection, equipment, and theirs as well.
To ensure it's not your browser, try clearing your browser's history and disabling all extensions. A quick way to do this is to reset your browser.  Here's our tutorial on resetting Chrome, Firefox, and Edge.
We hope this helps you, Sharon.
---
Dennis wants to know how to refine his computer searches to find certain kinds of files
I volunteer with a breed-specific dog rescue organization. Among my duties is looking through long lists of dogs (every day) for dogs that match our mission. Some of the lists are PDF, some are Excel, some I'm not sure of. I can "find" the breeds with PDF and Excel but is there some way to sort through HTML documents looking for specific words? In the old days, I would have tried a bat file. I'd appreciate any help to ease this tedious task.

Our answer
Hi Dennis. You can search Windows by file type or keywords by using the asterisk *.
To search by file type, see this page.
To search by keyword, use taskbar search. Then use the * (asterisk) and the keyword, for instance, *bulldog. Make sure you click "Documents" (at the top) so it restricts your search to files on your computer and not the web. You can use an asterisk with file names and file types, for instance, *.HTML, *HTM, etc.
I hope this helps you, Dennis.
---
Cindy wants to know about Hard Drive Sentinel
Are you familiar with a program called Hard Drive Sentinel? If so, what is your take on it?
Our answer
Hi Cindy. Most of the time you won't need a program to tell you when your hard drive is failing. Almost all hard drives are S.M.A.R.T. (see our article here). That means almost all hard drives are self-monitoring.
If you want to analyze and check your drives to see what condition they're in, you could use Hard Drive Sentinel. But you'll notice if you look at the download page it's not free. There are free versions for DOS and Linux, but not for Windows.
If you want a disk analyzer and you don't want to pay for it, we recommend CrystalDiskInfo. It's free for home users. You can read our recommendation here.
Let me know what you think.
———-
Cindy wrote back: "Thank you so much for this info. I recognized the name right away and am sure at some point in the past I installed it on your recommendation from a newsletter. But I must have lost it in a crash somewhere along the way and didn't remember to re-install it. I've already downloaded it and will be using it. Thanks again, Cindy."
---
Melanie asks if she gets a new computer does she have to get a new printer too?
Hi guys! Love Fridays – it's newsletter day! Anyway, I have a question and I hope you have an answer for me. I have an HP computer right now and of course an HP printer. I'm thinking of buying a new Dell computer on sale, but I am hesitant because I assume I would have to buy a new printer too. Am I right? Thanks! Melanie H.
Our answer
Thank you, Melanie! Ol' TC is not a printer expert but old (and I do mean OLD) EB is our resident printer freak and expert, so I'm going to let her answer the question for you, Melanie. Take it away EB!
I have a lot of folks asking about their printer if they get a new computer. And trust me I know when I first started with my computer, I thought I had to use the same brand printer as the computer. I've found out through emails from our subscribers and customers that a lot of folks think the same thing – or they think matching the printer brand with the brand of computer will somehow work better.
It's not true of course. If you buy a new Dell computer, you don't have to buy a Dell printer although I'm sure Dell would love you to think that, just like HP loves you to think HP printers work better with HP computers. Not true. You can use your HP printer with your new Dell computer, or you could a Dell printer with an HP computer – and so on.
Also, just to make some additional observations about printers and to clear up some things…
Those using an extremely old printer may not be able to use it on a new computer. But have no fear! The cost of a new printer is oftentimes cheaper than replacing the ink on an old printer.
Heck, I am guilty of buying a new printer when they go on sale even though my "old" printer works fine. All new printers that I am aware of come with full ink cartridges. Sometimes I have a tough time justifying paying $69 for ink when I see a new and better printer advertised for the same price or less.
And to continue musing about printers and the old days: I remember when I took both my printer and my computer to a computer repair shop to install the printer because I could not figure out how to do it (and this is even before I knew TC 🙂 )
This was back in the mid-1990s. I still have the bill for the $89 the shop charged me just for setting up my printer!
Now, new printers are extremely easy to set up. Many manufacturers even include a phone number to call for support and a representative will help walk you through the new printer set up.
Things are sure different now than in the "good old" days.
Anyway, Melanie, go ahead and get your new Dell computer – your HP printer will work just fine with it.
**Comment by TC — and EB says I'm wordy! **
---
Joann is a victim of a tech support scam
A big scary window came up on the Windows10 screen. "SECURITY ALERT FROM MICROSOFT" – "Your computer's registration key is Blocked." Your following personal information is at high risk: "Credit/Debit Card details – Online Banking Details – E-mail Passwords – Local hard disk data. "Contact Microsoft helpdesk immediately to prevent data theft. Call (Number removed for this newsletter) toll-free. " Enter Windows registration key to unblock "ENTER KEY" – – urntxxxsecure — is requesting your username and password
The other smaller window states "Authentication Required" (URL Removed for this newsletter) is requesting your username and password. The site says "Secured Page: Enter your Network username & secret key wrong secret phrase shut web association and boycott your ISP approach @ (phone number removed for this newsletter) Call toll-free.
I can't get rid of any of this via Task Manager, closing each window, or anything. I'm truly nervous about this & don't know what to do. Should I initiate the use of my Senior Season Pass for this? Please help me out in some way or another. Thank you so very, very much. Joann B.
Our answer
Hi Joann. This is nothing but a tech support scam ad. Please see this page for more information. On that page, there are links to our other articles about tech support scams and these contain dozens of screenshots of tech support scams in action.
What you've encountered is just an ad made to look like a warning- it may have horrible beeping sounds and even a voice telling you that your computer is locked and your data is at risk. It's designed to scare you. Don't panic.
All you need to do is press CTRL+F4 to close the tab. If that does not close the tab, press CTRL+F4 again. If all else fails, shut down your computer completely (power off). Leave your PC off for five minutes. When you restart and you open your browser, it will tell you that your browser closed unexpectedly, would you like to reopen the tabs that were open? Do not reopen the tabs that were open, or you'll be right back to the scam ad. Press CTRL+H and clear your browser's history.
Your computer is not locked, you're not going to lose data, and if you shut down — then restart your computer, you will be fine – just remember do not click "Yes" when your browser asks if you want to restore pages that were open when you shutdown.  And then be sure to clear your browser's history as soon as you can.
Please let us know if you need more help.
---
John wants to know if his Windows 10 recovery media will install an older version of Windows 10 or a current one
Hello, you two wonderful people. I have a quick question, please. I have a Dell laptop, 2 years old. I don't remember the version of Win 10 it came with, but I have upgraded several times successfully. I have Windows 10, version 2004, and it's fully updated. I just created a recovery drive, saving system files to it also.
My question is if I needed to use the newly created recovery drive to reinstall Win 10, would it install Windows 10 version 2004, or would it revert to some previous version. I cannot seem to find a straight answer. Thank you so very much for your previous help too. Sincerely. John M.
Our answer
Hi John. Your installation media would be whatever the current version of Windows 10 is at the time you used it. You can use the Windows 10 installation USB drive or DVD to reinstall Windows at any time. During the installation, it will automatically check for updates and then install the current (at that time) version of Windows 10. So, there's no need to keep making new installation media.
Thanks so much for your support and your nice comments.
————–
John wrote back: "Thank you very much. I thought this but I wanted a straight answer. I always get facts from you. Thanks again, John."
---
Karen wants to make a Hotkey for a symbol
I read your article about assigning hotkeys for programs. Do you have directions for assigning a hotkey for a symbol? My laptop does not have a number pad. I type a lot of recipes and it would be nice to have a hotkey for the degree symbol. Thanks, Karen
Our answer
Hi Karen. You can only assign Hotkeys to programs. But you can create a taskbar shortcut to Windows Character Map which allows you to create the same symbols and characters as the number pad. All the characters you can make with the number pad you can make with Character Map. such as ª 9° ¢ ⅓ ⅛.
In the taskbar search type Character in taskbar search and you'll see this: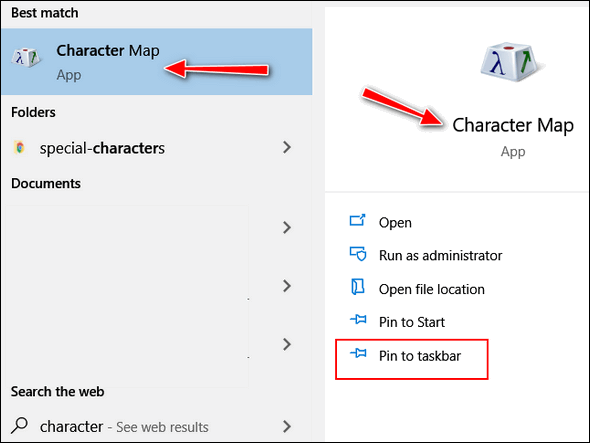 Click on "Pin to taskbar" and you'll have all the characters you want at your fingertips.
You can also open Character Map by opening your Start Menu, Windows Accessories, Character Map. And you can create a shortcut to it from there as well. Right-click on it, click "More" then click "Pin to taskbar".
I hope this helps you, Karen.
---
Wayne does not want to sign in after his computer wakes from sleep
This may sound like a silly question but here goes.
I am using Windows 10. If I pause too long my Windows cuts out and I have to log in again. How do I lengthen the pause time I have before things cut out? I am drawing a complete blank on how to make this adjustment. Many thanks for the fine work that you folks do. Cheers, Wayne.
Our answer
Hi Wayne.  Thanks!
You can eliminate the sign-in after sleep this way:
1. Type Account Settings in taskbar search.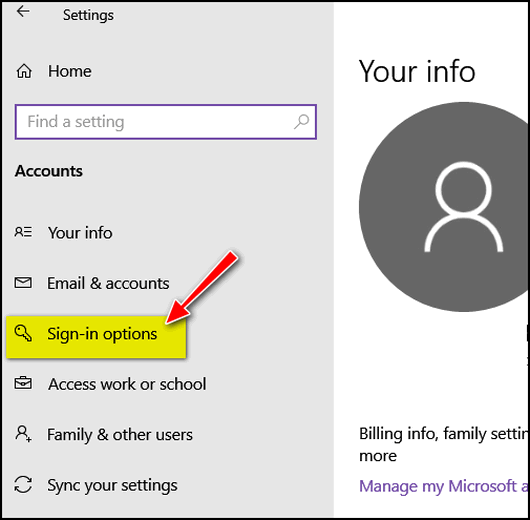 2. Click on Sign-in options
3. Look for "Require sign-in", click the down arrow under "If you been away, when should Windows require you to sign-in again?" and choose "Never".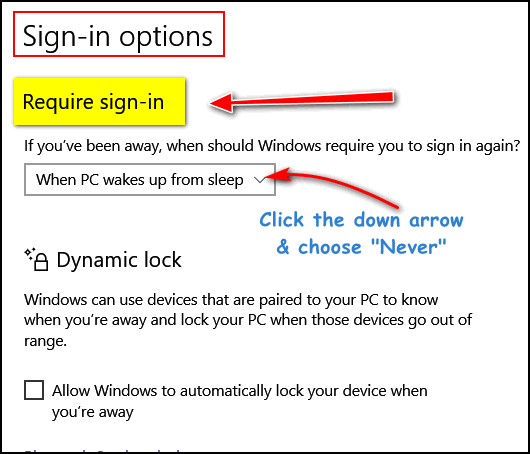 You will not have to sign in when you wake Windows from sleep.
If you want to adjust how long Windows waits before your computer sleeps, right-click on the Start button, choose Power options…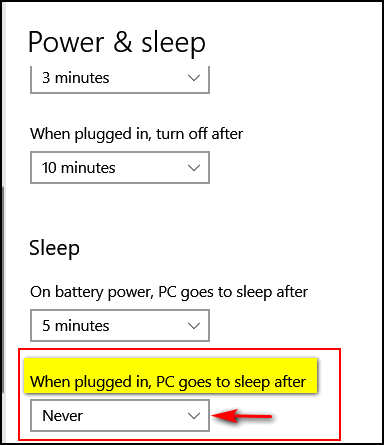 Under "Sleep" you can choose from 3 minutes all the way to never. Just click the down arrow to select how long you want your computer to remain awake before it sleeps.
——-
Wayne wrote back: "Many thanks TC. You guys are the greatest. :-)"
---
---

Please help us to keep on helping you.
A small donation helps us to keep on helping everyone who asks us for help. Consider making a small donation – we'd really appreciate it.
---
Have a great weekend!