The Dying Time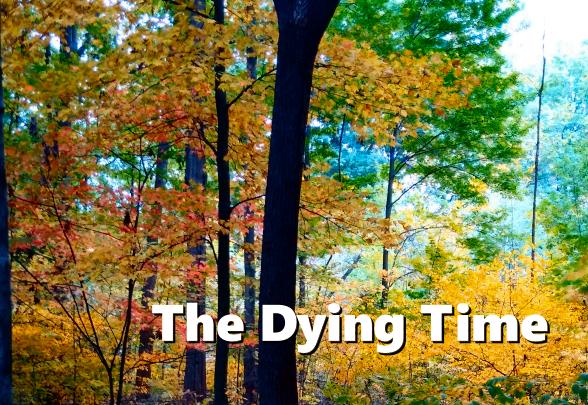 It is a time of sadness and a time of beauty. It is a time for reflection and a time for thought. It is a time for remembering and a time of forgetting; a time for holding on and time for letting go.
It was summer and then it was autumn and summer I hardly knew. The full moon shining on the summer trees and the sounds of summer I have already nearly forgotten, and autumn's breath has just barely touched the trees.
Yet the trees are beginning to bloom with autumnal colors and sway in their colorful death-robes as the autumn wind whispers then whistles and then strips them of their last bits of color — and their last bits of life.
It is the time for dying. I know the trees don't really die, but soon they'll be like skeletons – brittle and forlorn – standing starkly dead on some not-too-distant winter day.
Yet maybe we can find solace in the long, dreamless sleep of trees. Perhaps their unique cycles of life and sleep are patterns for our cycles of life and death. Maybe we sleep in death and then awaken in a better and glorious place. Or maybe we sleep and wake in the body of a newborn child.
Maybe our youthful appearance and vigor are like trees in the springtime and our middle-age years are like trees in summer. 
Regardless… the autumn of our lives is nothing like that of the trees.
We grow gray and frail on the outside. But on the inside, if we are lucky, we can color the world around us with our memories, our thoughts, and our love.
Unlike the radiance of trees shining bright in the crisp October air before they are stripped of color and life by the wild, cold autumn winds – we carry the beauty of the autumn of our lives on the inside and share those vibrant colors with our friends and those we love.
When we get old, we should remember that we are more than we appear to be – more than our aged bodies can tell. Our colors are bright and full inside but they can only be seen when we let them out. When we share our colors with the world we show also how beautiful the autumn of our lives can be.
Regale your grandchildren with stories from your youth. Guide them on journeys on which only you can take them. All of us in the autumn of our lives have vibrant colors inside us — more than you ever knew.
But no one can see them unless you let them show.
Autumn is the dying time. It's a time of sadness, but it's also a time of joy and happiness. You are what you leave behind. Don't hide the colors you carry inside. Share them with the world – and make the autumn of your live as beautiful as the autumn trees around you.
Take a walk and look at the world of beauty that surrounds you and let it be a reminder to you to let your colors shine.
You and I may not have many autumns left – but that should never stop us from shining.
Today the trees are beautiful -full of vibrant beauty. Tomorrow their colors may be gone, stripped away by some unexpected and wicked autumn gale.
Autumn is the dying time. And all our days are numbered. We can't wait until tomorrow to let our colors shine for those we love, let those colors inside you brighten the world all around you.