The New Cloudeight InfoAve Daily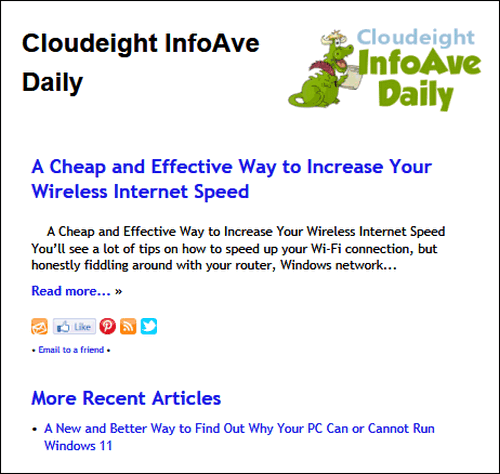 Since we started our daily newsletter, we have used Google's Feedburner service to send it to you. Earlier this year, Google informed all Feedburner users (and there were many) that it was ending support for Feedburner in July 2021.  This news sent us scrambling to find an alternative that would allow us to continue sending our InfoAve Daily newsletters to all our subscribers.  
After extensive searching (and a lot of worries) we found Feedblitz. We found that Feedblitz is very highly rated by its users. So, about a month ago, we started testing Feedblitz with a small group of subscribers. During the three weeks of testing, we didn't have a single glitch.
Without getting too geeky, we want you to know that Feedblitz works much the same way Feedburner did. It allows us to reliably send small daily summary newsletters to our subscribers. 
Last night's InfoAve Daily (June 29, 2021) was the first to be sent to all our subscribers via Feedblitz.
Another thing we want you to know is that we had to close our Feedburner account after we moved our subscriber list to Feedblitz, otherwise, everyone would have gotten duplicate newsletters. And once we closed our Feedburner account, all the links in the old InfoAve Daily newsletter stopped working. 
But no worries. All the content from all our InfoAve Daily newsletters is available on our InfoAve website. Our InfoAve website has a great search feature, so if you're looking for a particular tip or article, you can find it easily. 
And to make a long story short… from now on, our InfoAve Daily newsletter will be coming to you via Feedblitz.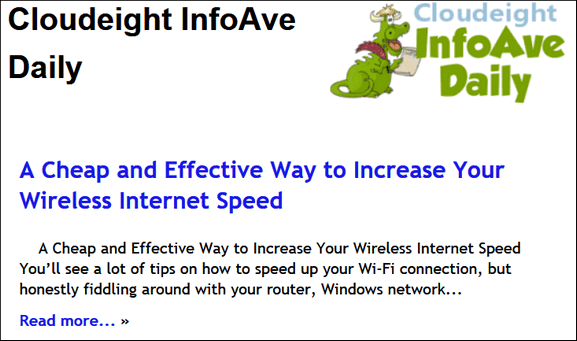 As you can see, the "new" InfoAve Daily, looks a lot like the old InfoAve Daily. And it will still be sent to you each night (Eastern time, USA)
Since every InfoAve Daily will be sent from feedblitz@mail.feedblitz.com, it would be a good idea to add that email address to your address book or contacts to ensure that you receive it.
Another change will be InfoAve Daily's subject line. Instead of saying "InfoAve Daily" the subject line will feature the title of the lead article in the newsletter.
And, though it pains me to have to write this…
If for some reason you don't want to receive our InfoAve Daily newsletter any longer, every issue has a "safely unsubscribe" link near the bottom. You can unsubscribe from our InfoAve Daily newsletter, quickly, easily, and safely.

And if you visit our InfoAve website often but you don't subscribe to our InfoAve Daily newsletter, we'd love to have you. You can subscribe here… it's free!
We hope this helps you understand the changes we have made and why we made them.  We hope you continue to enjoy our InfoAve Daily newsletter.
One more thing: The changes we've made to our InfoAve Daily newsletter do not affect our Cloudeight InfoAve Weekly newsletter.