You Don't Need to "Safely Remove" a USB Drive on Windows 10
This morning we had a question from a reader who was fretting over not being able to "Safely remove" USB drives ever since updating to Windows 10 version 2004.
According to Windows Latest, you don't need to worry…
"If you use Windows 10 version 1903 or newer, Windows now automatically disables write caching for USB drives and you won't find the 'eject' option because it's no longer needed.

Last year, Microsoft introduced a new policy for Windows 10 that instructs the operating system to allow you to remove the device without using safely remove hardware or eject option…

Windows comes with different policies you can select for USB storage devices. By default, Windows 10 is set to use the "quick removal" policy that ensures devices can be disconnected from your computer directly.

Another option is "Better performance" that improves performance but requires you to use the "Safely remove hardware" option…"
If want to take out a USB drive without using the old "Safely remove hardware" notification icon you can now do so safely as "quick removal" is the default on Windows 10 version 1903 and newer versions.
You can verify that Quick Removal is default this way.
1.) Open Disk Management (right-click on the Start button and click "Disk Management".
2.) In Disk Management right-click on a connected USB flash drive and choose "Properties".
3.) In the USB drive Properties dialog, click on "Hardware".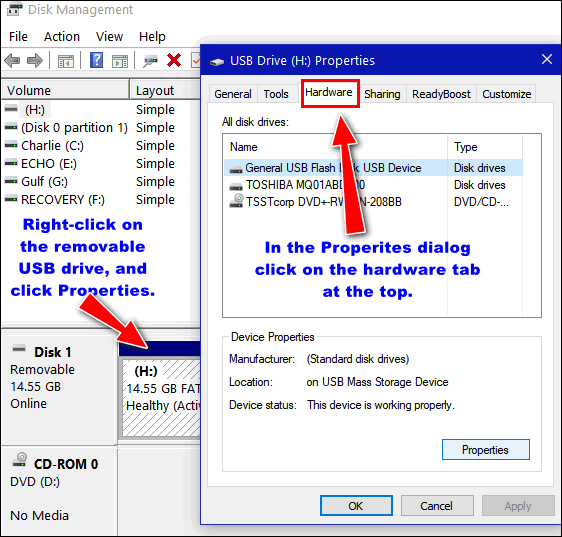 4.) In the Hardware dialog, click on the Properties button.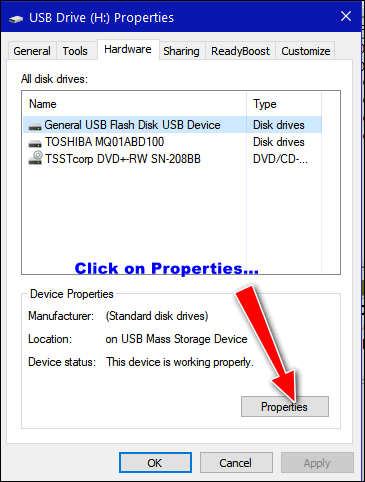 5.) In the Hardware Properties dialog, click on the "Policies" tab.  You should see "Quick Removal" "Disables write caching on the device and in Windows, but you can disconnect the device safely without using the Safely Remove Hardware notification icon."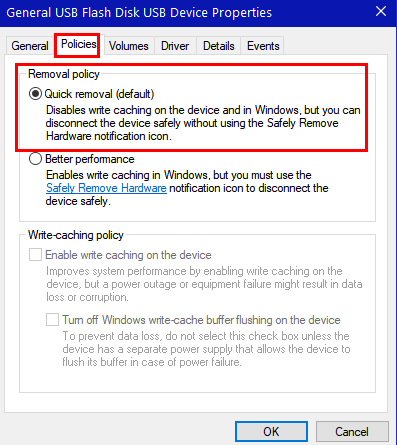 So, if you're using Windows 10 versions 1903, 1909, 2004 or newer, you can disconnect a USB flash drive safely, without losing data, without worrying about using the "Safely remove…" notification icon.