All About Your Browser
WhatIsMyBrowser.com – a Cloudeight Site Pick

If you're reading this, then you already know that one thing all of us have in common, regardless of the operating system we use, s that we all use browsers to… well to browse the web. Right?
But how much do you know about your browser? Well, we found a website that will tell you everything you ever wanted to know about your browser- and a whole lot more. WhatIsMyBrowser.com is a Cloudeight site pick that everyone can learn something from.
We will let the developers step in now and tell you more about WhatIsMyBrowser.com…
WhatIsMyBrowser.com tells you what browser and version you have, the type of device you are using, which operating system you're using, and your settings for important things such as JavaScript and Cookies.

When someone is troubleshooting a problem with you, it's very useful for them to know all the technical details about your system – it can narrow down where the problem might be and help ensure that you have all the required software.

This website saves you all the complicated steps to figuring out what versions of software you have, what features you have enabled & whether your web browser is up to date and let you focus on solving your problem.

If you're missing some important bit of software, we have a whole list of guides which can help you do things like enable javascript, update your web browser or try a different web browser.
Here are some screenshots to show you what you can learn from WhatIsMyBrowser.com.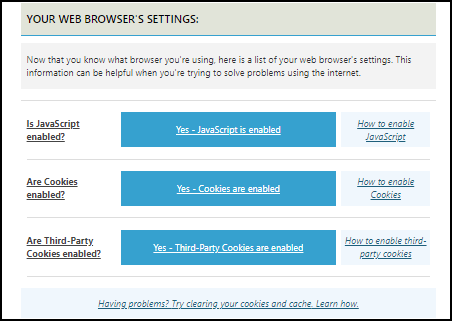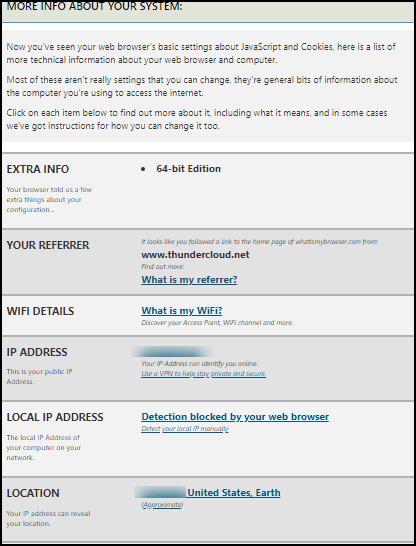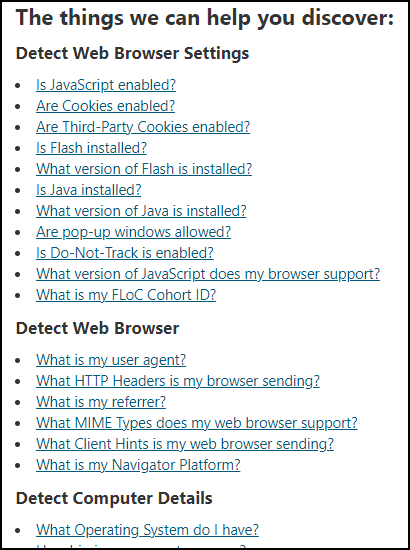 Are you ready to learn more about your browser? Great!