If you search for freeware programs using Google, Bing or Yahoo search, more than likely one of the top 3 or 4 search results is going to be Softonic (en.softonic). And if you click the link to download from Softonic, you're in for a long ride, and you'll be setting up your computer for hijackers, toolbars, annoying advertisements, and more, all courtesy of Softonic.
What is Softonic? It's a software leech — it takes the hard work of freeware developers and like a leech it attaches itself to the freeware program, wrapping it up in an installer cocoon replete with gimmicks, tricks, hijackers, video ads and advertisements for known malware, e.g. iLivid.
Softonic creates nothing and it provides no useful services. It makes its living tricking users, trying to get them to install a variety of hijackers, toolbars, malware programs, and failing to trick the user into any of those, it makes one last gasp to try to extract money from decent freeware programs by subjecting users to a video called "What is Softonic". And you'd think that would be about the company, maybe somewhere in that video there is something about Softonic, but after sitting through two ads (for which Softonic got paid) I closed the Window.
For this expose of how software parasites like Softronic work, I chose a freeware program called Screen Captor – it's a decent freeware program, but as you will see when Softonic gets done with it, it's becomes a twisting, turning, labyrinth full of opportunities for users to be tricked into installing trialware – presented as freeware-, malware, PUPs, hijackers and more
So I searched for Screenshot Captor on Google, Bing and Yahoo. Softonic came up near the top in all three search engines. These are top three links which came up from a Google search for Screenshot Captor Download: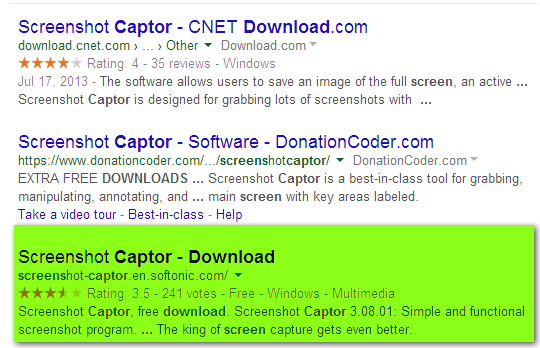 Two parasitical download sites (CNet and En Softonic) sandwich the author's site. Since this article is about the worst of the parasites, I chose the Softonic download (and later the Screenshot Captor's real — author's — download site) so that we could show you exactly how this company makes their money by riding the back of legitimate freeware.

Note above: I clicked to download Screenshot Captor, but if you look very closely, you'll see the program I'm actually downloading is SoftonicDownloader_for_screenhot_captor.exe. This is the scumware installer package from which Softonic hopes to earn money for nothing. A parasitical download bundler out to make money from someone else's free program.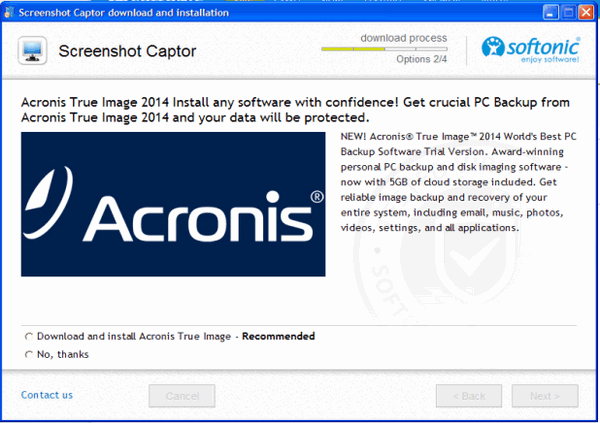 Screenshot Captor? Nope. First it wants to install Acronis True Image. This is not malware, but it's not freeware either. It installs it's affiliate version of Acronis True Image. Note, Softonic can't resist deception. Nowhere on this dialog does it say Acronis is not free. It makes it sound like it's free. But it's not. If you download and install it, guess who gets money? If you answered, "Softonic", you get a gold star.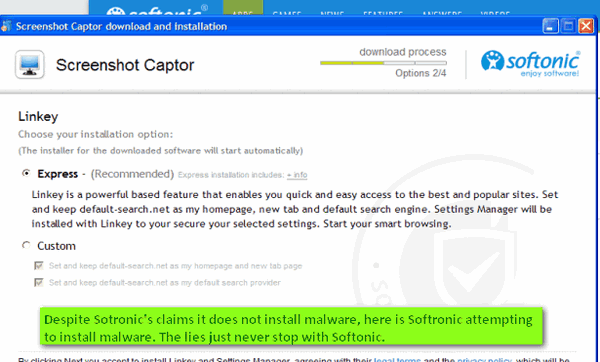 Although Subtonic's EULA promises it doesn't install any spyware or malware, above you can see it's attempting to install Linkey (PUP/Malware). Note that "Express" is checked. We all like Express, right? Who wants to take the slow road? Of course, if you leave it checked you'll end up getting a hijacker and toolbar- both PUPs at least, and malware by our definition. If you leave Express ticked, guess who gets paid? You're right again: Softonic.

After you make it through its arduous installer, Softonic is anxious to tell you all about their company. Not so much. They actually want to show you video advertisements, for which they get paid, and coax you into a very well-known malware program called iLivid — a pesky piece of garbage that's extremely hard to remove. Watch the video or download iLivid, guess who gets paid?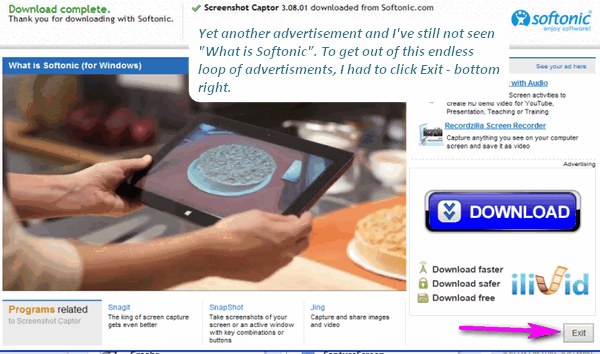 Another advertisement and I've still not learned a thing about their company — but, it's okay, we've got this parasitical download site figured out. I finally clicked exit. This is really unbelievable that Softonic is one of the biggest download sites and they're making tons of money by taking advantage of freeware developers, users, and advertisers. This company takes the proverbial scumbag trophy. If you watch this advertisement, guess who gets paid?


Above: Softonic leaves registry traces behind too, even if you opt-out of all their "offers".
What would have happened had you download Screenshot Captor from the author's site? Well, let's see…

Typical installation dialog from Screenshot Captor

Nothing wrong here. Just showing the installation path.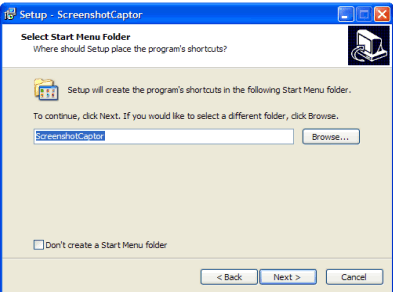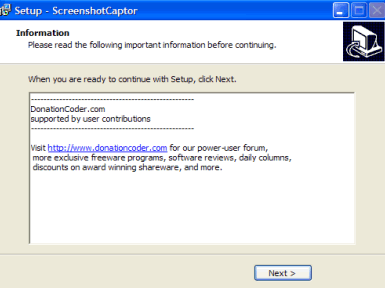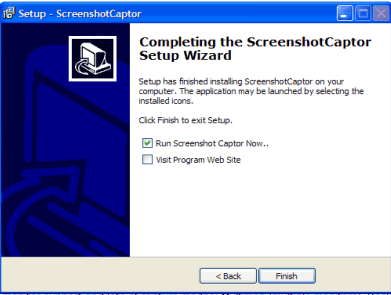 Screenshot Captor (free for home/personal use) does not contain ads, PUPs, Malware, or ads masquerading as videos. The software installer downloaded from Screenshot Captor's developer's site contains nothing at all but the program. The "real" freeware download link is: http://www.donationcoder.com/Software/Mouser/screenshotcaptor/index.html . Compare it to the installer provided by Softonic.
The truth is clear: Softonic is a parasite. It makes money by riding the back of the hard work of software developers and by tricking those who download the Softonic version of freeware, into installing trialware, malware, Pups. And, to add insult to injury, they even try to trick users into watching a video complete with advertisements to squeeze even more money from a decent, clean freeware program which has nothing at all to do with Softonic.
One more thing: Softonic likes to skirt the truth and play semantics with words. If words were dancers, Softonic would be Fred Astaire.
Here are excerpts, with our comments, from the Softronic EULA:
Softonic Downloader ™ End-User License Agreement is very long and convoluted, Read below to see some of the many issues that we see when we read between the lines (literally.. they have lots of legal mumbo jumbo between each of the sections listed below. We have put their actual wording in italics:
By clicking on the "Accept" (or equivalent) button below, you will be expressing your acceptance of this agreement.
**This means you agree to anything they say in the agreement **
Softonic reserves the right from time to time to update and amend this Software Licence (sic) and any enclosed reference documents.
**This means since you have agreed to their terms, they can change their terms any time for whatever reason, and you still agree.**
In addition, a toolbar will be offered, and it shall change the User's home page, default search settings and 404 error traffic, in the event the User selects such options.
**This means they will hijack your search engine, your start page, and install at least one toolbar.**
Softonic shall not be liable for any damages arising from your use of Softonic Downloader in a manner contrary to this Software Licence (sic). Except for the statutory liabilities set forth in consumer legislation, you exonerate Softonic from any liability arising from an improper execution of Softonic Downloader or the malfunction of Softonic Downloader arising from the manner in which you ran the software.
**This means if your system slows down to a crawl from all their additions/changes, you can't blame them and they won't fix it.**

Softonic warrants that Softonic Downloader is not Spyware or Adware. Softonic also warrants that Softonic Downloader does not show pop-ups or collect users' personal data.
**This means whatever they want it to mean – malware is malware. Hijackers are hijackers. Toolbars are toolbars. Most call this Malware/adware. They choose to say they are not. They can say what they want – its their opinion of their own software. And, since you agreed they could change their terms when then want, if they want to inject some spyware, legally they can. And, who needs popups when all the searches you will get are going to be ads, and when your start page is plastered with ads .. commonly referred to as adware**
You state that you are aware that Softonic may not have a relationship of any nature with the owners of the computer programs you download. You shall not hold Softonic liable for any claims against you for your use or possession of the products downloaded with Softonic Downloader, including, but not limited to claims for libel, violations of publicity or data protection rights, intellectual property rights, trademark rights, and any other claim or complaint with regard to the content, quality and functioning of the said software.
**This is along way for them to say they really don't know what all you will be downloading as they have no relationship with the companies that own the software you are downloading. Wait… so they can let their program install adware, spyware or malware, but they are not responsible?**
For any controversies arising from this Software License or the execution of Softonic Downloader, the parties submit to the jurisdiction of the courts and tribunals of the city of Barcelona.
**This means, if you have a problem with this completely screwing up your system, and if you find they have installed adware or spyware or popups after all, you will have to go to the courts in Barcelona and file suit.**
Click here to read it in its entirety.
From top to bottom, from beginning to end, Softonic is bad medicine. Like leeches, they make money by sucking the blood out of decent programs, install malware/adware/PUPs by tricking users, install trialware with no notification that its trialware, advertise well-known malware such as iLivid, trying to entice users to download it, and then, as if all that weren't enough, they want users to watch a video supposedly about their company, but really its about them getting paid when you try to watch it.
If you ever see en.softonic (Softonic) in a URL when you're searching for software, stay away. That's our advice.
***** A Note From Us *****
Companies like Softonic, offer nothing of value, create nothing, serve no one other than themselves, yet they make millions and millions of dollars from deceit, deception, and trickery. They are parasites, preying on freeware developers and users like you. While they make millions of dollars by coaxing users to install malware, PUPs, hijackers, and trialware presented deceptively as freeware, sites like Cloudeight, Scamadviser, and other sites which advocate for you, the ordinary user, and try to keep you safe, struggle to keep their businesses alive. There's something wrong with this, we think. It's no wonder that 90% of the computers we have had a chance to work on via our Cloudeight Direct Computer Care service are infected with malware and PUPs. And more than 50% of these are infected to the point where system performance is impacted.
We realize that the Web is a mirror of the real world and in the real world, those who do good are often the poorest. While pernicious businesses, who practice subtle deception prosper, those who try to shine a light on the truth, are often laughed at and ignored. We published the above article at substantial financial risk — since it's quite possible that Softonic won't be happy with us. But the truth is the truth.
Help us by posting the above article to your social networking page, Twitter, Facebook, LinkedIn — whatever site you use. Spread the word about companies like Softonic who prosper by trickery and deception. Exposing sites like Softonic is the first step in getting them to change. By making people aware of Softonic, who they are and what they do, you will be helping others — keeping them away from Softonic. And if enough people stay away from Softonic, Softonic will either change or cease to exist — both of which are desirable outcomes.
Also, consider helping sites like ours by becoming a Cloudeight Booster. Every "gift" (donation) helps us to keep you informed and safer.