Bonus Questions & Answers – 82121
It's Saturday again and that means it's time for another edition of Bonus Questions & Answers.  
Sometimes the best tips and tricks are hidden in the questions and answers we publish. And rarely do we post questions and answers on this website. Today, we're featuring some of the questions and answers from past issues of our InfoAve Weekly newsletters. 
These answers were selected at random from past InfoAve Weekly newsletters, and, as far as we know, have never been published on this site or in our InfoAve Daily newsletter.
---
Bonus Questions & Answers 82121
Derek has a problem at Windows 10 Startup
Hello you wonderful people. Since the last upgrade to Win 10 when I open my computer a notice opens saying it cannot access a program (C:\ Program Files \WindowsApps\ 21090PaddyXu.QuickLook_3.6.3.0_neutral_egxr34yet59cg….). Is this serious? And how can I remove or fix it? Kind Regards. Derek.
Our answer
Hi Derek. Thanks! From what I can tell this is a Windows app that you installed and is set to start with Windows. But it appears it's no longer working.
If I'm guessing right, you installed a Windows app called QuickLook which is an app that is supposed to add Apple Mac-like features to Windows 10. It's from GitHub (now a Microsoft site). You can read more about it here. You're getting this error message because QuickLook is set to start with Windows, but Windows can't find it or encountering a problem when it tries to start the program. You should be able to remove it from your startups by using the Task Manager > Startup tab.
Look at your Windows apps on your start menu for anything you don't recognize, right-click and choose "Uninstall". You can also use HiBit Uninstaller or Geek Uninstaller to try to remove it.
These are my best guesses. And they are only guesses since I've never encountered QuickLook before -and I can't examine your computer to see for myself what's going on.
Please let us know if this helps you.
— Derek wrote back: "Hello TC; Thank you for your advice. I found GitHub and removed it with RegOrganizer. I restarted the computer, and the notice has gone. I then downloaded HiBit and cleaned up a few more rarely-used programs. What a great service you provide. Another donation is on its way. Best Wishes Derek"
---
Cindy wants to know what we think of IObit Advanced Computer Care
What do you think about a program called Advanced System Care by IObit?
Our answer
Hi Cindy. Our opinion of IObit products is not very good. We think IOBit software programs border on being PUPs. Advanced System Care is particularly bad since it also includes a very poor antivirus and claims to be a one-click computer fix. In our option, Advanced System Care is almost as bad as some of the one-click-fix scams we've covered in the past.
The advanced malware scanners we use, find and remove Advanced System Care as a PUP (Potentially Unwanted Program).
Hope this answers your question, Cindy.
---
Carolyn's Windows 10 computer updated, and user account turned up missing
My husband has a laptop that he does not use regularly. He turned it on today and Windows did an update. We were both users on that laptop. NOW the only user that appears is me. How do we get it back the way it was with both users?
Our answer
Hi Carolyn. What kind of Update? Version update? If it was a version update you can roll back to the previous version of Windows 10 by going to Settings > Update & Security > Recovery > Go back to the previous version of Windows.
What happens if you press Windows Key + L. How many accounts do you see on that screen?
I've heard a lot of things happening when Windows updates, but I've never heard of it wiping out a user account. If this was not a version update, you won't have the option to roll back to the previous version. And if a user account was wiped out, you're not going to get it back. But you can create a new user account and import files from the old user account (assuming the old account is still in C:\Users\Name of lost account. However, this will not bring back the programs that were installed – all programs would have to be reinstalled if you created a new user account and imported data.
But before you do anything, try Windows Key + L to bring up the login screen. Let us know what you find out.
— Carolyn wrote back: "Thank you so much, The Windows(key) plus L did the trick. You have come to our aid again. I knew I could depend on you…"
---
Nick says one of his email addresses has been breached
Thanks for the article on Phishing is the Internet's Most Successful Con. I read it through and in one part it suggests a site called "Have I Been Pwned". I tried it and it says that one of my email addresses was breached. It asks me to "subscribe". I need your advice on this. Thanks, Nick
Our answer
Hi Nick. We featured "Have I Been PWNED" in our newsletters and on our InfoAve website before. See this article.
Just because your email address was found on the dark web, or anywhere else, doesn't mean it was breached or compromised. "Have I Been PWNED" is a legitimate site, but we don't see any advantages of subscribing unless you want to receive mail from them.
If you suspect one of your email accounts has been compromised, the best thing to do is change your password and make sure it's a strong password. We offer password advice in many tips, here is one.
Strong passwords are the key to your security. They are just as important as your security software… maybe even more. If your passwords are weak – or worse – if your passwords are weak and you use any of your passwords on more than one site, you're just asking for trouble.
Our advice: Change your password right away on the account you think might have been compromised… and make sure you use a strong password. And then even if it were breached the hackers/criminals would no longer be able to access it.
---
John is looking for an easy way to find all our tips and tricks
Hello Everyone at Cloud Eight. I have been reading your awesome letters for years and have a question I should know but am drawing a blank.
I save all of your newsletters but am beginning to crowd the PC. How can I go search for any problem I have seen discussed in a newsletter, maybe even a couple of years ago. I am sure it is possible, but again, my feeble old mind is drawing a blank. I could then delete the saved letters, freeing up valuable space.
Thank you so much for all the excellent help you provide. A customer for life 🙂 John
Our answer
Hi John. Thanks so much for your long-time friendship and support.
Everything in our newsletters is archived on our website at https://thundercloud.net/infoave/new/
On the top right side of the page, there's a great site search engine. Just type what you're looking for and if we have written about it, you'll find it in seconds!
See this page for more information on using our site search to find what you're looking for.
And – just a reminder: If you want to print something, make a PDF from an article or share it by email, just click the green Print Friendly button near the top of each article.
We hope this helps you!
---
Aria has a failing hard drive
My PC does not boot. When I turn it on, I get an error: AHCI Port0 Device error press F2 to set up when I press F2 I get CMOS set up utility. several options there but have no idea what to do. Can you help? I had Windows 10 version 1703. Please let me know my options. Thanks!
Our answer
Hi Aria. The AHCI device error you're getting is generated from the BIOS' S.M.A.R.T. hard drive detection. Hard drives can fail at any time. We've had them fail when they were less than a year old and we've seen hard drives last for 10-12 years. The S.M.A.R.T. feature is a warning system that hard drive failure is imminent.
The error you're getting has nothing to do with Windows – it occurs before Windows starts. The error means that the S.M.A.R.T. hard drive system has detected that your hard drive at port 0 (main hard drive) is failing and the drive may not be accessible. It indicates also that your hard drive may fail at any time.  You can try pressing F1 to try to boot into Windows.  If you do get lucky and boot into Windows, you should back up your files and replace the hard drive (or have someone replace it). A new 1 TB hard drive is not that expensive, you can get a brand name for around $50… or less. And these days they are very easy to install.
If you have access to another computer, you can use our Windows 10 page to download an ISO file and make a Windows 10 DVD. You can use that DVD to boot your computer.  Then you can try using the disk repair tools and/or other troubleshooting tools on the Windows 10 DVD. But even if you get Windows started, if your hard drive is failing, you're going to need to replace it – in which case having that Windows 10 DVD will be very handy.
If you must get a new hard drive, you can use the DVD to install Windows 10. You will not need a new product key if you install Windows 10 on the same computer. Microsoft hard codes the Windows product key to your hardware (motherboard), so if you put a new hard drive in and reinstall Windows, you'll not need a Windows product key.
We hope this helps you.
————
Aria wrote back and she replaced the hard drive and reinstalled Windows from the DVD and she's now in the process of getting her computer set up. Good job, Aria!
---
Harley wants to know why Emsisoft let him down
I was hit by a scam by email, My files were locked and everything was downloaded to the hacker. I lost nearly everything on my computer. All my contacts, passwords, and a lot of personal information.
I had Cloudeight install Emsisoft and thought I was protected; however, I opened an E-mail that loaded 697 viruses on my system. I contacted a company that was recommended by MICROSOFT and the tech deleted my old email address. I lost all my contacts and other information.
I took the system to a local technician, he saved what he could and removed more virus programs from my system,
I lost a lot and am monitoring all bank accounts and credit cards as they were stolen, and someone is going to try and use them. Hopefully, I can catch any false transactions.
Our answer
Hi Harley. Unfortunately, you did something we have warned people about many times. You saw an ad that told you that you had download 697 viruses and you believed it. Then you called a number on your screen and let the scammers access your computer. If you gave these scammers your credit card or banking information, you need to call your credit card companies and/or bank(s) and ask for a chargeback/refund and explain you were scammed. Then you ask them to change the account numbers immediately.
Then you need to do a system restore to a couple of days before you were swindled.
Here are some of the articles we have written about this. No antivirus or antimalware program will protect you from a fake ad from a tech support scam, and a program cannot stop you from falling for a fake ad and calling a phone number, and then allowing a scammer access to your computer. These people have nothing to do with Microsoft and are a dime a dozen.
https://www.thundercloud.net/infoave/new/microsoft-is-never-going-to-tell-you-that-your-computer-is-infected/

https://www.thundercloud.net/infoave/new/tech-support-scams-are-everywhere/
If you see an ad like this again, and you most likely will click ALT + F4 to close the ad. If it is an aggressive ad that does not close when you press ALT + F4, shut your computer down using the power switch.
We've cautioned our readers' dozens of times about clicking links in emails if you're not sure who sent the email. Clicking links in phishing or spam emails is a sure way to get scammed if you are not careful.
Emsisoft cannot protect you from willingly falling for tech support scams or from allowing scammers to connect to your computer with legitimate software like TeamViewer if you permitted them to connect.
You will want to immediately reinstall Emsisoft so your computer is protected from malware, viruses, ransomware, and other threats.

We hope this helps you.
---
Bob can't close MS Word
I have a PC laptop. I was using Word 2016 most of the morning. Then closed and went out to dinner. When I came back, I opened Word 2016 again. It went to the taskbar, but it won't open or close. I tried CTRL+ALT+DELETE but that didn't work. I can't even shut down the computer the right way. I need to get Word off the taskbar so that I can shut down my computer and try this all over again. Bob
Our answer
Hi Bob. Here are some things you can try:
Method One
1. Press CTRL+SHIFT+ESC keys to open Task Manager
2. In Task Manager find any entry that says Microsoft Word and right-click and choose "End task" on each. There may be more than one instance.
Method Two
1. Type CMD in the taskbar search
2. When Command Prompt appears at the top of the search results, right-click it and choose "Run as administrator"
3. At the prompt type (exactly as shown below with the spaces):
TASKKILL /IM WINWORD.EXE /F
Press Enter
Method Three
1. Press and hold down the Windows key and tap the R key
2. In the run box type the following (exactly as shown with the space)
SHUTDOWN /R
Press Enter. This will force all open programs to shut down and restart your computer.
As a last resort…
Also, shutting down your computer at the power switch does not cause serious problems like it used to back in the days of Windows XP; Windows 10 is much more forgiving. Still, we sure don't recommend you shut down your computer using the power switch often, but there are times when you may need to do so… for instance, in a situation like yours. So, if none of the above three solutions work for you (any of them should work) then shut down your computer using the power switch as a last resort. Wait about 5 minutes before turning it back on.
---
John wants to know how to rename his new Windows 10 computer
Finally succumbed and bought a Windows 10 computer. Setup was easier than expected. During the setup, it asked me for a name for this computer. Unfortunately, I made a spelling mistake and thought I could correct it via the control panel but the name I typed in never showed anywhere. Am I out of luck?
Our answer
Hi John. It's easy to rename your Windows 10 computer. Follow these simple instructions:
Type ABOUT in the taskbar search and press Enter when you see "About your PC" appear in the search results.
Look for the button labeled "Rename this PC" and click it.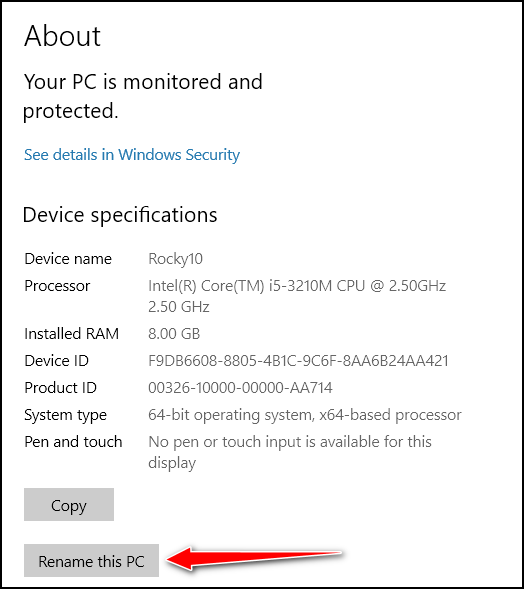 When you click that button, you'll see: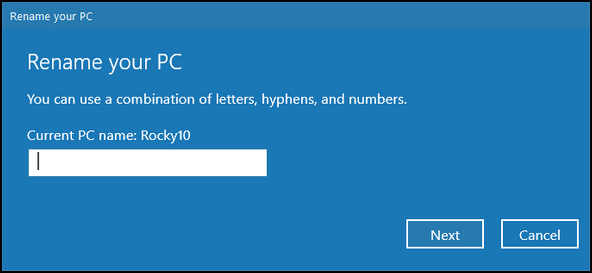 Type in the corrected name – or whatever name you want to use for your PC and click Next and confirm the change. That's all there is to it.
---
Please help us to continue helping you with your computer and help you stay safe on the Internet.  Even the smallest donation helps!