Cloudeight InfoAve Weekly – Issue #1049 – Now Available Online
Cloudeight InfoAve Weekly, Issue #1049, was sent to all subscribers on Friday, November 17, 2023, at 7:45 AM, U.S. Eastern Standard Time.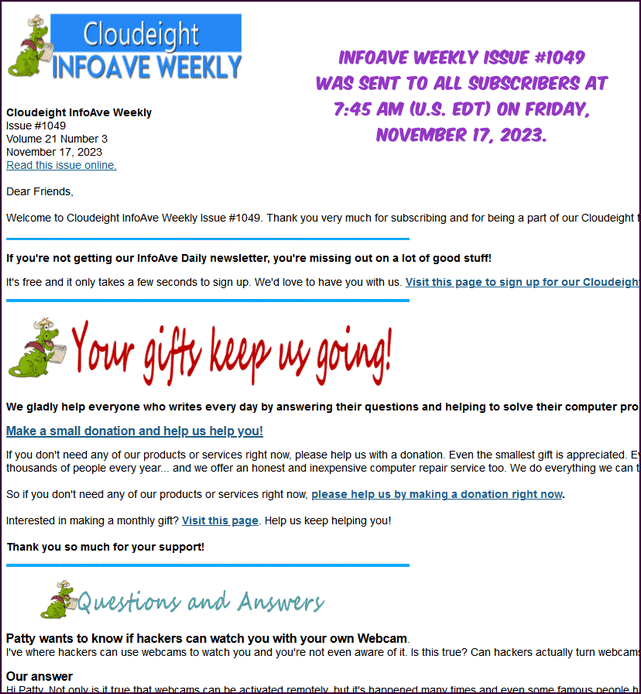 If you didn't receive our latest newsletter, it's because your ISP didn't deliver it… or it's in your spam folder. If you are having problems receiving our weekly InfoAve Weekly newsletters, we suggest you subscribe to our newsletter using a free Gmail or Outlook.com account. Both providers allow you to receive mail without censoring your email. If it's in your spam folder, highlight it, and mark it "Not spam".
If you're not a subscriber or are not getting our weekly newsletter and you'd like to, please join us by subscribing to our Cloudeight InfoAve Weekly newsletter here. It's free and we will never share your email address with anyone for any reason.
You can read Cloudeight InfoAve Weekly – Issue #1049 – November 17, 2023, here.
Our Cloudeight InfoAve Weekly Home Page features the current and recent issues of InfoAve Weekly.
Currently, on our InfoAve Weekly Home Page, you'll find Issues #1031 through #1049.
If you've missed an issue, visit our InfoAve Weekly Home Page and catch up!
If you're not a subscriber to Cloudeight InfoAve Weekly Newsletter, please join us. It's delivered to your inbox every Friday and it's completely free! Subscribe right now!
ARE YOU GETTING OUR DAILY NEWSLETTER?
If you're not getting our InfoAve Daily newsletter, you're missing some great tips, tricks, and articles. It's free and you can subscribe here. It's short and sweet and we send it every night around 9:00 PM (U.S. EDT). Please sign up for our daily newsletter here.
Thank you for visiting us today!
---
Don't need any of our products or services right now?
When you support us with a small gift, you help us continue our mission to keep you informed, separate the truth from the hyperbole, and help you stay safer online. Plus, our computer tips make your computer easier to use.
Did you know that we provide support to thousands of people? Every week we help dozens of people via email at no charge. The questions and answers you see in our newsletters are from the email answers and help we provide to everyone free of charge.
Thanks to your gifts, we do a lot more than provide this free newsletter. We help you recognize online threats, fight for your online privacy, provide you with the knowledge you need to navigate the Web safely, provide you with suggestions for safe, free software and websites, and help you get more out of your PC.
Please Help us keep up the good fight with a small gift.
Interested in making an automatic monthly gift? 
Visit this page. Help us keep helping you… and help you stay safe on the Web.