Well folks, it had to happen. The world has changed and older women no longer have to tolerate old, wrinkled-up prunes like, for example, TC. Older woman are plying their mature charms and casting their womanly spells on the young, stupid males and these immature, unwrinkled, svelte young men come running like a bunch of pigs to a feed trough at slop time.
I (TC) was rummaging through unpublished photos on our web site the other day and I came across a photo that EB had been hiding there, apparently trying to keep her children from discovering "Jack" the lover boy from Indiana. I was distressed to say the least. I had been wondering where EB had been lately. She seemed to disappear for hours and then suddenly reappear acting as if she had never gone anywhere. Well, maybe she never left her house but, as this photo shows, she sure wasn't working.
Well, here, take a look (this photo has been edited down to a PG-13 rating for this newsletter):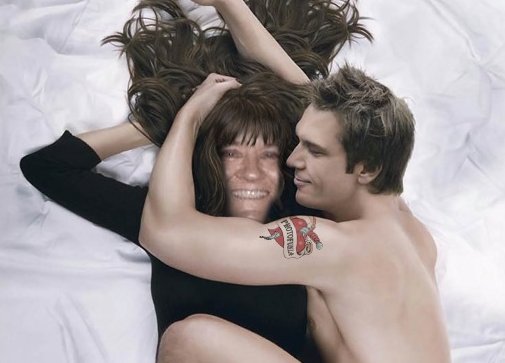 Eightball and Jack from Indiana – This is what she does when she's supposed to be working! Now you know!
Now that "Jack" has entered her life, she's always got this stupid smile on her face. And you know what she's dreaming of? Yes, what do all women dream of? Marrying a young, hot man, like, well take Jack for instance (PLEASE!). See, you can tell what she's dreaming of by looking at this candid photo of EB in bridal store trying on gowns. Doesn't she look like the perfect older bride?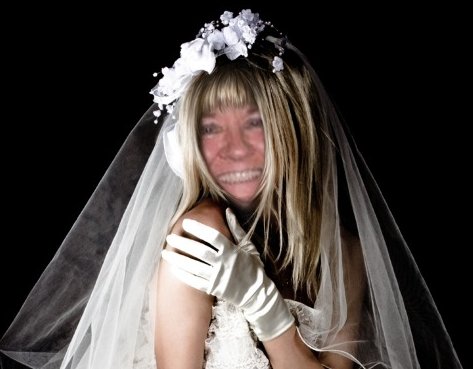 So, now, it's time to tell you the truth – these aren't real photos. No, I have to admit, I had fun (at EB's expense) on Photofunia and you can too. Just upload a picture of your face or someone else's and choose one of the pre-made effects and click the button – and in minutes you'll have a photo you can be, um, proud of?
Have some fun by visiting our site of the week this week – Photofunia. It's free, it's fun, and you'll have a ball. TC did.:)
Thanks to our friend and NotOverTheHill member "Welder4" for suggesting this site.