Top Class Actions
I stumbled upon this site while researching all the astounding claims LifeLock (now Norton Lifelock) makes in their TV advertisements. I came to find out that Lifelock is no stranger to lawsuits. It has been sued several times over the years and is currently involved in another class-action lawsuit. I found out that in a current class-action lawsuit, that Lifelock is being accused of failing to deliver on the promises it makes in its advertising…"
"A new class action lawsuit alleges that LifeLock, an identity theft protection service, fails to deliver on the promises it makes to consumers in its TV, radio, and online advertising.

"The LifeLock class action states that the Federal Trade Commission (FTC) has even brought legal action against the company on two separate occasions, but LifeLock continues to misstate the services it purports to provide to consumers.

"Plaintiffs Joe Weingarten and Darrell Hunter allege that they each paid hundreds of dollars to LifeLock based on advertising that promised protection from identity theft; however, the company did not live up to its promises.


"Weingarten says he discovered that his Social Security number and personal credit were being used fraudulently. Further, LifeLock failed to notify him that his address had been changed with the United States Postal Service without his knowledge.


"Hunter alleges that he paid for LifeLock services in 2014 and 2015, but when he tried to use LifeLock to resolve a credit inquiry, the company failed to do anything about the problem even months later…"  


For more see the entire article here.
So, I thought this website would be a great resource for people who want to find out if a company or a service they use is involved in any kind of class-action lawsuit. Not only can visitors learn what companies/services are being sued, but they can file claims and find out if they are eligible for compensation from any ongoing class-action lawsuits. The site can also assist consumers by connecting them to attorneys who specialize in consumer protection.
Here's a short description from the website:
"Our mission is to make the lives of consumers better by connecting them to credible news and reliable resources that ensure they come out on top, every time. We're here to help consumers find, submit claims for, and receive compensation for every Class Action Settlement they qualify to participate in, and to connect them to attorneys dedicated to consumer justice.

The #1 Source of Class Action News

1.25 million monthly visitors
5 million monthly pageviews
770,000 newsletter subscribers (growing by 3,000 to 5,000 a week)
130,000+ Facebook followers

Top Class Actions is regularly sourced by major news publications across the country in their coverage of consumer news, including the Miami Herald, Consumer Reports, Consumer World, The Ring of Fire, The Penny Hoarder, and affiliates for ABC, CBS, NBC, Fox, and more…"
So, not only can you use this site to find out if you're eligible for compensation from a class-action lawsuit, but you can also find out what services and companies are currently being sued. This would be a wise thing to do before you fork over your hard-earned money to a company for a product or service that doesn't live up to its advertising claims.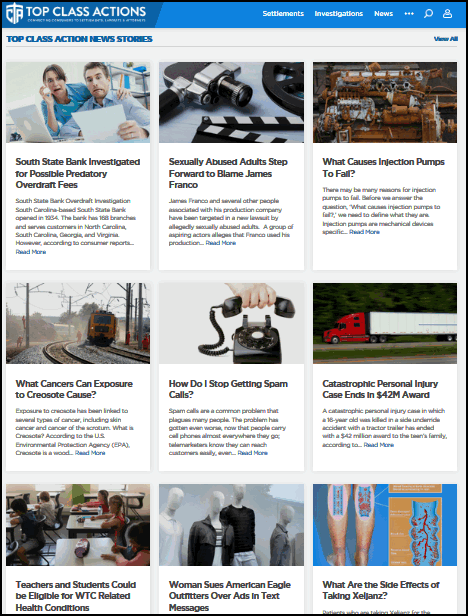 The name of the site is Top Class Actions. Take some time to take a look, we think you'll be impressed.  And you'll learn a lot too. Visit Top Class Actions right now.