Emsisoft's New Anti-Ransomware Feature
The latest WannaCry ransomware outbreak raised a lot of eyebrows as it wreaked havoc around the world, causing the shutdown of some hospitals in the U.K. and several large companies to suspend operations for 24 hours or longer.
It has been a fact, in the past, that if your device were infected with ransomware, you'd either pay a ransom or have all your personal files (pictures, documents, etc.) encrypted and locked forever – you'd
never be able to access them again.
It's no secret we're big fans of Emsisoft. We're fans of their products, we're proud of their excellent team, the support they provide our mutual customers, and we're proud to be an official Emsisoft reseller.
So, we are very happy to report that all Emsisoft users will benefit from a new Emsisoft feature called Anti-Ransomware.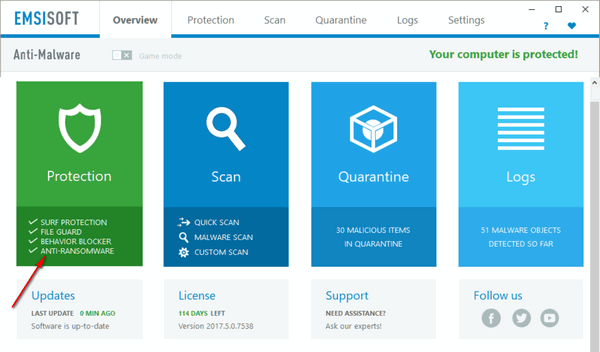 Here's the announcement from Emsisoft regarding their new layer of protection called "Anti-Ransomware":
"We at Emsisoft see it as our responsibility to keep you safe from all kinds of ransomware, and we are confident that we can stay technological leaders in the fight against malware that encrypts your personal files. To emphasize our products' strength in this regard, we decided to shift our existing and proven anti-ransomware capabilities into a separate protection layer component that we are calling 'Anti-Ransomware'.

"Contrary to most self proclaimed anti-ransomware specialist tools out there, Emsisoft Anti-Malware… (is) able to block ransomware before it even encrypts the first data file. We consider that critically
important, as recent ransomware samples have shown that criminals have become selective and are prioritizing your supposedly most important files for encryption. Our licensed security solutions don't wait until a pattern of multiple file manipulations occurs, but intercept encrypters before they can touch anything. Prevention is key…

New main guard component "Anti-Ransomware" to emphasize the trusted ransomware protection abilities that were previously part of the Behavior Blocker component. *  New scan setting "Scan in email data files" that allows you to include or to skip the scan of potentially large email files.
Lowered the number of false positive alerts.
User interface and user experience improvements…"
We are pleased to tell all of you who are using Emsisoft right now that you'll get this update free of charge. It will install as part of your regular updates – you don't have to do anything at all. If your
Emsisoft is set up to update automatically (it's set up this way by default), then you get the newest Emsisoft update automatically.
If you're not using Emsisoft, now is the time to make the switch.We'll even install it free and you'll get our Cloudeight discount. Visit this page to get Emsisoft Anti-Malware with Anti-Virus and Anti-Ransomware, a one-year license, PLUS FREE installation and set-up by Cloudeight Direct. We know you'll be glad you did. Learn more here.