Iris: Easy on the Eyes  [UPDATED 2/21/2018]
We debated about this freeware pick. But because we are on our computers for hours and hours every day. Some days the eye strain does start affecting us. After using Iris for a few days, we have noticed that some of its settings do seem to help reduce the strain on aging eyeballs. The Sunglasses settings and the Read We have not used this program long enough to tell you if it has all the benefits it claims, but it does allow you to filter blue light which may be helpful if you use your PC at night. Not to be too serious about this, but I am going to cite an article by Harvard Health (that would be Harvard university) that claims our circadian rhythms are being disrupted by blue light emissions from PC screens, smartphones, tablets, LED light bulbs, and so on. You can read the entire screed from academia here.
Now, if you are the kind who believes in conspiracy theories, you can find many articles that tell you that blue light will make you blind. But consider this: The majority of the blue light that gets into our peepers comes from the sun. So some piddly little screen isn't going to blow your eyeballs away if the sun hasn't already done it. And yet you'll find doctors who'll tell you that it's the proximity to your screen that will ruin your eyes. Believe what you will. We say proximity to the sun is much more dangerous. Try sitting 2 feet away from the sun – let us know how that goes.
Seriously, I've been using the FREE version Iris for about 3 days and I do like the sunglasses setting. I don't know if I'm sleeping any better these days (hey! I'm old), but I do notice that me old laptop screen seems easier on the eyes. The program has a decent free version and there are a lot of settings you can play around with. If you don't like any of the settings, you can uninstall the program, right?
There are programs that dim your screen at night, but this program has setting you can use during the day…
"My motto's always been 'when it's right, it's right'
Why wait until the middle of a cold dark night?
When everything's a little clearer in the light of day
And we know the night is always gonna be there any way…"
("Afternoon Delight" Starland Vocal Band)
Anyway the program is called Iris. It promises to (these are (mostly) the words of the developer and these statements sure have not been approved or evaluated by the FDA or CDC or AEA (American Eye Association – is there such a thing?).
"…Prevent Eye Strain: Iris optimizes screen pulsations by controlling he brightness without PWM. You'll be able to use your computer for longer without headaches. (I still have to put up with EB, mister!)

Reduce Eye Pain: Iris will match your screen brightness to the light around you. Different presets will automatically adjust your screen. using computer will feel like reading a book.

Improve Sleep: Iris will gradually regulate blue light day and night. This will help your body to produce more melatonin at night. You will fall asleep faster and sleep deeper.

Iris Free Version

Gives you general presets for Blue light and PWM reduction
Automatically adapt to the light around you
Personal preferences from the Mode and Type menu
Reduce Eye strain during the Day with Manual
Test how Iris helps you with Health
Remove all Blue light with Sleep
Transform your monitor to book with Reading
Get Black theme on everything with Programming
Supercharge melatonin secretion with Biohacker
Combine Blue blocking glasses with Flicker-free brightness with Sunglasses/li>
Lower Lightness without Brightness reduction with Dark
See dark and black movie Scenes better with Movie
Protect your eyes with all kinds of USB monitors with Overlay
Use High-level API to enable Iris on monitors connected via Docking station…"
So, try it and see if you like it. The free version has plenty of settings that you can play around with – probably all you'll ever need. If you feel you need 100 other settings, you can spend $10.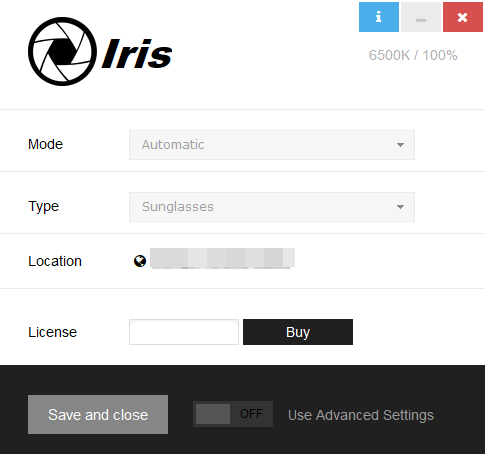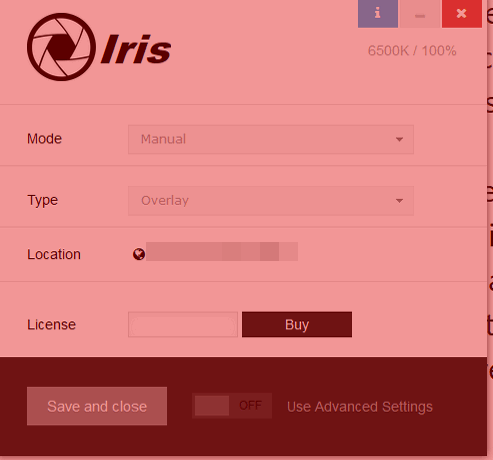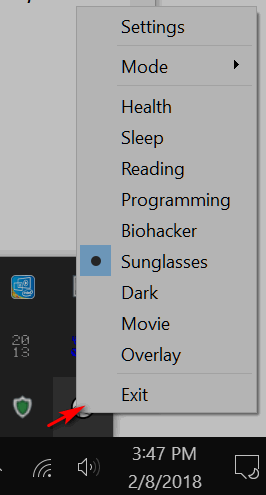 You can read more about Iris here. The download link is hard to find (not because the developer is trying to trick you, but because of really odd page design). So, here is a direct link to download the free version of  the program.. The free version can be used without time restrictions. If you want to unlock dozens of other features you can buy a license. For us the free version does all we need it to do.
IMPORTANT! Please read: Added on 2/21/2018:
The author of Iris has written and apologized for the mix up on the "Free" version. It seems he updated the program, but not his website. That explains the trouble some of you were having that we did not have when testing the program… That being said… he has been gracious enough to offer full-version licenses for any of our readers who want one. If you would like a free full-version license for Iris, please contact us and we'll send you one courtesy of Daniel the developer of Iris – and apparently a pretty nice guy!