It's a Great Time to Download and Save a Copy of Windows 10 Version 1809
Microsoft will be releasing Windows 10 version 1903 sometime in late May. So right now is a great time to download and stash a copy of the now-well-tested and pretty well debugged Windows 10 Version 1809. If you delay too long and wait until after Windows 10 version 1903 is released,  Windows 10 version 1809 will no longer be available and you'll no longer to get your hands on it.
Even if you never need it, it's good to have a copy of a known stable version of Windows 10 on hand. You can download the Windows 10 ISO file and save it. Or use it to create an installation DVD or USB flash drive and hang on to it. It's free to download so even if you never use it, it's good to keep it just in case.
And don't forget you can also use the installation media (DVD or USB) to boot your computer if it won't normally, and access the Advanced Boot Menu from which you'll be able to use the troubleshooting tools, the command prompt, safe mode, and other tools you can use to repair your PC. It's free, easy to make, and it's like having a little free insurance.
Here's what you need to do:
1. Go to https://www.microsoft.com/en-us/software-download/windows10
2. Click on " Download tool now". You'll get a window asking if you want to run or save the MediaCreationTool1809.exe. file.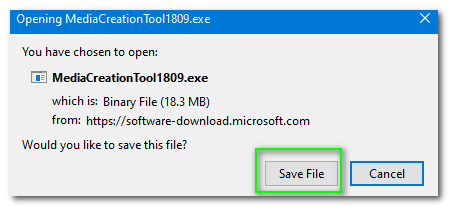 3. After the "tool" is downloaded click on MediaCreationTool1809.exe
4. Click Accept.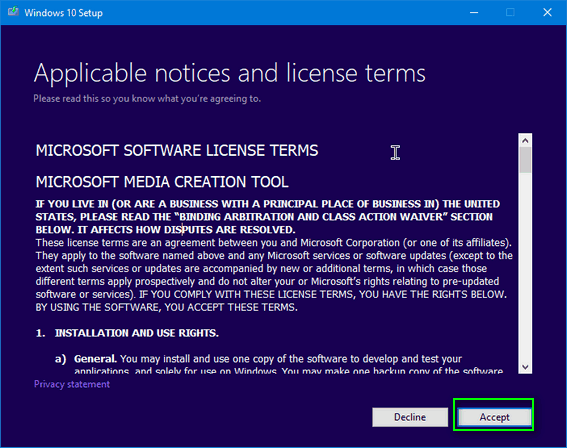 5. Select "Create installation media (USB flash drive, DVD, or ISO file) for another PC."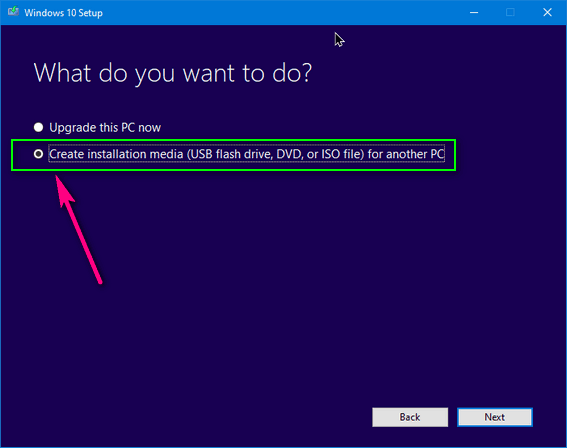 6. Leave the recommended options for your PC checked, unless you have some amazingly good reason not to.
7. Click the ISO file radio button and click Next.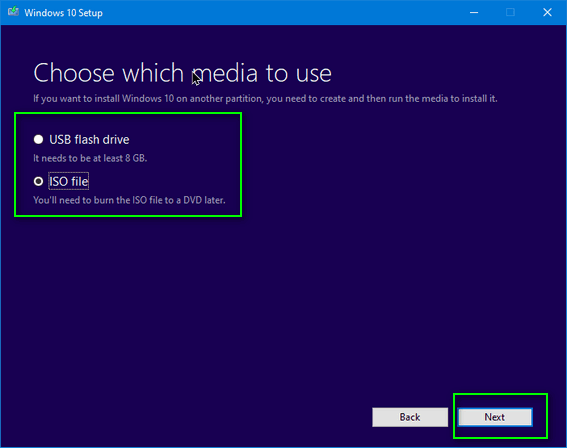 8. Choose a location for the downloaded files and click Save. We suggest you save it to an external hard drive or an 8GB or larger flash drive. That way you'll have it if you need it.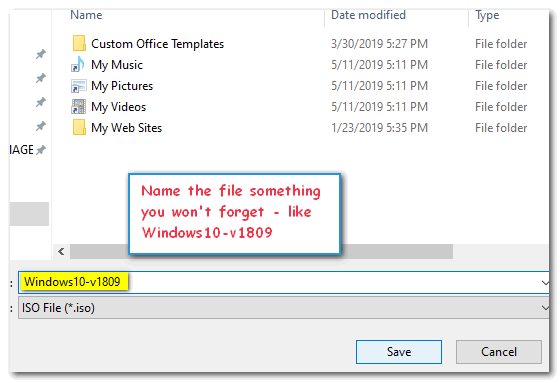 Hang on there! If you don't have a fast connection this part could take hours. If you have a fast connection, it will only take a few minutes. You don't have to have to hover over your PC staring at your screen waiting. Just take off, grab some coffee, a beer or go mow your lawn. It will be done when it's done.
9.. When Windows is finished downloading and verifying the file integrity. It will offer to Burn the ISO file to a DVD. But for now, just click "Finish".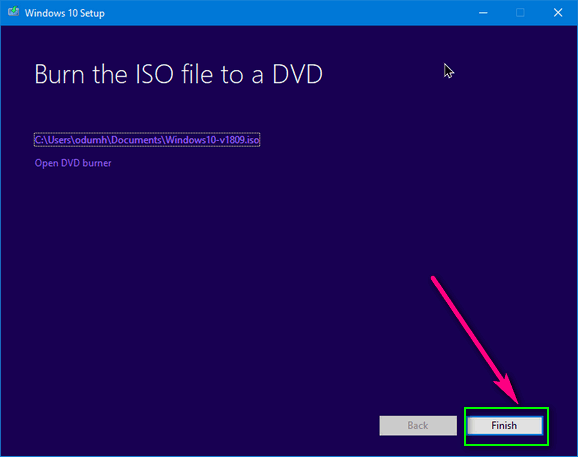 10. Check the location you chose for the download and make sure you see your Widnows10-v1809.iso file (or whatever you named it).
11. You don't need to do anything else right now but you'll want to make the installation DVD (or flash drive) soon and, after you do, keep it in a safe place.  You can use the ISO file at any time to create an installation DVD or even a Windows 10 installation flash drive. You'll need a program like UNetbootin if you decide on making the flash drive. 
How to create a DVD from an ISO file
We can't generalize because some of you have DVD burning software installed… and if you do you can burn a DVD by following instructions for your CD/DVD burning software.
If you don't have CD/DVD burning software, Windows 7, Windows 8x and all versions of Windows 10 can burn a CD or DVD from an ISO file without installing any 3rd-party software. All you need to do to use the Windows 10 ISO file to create a Windows 10 installation disk  is:
Put a blank, writable DVD in your CD/DVD drive

Double-click the ISO file

Follow the on-screen prompts.
That's it.