Our Start Page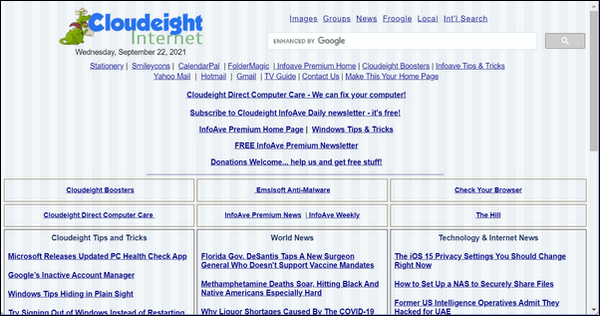 On Monday, September 20, 2021, one of the servers we use to parse the RSS feeds that display content in the three news sections went down.  It was down about an hour, and we switched to the alternative server. Since then, the start page has been working fine, but we continue to get emails from folks telling us our Start Page is not working correctly – specifically that the Cloudeight Tips and Tricks are not displaying. 
This tells us that many of you don't clear your browser's cache (history) very often and you're viewing an old version of the page.
If you are not seeing updated content on our Start page – refresh the page by either:
Right-clicking the page and choosing "Refresh" or "Reload" w




–or–

While on the page press the F5 key.
And it's always a good idea to clear your browser's history (cache) every week or so.  This way you'll always be sure you are viewing the page live and not from your browser's cache.
See this page to learn how to clear your browser's history.
And thanks for using our Start page!