(This tip comes from Don P's question: "You tell Barb to use Revo and later on Geek – why the change?")
While Revo Uninstaller remains a great choice, we've both become fond of Geek Uninstaller lately, for one reason: Simplicity and speed. Geek is faster than Revo Uninstaller and is simpler to use. The user doesn't have to decide "Are you sure?" when removing leftover items. With Geek you don't have to select any leftover items, you just click "Finish" after it does a scan for leftover items after the software program has been remove. When it's done scanning – you're shown the leftover registry items, folders, etc. and you only have to click "Finish".
We have seen some comparative tests done between the two, and it thoroughness, Revo wins by a narrow margin. Both are good. We still think Revo is a great program, but Geek is too. It's faster and easier to use — so we use Geek and we think it's a good choice for you too. But were not dismissing Revo. If you prefer Revo, then by all means keep using it. You should at least give Geek a try.
Geek is now offering a paid version with more features — but for our money, we'll stick with the free version — although the paid version has some nice features.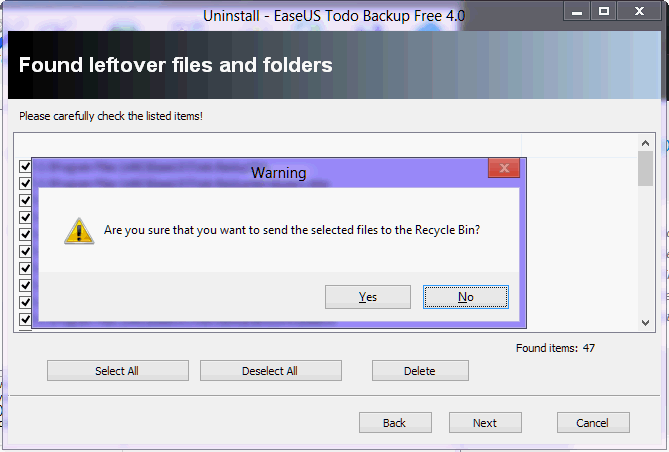 Above – you can see that with Revo you have to check the items you want to remove and then see a warning "Are you sure…". Nothing wrong with that. Revo also took longer to scan for leftover items. Is it more thorough? My a smidgeon. Is it worth the extra user time? It's up to the user.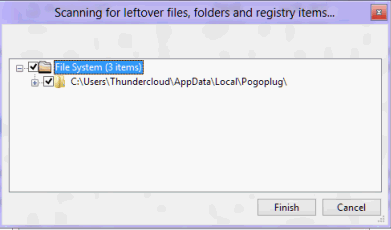 Geek's leftover traces dialog is simple and straightforward — the boxes for items to be removed are pre-checked. All the user has to do is click "Finish".
Which should you use? It's up to you. Both are great programs. Both have very serviceable free versions. It's your choice. Which is best? Whichever is best for you.
You can download Revo Uninstaller Free here. You can download Geek Uninstaller Free here.