Saturday Bonus Questions and Answers – 043022
It's the last Saturday of April and once again it's time for our Saturday Bonus Questions & Answers.
Sometimes the best tips and tricks are hidden in the questions and answers we publish. And rarely do we post questions and answers on this website. Today, we're featuring some of the questions and answers from past issues of our InfoAve Weekly newsletters. 
These answers were selected at random from past InfoAve Weekly newsletters.
---
Saturday Bonus Questions and Answers – 043022
Brian's PC doesn't meet the requirements for Windows 11
Hi. I have an HP All-In-One computer which is only several years old; I'm not sure of the exact age of my PC.
When I run the latest version of WhyNotWin11 (version 2.4.4.1) it says everything is compatible except the CPU. The computer specs are listed below:
Processor Intel(R) Core(TM) i7-6700T CPU @ 2.80GHz 2.81 GHz
Installed RAM 16.0 GB (15.9 GB usable)
System type 64-bit operating system, x64-based processor
Pen and touch support with 10 touchpoints
All components are compatible except the CPU. Regards, Brian.
Our answer
Hi Brian. First, Microsoft has updated its PC Health Check app to check your PC's compatibility with Windows 11- so there's no need to use the workaround WhyNotWin11. You can read more about that here. I would run that before making any decisions.
From what I can see, you have a 6th generation Intel processor that doesn't make the cut as far as Windows 11 goes. According to Microsoft, it must be a 7th Generation Intel processor or newer. You can follow the instructions on this page and use a registry hack to skip the CPU check and install Windows 11 anyway. But, Microsoft warns if you use their workaround to install Windows 11, updates are "not guaranteed".
But so far my ASUS computer, like your PC, meets all Windows 11 requirements except for the processor, is running Windows 11, and has been getting updates. It seems to me that Microsoft would never really cut updates off for users who used Microsoft's workaround to install Windows 11. But, if you do upgrade to Windows 11, you would have to assume that risk.
---
Janet has laptop battery troubles
Every so often my computer says my internal battery is very low. I've researched buying a new one but it would be difficult to replace (not like I did on my old computer) and the tec. at the store said they didn't replace them. Then someone told me that their computer has said that for a long time but it keeps working and not to worry about it. Why is this happening and do I need to be concerned? I keep it plugged in all the time.
Our answer
Hi Janet. Since your battery is hard to remove, try this:
1. Unplug the power cord.
2. Turn off your PC (power it off)
3. Leave it off for 5 minutes.
4. Leave it unplugged and turn it back on. Leave it on for 2 or 3 minutes.
5. Turn it off again (power it off).
6. Wait five minutes, plug the power cord in and turn the PC back on.
Now see if the battery shows that it's charging. You can also try running a battery health report. This should show you how healthy your laptop battery is See our article here.
I hope this helps you, Janet.
---
Carol had a pretty shut-down screen and now it's ugly
I used to have a picture on my shut-down screen. When I updated my "Edge" it went away and now shows an ugly blue screen. How can I get it back? I love all your tips and tricks. Thank you, Carol
Our answer
Hi Carol. Thanks for your nice comments.
On that screen, I think you are referring to the lock screen. If so, try this, and tell us if it fixes the ugly!
Next to the start button, in the search area (taskbar search), type Lock Screen, then press Enter. You can change the background picture there.
We hope that helps solve the problem of the ugly screen!
———
Carol wrote back: "Wow, you guys are quick in responding!!! Problem solved with your help. Thank you, Thank you, Carol"
---
Gail has been getting mail that appears to be from her friend but it's not
I have been receiving emails that appear to be from a dear friend but that I know are not. I have informed her about it & have suggested that she change her anti-malware program to Emsisoft because I think someone has gained access to her contact list & sending out fraudulent emails. My questions are: once I determine the real email account from which these emails come, will replying to it actually be received by that sender? Is there a way to block them? The sender's real account is always different each time I receive their email disguised as coming from my friend. It's not so much a big deal as it is annoying. Thanks for any help with this. Gail
Our answer
Hi Gail. If the sender is an amateur and does not know what he or she is doing, you can find the IP address of the sender and where he or she is located, but that's not going to do you a lot of good. Spammers don't send from real email addresses (they send from forged email addresses) and they use thousands of email addresses so it's impossible to block them. It'd highly unlikely someone has gained access to her contact list, but very likely that she or someone she sends to has put everyone's email address in the CC line (instead of the BCC) line. We have seen it hundreds of times where people put dozens and dozens of peoples' email addresses in the CC line and thus expose all those addresses to spammers.
The best way to control spam is not to block senders, it doesn't work. The best we have ever found is to use Gmail to filter your mail. See this page to learn how to get a free Gmail account to block spam.
We get hundreds of emails each week and rarely do we ever see a spam email in our inbox. We've been controlling spam this way for many years and we love it because it works.
——————
Gail wrote back: "Hi TC. Thanks for being so sweet & taking the time to reply. I suspect, based on your information, that the culprit is someone to whom she emails because I don't think my dear friend even knows what the Cc or Bcc is, much less how to properly use it… Anyway, thanks again. I sincerely appreciate it. Best wishes to you as well, Gail,
---
Robert wants a good free photo-editing site
You advised a good free site for the best photo editing – I am interested in a free photo editing service. Is that something you can provide for me?
Our answer
Hi Robert. There are several online photo editors we have tested in the past. We have not tested any recently. But here are several we have tested:
Pixlr
Be Funky
https://www.befunky.com/ (Good for beginners, not a lot of advanced features)
PhotoPea
https://www.photopea.com/ (Advanced online photo editor – with features like Photoshop)
We hope you find one that meets your needs.
---
Bonnie wants to convert PDF files to JPG files
I would like to know the best and easiest file converter. I would like to convert PDF to JPG. Thank You
Our answer
Hi Bonnie. We don't recommend installing a PDF converter. These kinds of programs seem to be magnets for malware. Rather, we suggest you use an online converter, particularly one that specializes in what you want to do. I tested a few this morning. Some want to play games and try to get you to install or download something, and some like this one https://jpg2pdf.com/ just do the conversion for you. When the conversion is complete, you can download your JPG file. It can also convert PDF to PNG and other file types as well.
We hope this helps you, Bonnie.
---
Bob wants to clone a potentially failing hard drive
I may have an internal boot drive going bad, but it's been more than 10 years since I cloned a hard drive. Can you give us simple step-by-step instructions on how to clone a hard drive, and what software do you recommend to clone with? Thanks!
Our answer
Hi Bob. A clone is an exact copy of your hard drive – sector by sector. The last thing you want to do with a bad hard drive is to clone it. What you need to do is back up all your files (Photos, Documents, Music, etc.) to an external drive before your hard drive becomes inaccessible. You can then copy the files back to the corresponding folders after you install Windows 10 on the new drive.
You can download Windows 10 here and make an installation DVD (or flash drive) and install it on a new hard drive. Both the installation disk and flash drive are bootable. And you won't need a product key since you have Windows 10 installed now. Windows 10 embeds the key in your computer's BIOS. As long as you don't change your motherboard you'll never need a product key.
I hope this helps you, Bob.
---
Vari wants to know how to save important emails in Gmail
Hi. I am not sure if this is a suitable question for you both but I thought I would try! I would like to save some very important emails in Gmail and wonder what is the best way to do this. I would like them to be all in one folder and easily accessible. I have never done something like this before so not sure how easy it is or if it is possible. Sorry if this is a very basic question but I have not needed help with this before now so I hope you can help. Many thanks for all your wonderful newsletters and tips. Vari.
Our answer
Hi Vari. Thanks so much for your kind comments!
You can save any label (folder) in Gmail by using Google Takeout. Read our article here.
That article describes how to back up your entire Google account – but you can back up a specified Gmail label (folder) too. All of your Gmail emails are stored in the folder "All mail".
We hope this helps you!
——–
Vari wrote back: "Thank you TC. Just what I wanted! I was sure you would have the answer! …Thanks, Vari.

---
Bil wants to know why he has to keep reinstalling the "new" Microsoft Edge
Hi Guys. I am buying and setting up an HP Inspiron laptop for my wife. Unfortunately, I am having a problem with Microsoft Edge! It asked me to install the new Microsoft Edge which I did. Every time I boot up it loads up Microsoft Edge asking me to install it! I can't seem to get rid of it for the screen at boot up. Any suggestions?
Great Newsletter… it is compulsory reading every day/week/month!  Regards, Bil.
Our answer
Hi Bil. Thanks for your nice comments.
Was this a used computer? New computers with Windows 10 should not ask you to install the "new" Edge. There is no "new" Edge. There is only one Edge now and that's the Chromium version of Edge which comes with all supported versions of Windows 10.
Your best bet is to type Apps & features in the taskbar search.
Click "Open" when Apps & features appears in the search results.
In Apps & features, in the list of Apps, find Microsoft Edge and click on it.
Then click "Modify".
When you click "Modify" you'll get an Administrator prompt (allow this app to make changes to your device). Click "Yes".
You'll see this dialog: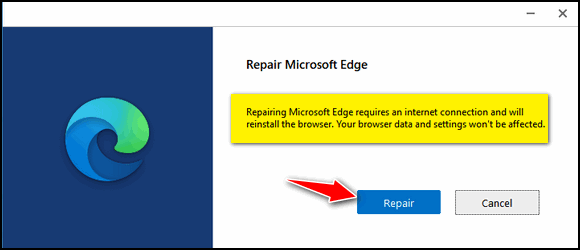 Click on "Repair". Notice the dialog says it will reinstall the browser.
We hope this helps you fix your MS Edge problems, Bil.
---
Eleanor has Windows 10 and wants to do daily backups
Hi…I've had your Infoave Premium for years and have read all your wonderful suggestions over the years. I've wanted to back up my computer for quite a while and finally bought a Seagate 4 TB Backup Plus Portable backup. I have not connected it yet because I'm wondering if there is a program that I could get to just daily backup what's new instead of backing up everything every day. I don't know if you could help me with this but I thought I would ask anyway. Thanks…Eleanor
Our answer
Hi Eleanor. Windows 10 comes with a really good backup program that is available to you.
Before we get to that, we recommend that you don't install the software that came with your external hard drive, it's unnecessary. Just plug it into a USB port on your computer. And, for best results with your backup make sure you leave the backup drive plugged in all the time. Only unplug when absolutely necessary.
Plugin your external drive and use the following steps to turn on Windows 10 File History backup.
1. Right-click the start button & click "Settings"
2. In Settings click on "Update & Security"
3. In Update & Security click on "Backup" in the menu on the left.
4. Under "Back up using File History" click the big plus sign next to "Add a drive"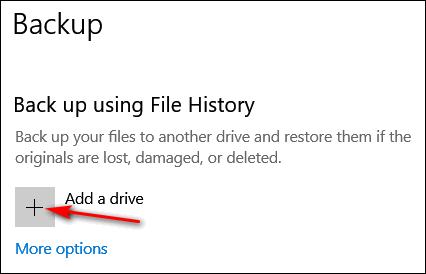 5. Select your Seagate 4TB hard drive.
That's it. With a drive as large as your Seagate, just leave File History set at its defaults.
File History backs up all your files and folders all the time. While it does not create an image backup, it creates reliable backups of all of the personal files (Pics, Documents, Music, Videos, Favorites, etc.). And with all the ways Windows 10 offers to recover your computer in case of major problems (and the fact you can make free Windows 10 installation media – DVD or USB flash drive) the need for image backups is less than it used to be in previous versions of Windows.
We hope this helps you!
---
Janet gets a blue screen
Hi Darcy & TC. Today when I started my computer it was running fine and then suddenly, after about 15 minutes, I got a Blue Screen saying my computer had encountered an error and needed to restart.  After my computer restarted, everything seems fine. It's been three days since I saw the Blue Screen. Should I be worried? Does this mean my PC is going bad?
Our answer
Hi Janet. If you see a Blue Screen every once in a Blue Moon – you don't have to worry. I think every Windows user has seen a few Blue Screens – at least those who've been using Windows for a while.
Most Blue Screens are caused by hardware driver issues. And many times, "driver-updaters" exacerbate the problem. In any case, if you see Blue Screens infrequently it doesn't indicate any major problems. It's when you start seeing them every day or more than once a day that indicates you've got a serious problem.
You can rest easy, Janet.
---

Don't have a Cloudeight SeniorPass? It's a great deal. Learn more here.
Our Cloudeight SeniorPass is a great deal. You get unlimited support for one full year from the date you first use your SeniorPass. We can help keep your computer running well, fix all kinds of computer problems, clean up malware, and a whole lot more. Our SeniorPass is like having insurance for your computer. And it's only $99 for an entire year.
Get your SeniorPass today for just $99.  It's just like having insurance for your computer – only better!
To learn more about our SeniorPass, please see this page.
---
John wants to know how to run Windows 11 on a computer that doesn't quite meet the requirements
Read your article about Windows 11 with interest. I have a 5-year-old Asus laptop and am interested in the registry hack you used to bypass the processor and TPM check. Any chance you describe the details on how to do that? Keep up the good work! John.
Our answer
Hi John. Keep in mind that Microsoft says if you use the infamous Microsoft registry hack, "future updates" are not guaranteed. Many who are in the know don't think Microsoft would dare to withhold updates from Windows 11 users, but if you do the registry hack, that's a risk you will be taking.
See this page for details on how to install Windows 11 on a PC that does not meet the requirements for Windows 11.
But you do this at your own risk – it's not something we recommend.
---
Paul is suspicious of a scam
Hi. I hope you can help me. In the last two days, I've gotten phone calls from a place called " Computer Services". They said my account has been expired and that I should call them at the number at the end of the call. What Account? They indicated a charge has been put on my account of $399.00.The call sounded like it was computer-generated to me. The amount of $399.00 is for 5 years. I thought I knew a scam when I saw one, but this one if it is has me confused. Thank you.
Our answer
Hi Paul. This is a scam. They can't charge "your account" anything if you did not give them a credit card number – if you did give them a credit card number, call your credit card company ASAP and report you've been scammed and they'll remove the charge and prevent them from charging anything again.
If you didn't give them a credit card number, then just ignore the call. If it's a cellphone you can block the number they're calling from. If it's a landline, call your telephone company and tell them about this and have them block the number.
You may also want to report the calls to local authorities. It's illegal to threaten people or attempt to extort money or trick people into paying money for something they didn't ask for or buy.
—-
Paul wrote back: "Hi. Thank you for the quick reply to the question I had concerning the phone scam. I feel a lot better now. Thanks again. Paul"
---
Susan lost her Internet connection on her desktop computer
My desktop computer has lost internet connection. In Device Manager, there is the yellow triangle beside the network adapter. I have a laptop and a smartphone and I am connected to the Internet without any problems.
I tried to update the drivers but I got a message that says "Windows has determined the best driver for this device is already installed." Could there be better and newer drivers on the device manufacturer's website? I would appreciate your advice. Thanks so much for helping me and so many others.
Our answer
Hi Susan. Installing a new driver will not fix your Ethernet connection. We're assuming it stopped working before you tried installing a new driver. So, our first guess is that your network card is going bad or has gone bad.
We can rule out a problem with your modem and router since your other devices are connected and working. Does your desktop computer have a wireless card? If so, you could connect and try connecting using the WiFi connection.
But, before doing anything else we suggest you reset your network settings. Resetting the network settings only affects your computer -it won't affect the other devices connected to your network. Resetting your network settings on your desktop will completely reset your desktop computer's network settings as well as its network adapters. This may help you. If you want to try resetting your network – and we think it's worth a try — follow the instructions on this page.
Let us know what happens and if you need any more help.
——-
Susan wrote back: "Hi TC. It worked!! I reset the network settings as you suggested and I'm back on the Internet. The instructions you provided were excellent and everything went perfectly. Thanks so much. This isn't the first time you guys have helped me. I so appreciate this! Thanks again, Susan"
---
Uwe wants to use Proton Mail in Thunderbird
Hello Folks. I would like to use Proton Mail that you recommended previously, but I would like to put it into my Thunderbird email program for easier access. I'm not sure how to go about it and don't want to jam up my 2 existing email accounts that are currently in the program.
Please advise. Thanks. Uwe.
Our answer
Hi Uwe. Proton mail (Free) does not support POP3 or IMAP, so you cannot use Proto (free) in any email program – Thunderbird, Outlook, or any other.
We hope this helps you.
---
Wait! Before you go…
Every week we help dozens of people with their computers without charge or any expectation of payment. And we have helped many folks who have fallen for tech support scams or other scams designed to steal their money.
And we now depend more on readers like you to help keep us going. Your donation helps us to help more people with their computers and helps us keep everyone safer online.
Please help support our small business and help us to keep on helping you.