Saturday Bonus Questions and Answers – 092323
Summer is over. Autumn began here at 2:50 AM this morning. And for our friends south of the equator, it's now springtime! Time flies like the wind, but fruit flies like bananas. Oh yes, and today is Saturday and it's time for another round of Saturday Bonus Questions and Answers.
Sometimes the best tips and tricks are hidden in the questions and answers we publish. And rarely do we post questions and answers on this website. Today, we're featuring some of the questions and answers from past issues of our InfoAve Weekly newsletters. 
These questions & answers were selected at random from past InfoAve Weekly newsletters.
---
Saturday Bonus Questions and Answers – 092323
---
John can't see all his Gmail contacts
I need to update an email address in Gmail contacts. When I go to the Contacts app, it shows only 14 names. I have a lot more than that.
How do I display all the contacts I know I have?
Thanks for any help you can provide. John
Our answer
Hi John. There are two places where contacts are stored.
Open Gmail, Open Contacts…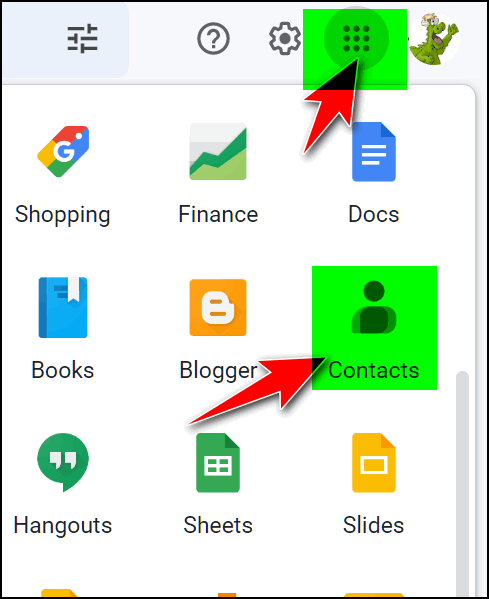 You'll find that your contacts are in two places, Contacts, and Other contacts.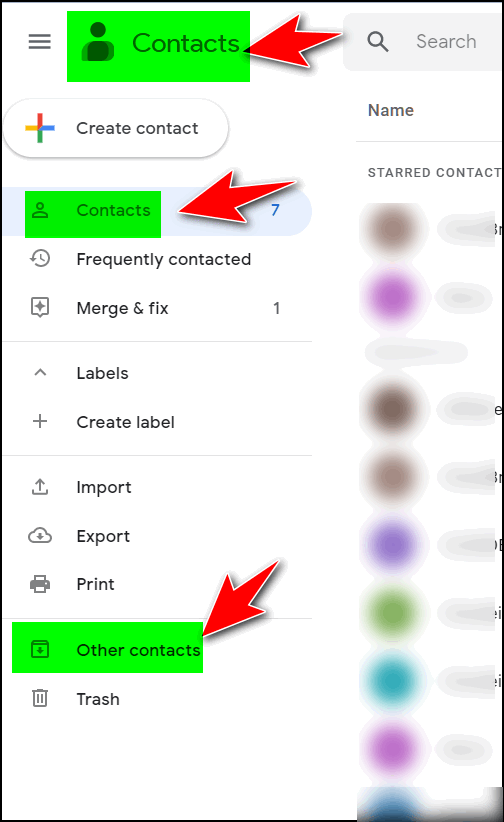 If you still don't see the contacts you're looking for then they were never imported or saved correctly.
To edit your contacts do this:
1. Click on the contact you want to edit.
2. In the popup window that appears, click the blue "Edit" button on the right.
3. Edit the contact information.
4. Then click the blue "Save" button which appears when you edit or add info for the contact.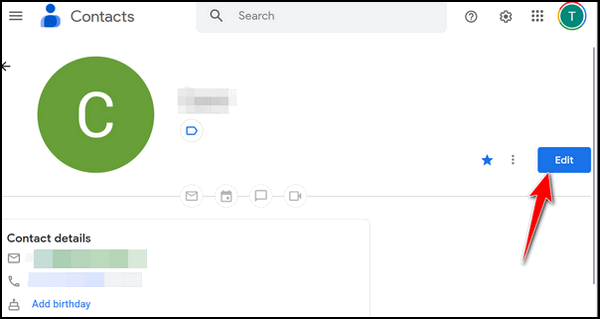 We hope this helps you, John.
---
Tricia wants to get rid of a folder that constantly appears on her desktop
I have a folder that appears on my desktop every time I turn on my computer. No matter how many times I delete it and also delete it from everywhere else it keeps coming back. Do you have any suggestions?
Our answer
Hi Tricia. Is the folder called "Desktop.ini"? If so that is quite normal for it to repeatedly appear on your desktop.
It is a configuration file. You can delete it but it will often reappear. If you don't want to see it anymore…
•  Type FILE EXPLORER OPTIONS in the taskbar search.
•  Press Enter when you see File Explorer Options appear.
•  Click on "View" at the top of the File Explorer Options dialog.
•  Tick the box next to "Hide protected operating system files".
•  Close the File Explorer Options dialog.
We hope this helps you, Tricia.
---
Terry is having problems with Edge
My Edge browser has been freezing on me for about two weeks now. It doesn't matter if I use it for the internet or File Explorer or even other programs not developed by Microsoft. It's a pain. In order to return to what I was doing, I must click the mouse a couple of times. I've tried restarting and rebooting my PC to no avail. Ideas?
Also, while I have you, following a planned power outage this morning, I restarted my PC and discovered a new Edge browser. It takes up screen space with a left-hand column (which I can turn off) and from what I have seen so far ADVERTISING either above or to the right of the site I'm visiting. Granted, I haven't spent a lot of time with it, but I don't like what I see. What can you tell me about this new look?
Our answer
Hi Terry. I am not aware of any 'new' look in MS Edge. I have the latest version. I would be curious to know what extensions you have added to Edge. If none, then it has to be the Website you're visiting because it would be disastrous for Microsoft to start using Edge as a billboard. They're just now gaining on Chrome.
You can reset MS Edge if it's not working the way you want it. Resetting Edge will return its settings to their defaults. It will not disturb your Favorites or Bookmarks.
We hope that works for you.
——-
Terry wrote back: "Hi TC. Thanks, bunches. Your 'reset link' did the trick. All the extra artwork has disappeared, and I have a handle on the so-called vertical shortcuts. The advertising is also gone. Not sure where that came from but I'm glad it's gone. Once again, TC and Cloudeight are to the rescue. You two are amazing! Please enjoy what's left of your weekend and stay healthy. Go for a walk! Cheers, Terry."
---
Please consider making a small donation and help us to keep on helping you!
---
Sheryl wants to know how to stop a popup on her computer
How do I stop hphemailaccesshere from popping up on my computer? When I run Emsisoft it doesn't find malware on my computer. I thought that's what this was. Can you help? Thanks so much. Warmly, Sheryl.
Our answer
Hi Sheryl. It's a browser extension (search hijacker) that you installed – most likely by mistake or without knowing it. It probably came bundled in a freeware program you installed.
The best way to get rid of it is to reset your browser. We have written tutorials on to do this for the 3 most popular browsers:
Click here to learn how to reset Chrome.
Click here to learn how to reset Microsoft Edge
Click here to learn to reset Firefox.
Once you reset your browser, it would be a good idea to restart your computer.
——-
Sheryl wrote back: "Hello. Thank you so much for the tutorials… it got rid of my browser hijacker. I sure appreciate the help. Warmly, Sheryl."

---
Beverly wants to stop repetitive spam emails
Hi EB & TC, I still enjoy your newsletters with so much info to peruse over or to find answers to any issues. wish to show you a Spam I got 2 days ago. How bold they are and to try and take advantage of people. So disappointing but at least with you folks we learned to recognize. I need to know how to stop repetitive spam e-mails which are so aggravating. Every day I have to add them to the spam folder I use in Windows 10. I add to Block Sender, add to Spam Folder, and every day same ones.
Our answer
Hi Beverly. If we had the secret to stopping repetitive or all spam emails, we would be millionaires! We've tried every anti-spam program known to mankind and the trouble with all of them is they let some spam through – but put good email in the spam folder.
There is no secret. We control spam – we cannot stop it. We received thousands of emails every week and we see very little if any spam. It's no secret because we share it with everyone.
If you want to learn how to control spam the way we control spam, take a look at the following page:
https://www.thundercloud.net/infoave/new/control-spam-the-way-we-control-spam/.
This is how we manage spam and it just plain works.
One more thing…The miscreants that send spam don't use real email addresses to send them from, they use forged or stolen email addresses with forged headers to make identifying or blocking the real sender nearly impossible. It takes a lot of digging through email headers to identify the real source of the spam. Google's spam algorithms work so well at picking up and identifying spam, we rarely get any spam in our inbox, but our spam folder fills up quickly. Every week or so we look in the spam folder to make sure no good email was mistakenly sent to the spam folder – and very rarely do we ever find a legitimate email in the spam folder – or a spam email in our inbox. Nothing's perfect, but Google spam algorithms are as close to perfect as they can be.
We hope this helps you, Beverly.
---
Darlene has a browser opening to a search page on startup
Every time I open Windows. it opens with Edge on a Bing search page, even though I have set Chrome as my default browser in Windows Settings. Is there any way to stop this?
As soon as that page closes, a window opens with a little message telling me that if I want to continue using Handy Address Book, I will need to purchase a license. As soon as I click okay, another mini window opens asking me if I want to buy the Handy Address Book. I click no, then I have to go up to the corner to close the page of Handy Address
Our answer
First, neither Chrome nor Edge should be in your Startups. Open Task Manager, click on the Startup Tab, right-click on Edge, and disable it. Disable Bing if it's there. Disable Chrome if it's in Startups and disable "Address book" too, if it's listed in Startups.
Next, you'll need to reset both Edge and Chrome. I am guessing "Address Book" is not something installed on Windows, it's something added to your browser.
I hope this helps you, Darlene.
---
Sharon says she has to type her password in every time she visits a site that requires a username/password
I used to be able to log into sites without entering my password each time, but all of a sudden, I have to enter a password every time. Why?
Our answer
Hi Sharon. If you run a PC cleaner like CCleaner, it will clear your browser history and cache each time you run it — and you will have to log in every time and enter your password. If you don't want to log in each time, don't run the cleaner.
If you continue to run the cleaner, you'll continue to have to type your password every time to log in.
——-
Sharon wrote back: "Yes… I just downloaded the pro version of CCleaner. Thanks for reminding me about CCleaner. Sharon"
---
Ted's laptop screen went black
My laptop just went black yesterday; it will not boot on or to any menu. From what I have described black screen has no activity other than a slight sound when turning on or off but no screen action at all. Is there anything I can try or is it history? Yes, I have it backed up, etc.
Our answer
Hi Ted. Try this. Make sure the laptop is turned off. Unplug the laptop from the power source (if it's plugged in). After it's unplugged, if it has a removable battery, remove the battery. Leave the computer off for 5 minutes. Plug the computer back into a power source, replace the battery, hold down the SHIFT key, and while continuing to hold down the SHIFT key turn the laptop on. Keep holding down the SHIFT key and hopefully, you'll see Advanced Boot Options appear. If you get that far, click on Troubleshooting in the Advanced Boot Options menu and run Startup Repair.
If you cannot boot to the Advanced Boot Options menu, you can try to boot with a Windows 10 installation disc or Windows 10 USB installation drive. If you don't have one of these, you can create installation media at any time. If you need help with this, let us know.
---
Jim has a strange search tab on his Chrome browser
I have a search tab button that just appeared after I updated Chrome. It is a black circle with an inverted triangle. I find it annoying. I have tried to find out how to delete it without any luck. This is on my laptop – my desktop does not have this. I have tried to attach a screenshot with no luck
Our answer
Hi Jim. I think you enabled Chrome's "Tab search" by accident. To check, copy and paste the following into Chrome's address bar and press Enter.
chrome://flags/#enable-tab-search
You can disable it from that location. It should be the first option on the list.
We hope this helps you, Jim.
—–
Jim wrote back: "Hi TC and Darcy. Thanks so much for this information. It worked. I don't know how I turned it on, but it is gone. Jim
---

We gladly help everyone who writes every day by answering their questions and helping to solve their computer problems. Please help us continue to do that!
If you don't need any of our products or services right now, please help us with a donation. Even the smallest gift is appreciated. Every donation helps us to provide useful information that helps you with your computer as well as helps us to keep you safe on the Internet. We offer free help to thousands of people every year… and we offer an honest and inexpensive computer repair service too. We do everything we can to help you with your computer and keep you safe too.
So if you don't need any of our products or services right now, please help us by making a donation right now.
Interested in making a monthly gift? Visit this page. Help us keep helping you!
Thank you so much for your support!
---
Andrew wants to format a flash drive
Dear Darcy & TC. In the past, you have recommended Puran File Recovery to recover deleted files on a USB memory stick. I have found this software invaluable; thank you for your recommendation. However, I now wish to securely delete all data on a USB memory stick so that all items are irrecoverable (even when using file recovery software) in order to pass the memory stick on to friends or my children. Can you please recommend a suitable software program that will permanently erase all the data on the memory stick but that will not damage the stick?
Thank you in anticipation of your answer and for your treasured weekly and daily newsletters. Andrew
Our answer
Hi Andrew. Thanks for your nice comments. You don't need a program to format a flash drive or any drive. You can use Windows File Explorer.
Here's how to format a USB flash drive using File Explorer:
1. Open File Explorer (Windows Key + E)
2. Click on This PC from the left pane.
3. Right-click on the flash drive and select the Format option.
4. Use the "File system" drop-down menu and select the NTFS option.
5. In the "Allocation unit size" leave it set to default.
6. In the "Volume label" field, you can type in a descriptive name for example "16GB_Flash" (no quotes), or just leave it blank.
7. Under the "Format options" section, select the Quick format option. Unless the person you're giving it to is a forensic expert, Quick Format is fine. If you don't want to take any chances uncheck "Quick Format" this will set up a full format (which takes a lot longer) but any data that was on the drive will not be recoverable.
8. Click the Start button
9. Click the Yes button.
Once the format is complete the drive will be empty and ready to use.
——–
Andrew wrote back: "Dear TC. Thank you for your prompt reply and excellent advice and information. Your help and assistance are much appreciated and greatly valued. Thank you so much for being there and for your vast knowledge that you are kindly prepared to share with others. Please take care and keep safe. Best wishes, Andrew."
---
Paul wants to know if he can still upgrade Windows 8.1 to Windows 10 for free
Can you update Windows 8.1 to Windows 10 for free? If you can, will you lose your documents, pictures, and other files? Thank you. Paul.
Our answer
Hi Paul. Yes, you can still update Windows 7 and Windows 8.1 to Windows 10. Go to the following page and click on the button labeled "Download tool now".
https://www.microsoft.com/en-us/software-download/windows10
Once you download it, choose the option to "Update this PC".
We have helped hundreds of people upgrade to Windows 10. I have not seen anyone lose any files at all during the upgrade process. If for any reason the upgrade is not successful, your computer will be restored to the way it was before you started the update.
That being said, it's still always a good idea to keep good backups of your files.

---
Isabelle asks about downloading pictures from Google Photos and how to recover files from a dead hard drive
Hi TC and Darcy. I am sure that you have received a lot of questions about getting your photos off the Google Photo account. I have been searching on the net for answers and every time I try to do as they say like click on those 3 dots in the right-hand corner etc., it doesn't seem to work for me.
 I am absolutely sure that you have a lot easier way to download the photos onto the laptop or desktop. After I have them back on my laptop, I want to put them on a flash drive.
My other question is: Do you know any way to recover photos from a crashed external hard drive? Years ago, mine crashed and I had a computer repairman who swore that he could get the photos off of it. Unfortunately, he opened the drive, and needless to say, he couldn't do it. Is there any way to still get those photos? Slim chance, right?
As always, I love to read all your info letters and I can say I am one of your oldest and longest "followers", I am with you since your very first info letter.
Thank you for your help, you both are still the best source to get answers and help… Take care. Sincerely, Isabelle C.
Our answer
Hi Isabelle. Thanks so much for your very nice comments.
I'll answer your second question first. If you can't access the drive, there's no easy way to recover files from it. There are services that can recover files from dead hard drives, but they are not free — they are quite expensive. If you can't access the drive – if it is indeed "crashed" – you cannot use a free recovery program like Puran to recover anything from a dead hard drive.
Here are a couple of ways to save photos from Google Photos to your PC.
#1. Download photo albums from Google Photos:
1. Click on 'Albums' in the left menu.
2. Select the album you want to share.
3. Click on the three dots in the upper right corner and select 'Download all.'
4. Google will then download a zip file containing the photos from your album.
#2. Download all photos and photo albums from Google Photos using Google Takeout:
• Make sure you're signed into your Google account by clicking on the following link: https://accounts.google.com/
• Click on Data & Personalization (on the left side of the page).
• Click on 'Deselect all' (otherwise every Google service you use will be selected).
• Scroll down to Google Photos and select it by clicking on the check box.
• Click on the button that says, 'All photo albums included'. If you want to download all your photos leave everything selected.
• If you only want to download selected albums, click on 'Deselect all', and then tick the boxes of those albums you do want to download.
• A zip file containing all your photos will be emailed to you. Open the zip and selected all the photos and save them anywhere you like, for example, on an external drive or flash drive.
I hope this helps you, Isabelle.
---
Len wants to know what we think of Avast's new "Cleanup Premium".
HI. What is your opinion of Avast Cleanup Premium? Thanks, Len.
Our answer
Hi Len. In our opinion, it's worthless like most Avast products. Its main purpose appears to be to get you to upgrade to Avast's other paid programs. Remember that Avast bought CCleaner and ruined that… maybe this is their attempt to recover from that debacle. Who knows?
Take our advice and steer clear of anything Avast touches.
---
Dick gets a notification to check drive C:\ every time he starts Windows
Hello wonderful folks. For some reason, my PC wants to do a disc check on "C" every time I start it up. I tried a couple of suggestions that I found on Google, and I thought I followed the instructions to the letter, but they did not work. Hopefully, you have seen this problem pop up in the past and have a safe and easy solution to give this old man. I know you are always so very busy but if you get a spare minute could you help me? Thank you so much in advance.
Our answer
Hi Dick. Thanks for your nice comments and your confidence in us.

Your problem may be nothing more than a Windows error but it could also be the result of an improper shutdown or serious file system errors on your hard drive.
The first thing you should do is this: Open an administrator command prompt… Type CMD in the taskbar search and click "Run as administrator" when it appears in the search results.
At the Command Prompt type CHKDSK /F and press Enter. You'll see a message that you cannot run CHKDSK while Windows is running. I will ask if you want to run disk checking at the next startup. Press Y for YES. And then restart your PC.
If that does not correct the problem. Open an administrator command prompt (as above) and in Command Prompt type chkntfs /x c: and press Enter. The command must be entered exactly as shown.
We hope this helps you with your problem, Dick.
---
Wait! Before you go…
Every week we help dozens of people with their computers without charge or any expectation of payment. We have helped many folks who have fallen for tech support scams or other scams designed to steal their money.
And we now depend more on readers like you to help keep us going. Your donation helps us to help more people with their computers and helps us keep everyone safer online.
Please help support our small business and help us to keep on helping you.