Saturday Bonus Questions and Answers – 121722

Darcy and I want to wish you all a very Merry Christmas! We hope you have your shopping done because it's Saturday and it's time for another edition of Saturday Bonus Questions & Answers. We don't want you to miss it!
Sometimes, the best tips and tricks are hidden in the published questions and answers. And rarely do we post questions and answers on this website. Today, we're featuring some of the questions and answers from past issues of our InfoAve Weekly newsletters. 
These questions & answers were selected at random from past InfoAve Weekly newsletters.
---
Saturday Bonus Questions and Answers – 121722
Paul wants to know how to make his computer ask for a password after waking it from sleep mode
When my computer goes to sleep and I wake it up, it does not require me to sign in with my PIN number. How can I change this so it asks for my PIN before using my computer?  I hope you can help. I've looked for the answer everywhere. I found a lot of answers but none of the worked.
Our answer
Hi Paul.. Assuming you're not using a screen saver do this:
— Right-click on the start button and click "Settings".
— In Settings click on "Accounts" and then click "Sign-in options".
Under Sign-in Options, under "Require sign-in" make sure under "If you've been away, when should Windows require you to sign in again?" "When PC wakes up from sleep" is selected. See the screenshot below.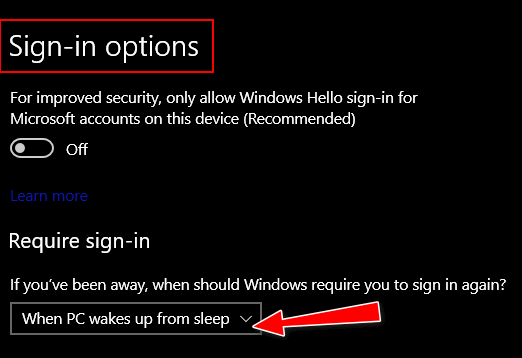 If you are using a screen saver do this:
— Type Screensaver in taskbar search. Press Enter when "Change Screensaver" appears in the search results.
— Make sure the box next to "On resume, display logon screen" is checked. Then click Apply/OK.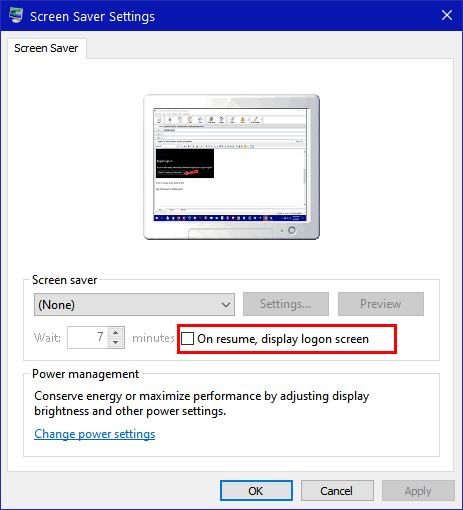 We hope this helps you, Paul.
---
Rex asks about Linux
Hi Darcy/TC. No one has given so much to keep Windows users in the loop and computing way beyond their time and enjoying the use of their computers and being able to keep in touch with their friends and the world.
For myself and on their behalf I send you a million thanks. I know our initial investment in Windows got us many free version updates and it's time for Microsoft to cash in on its invention.
I hesitate to suggest that instead of us planning to stop computing in five years if you could start a section on the use of LINUX, the little I have researched so far shows it will do most everything a Windows user does now and at little or no cost so we can continue to stay with the world if we are hard pressed to afford a PC with Windows 11 and all the costly Office software which I admit is good for the young business users.
I don't know how you manage to keep us all going up to now adding new demands seems selfish, but I thought I would ask. Take care and thanks for the many years of extra computing you have made possible for all of us. Regards,
Rex
Our answer
Hi Rex. Thanks for your nice comments. There's no reason to stop computing in five years. Just because Windows 11 is coming out, and Windows 10 will no longer be supported after October 14, 2025, does not mean you have to give up your computer. It's a far less steep learning curve to go from Windows 10 to Windows 11 than from Windows 10 to a Linux Distro. And some very inexpensive computers can run Windows 11. I bought one for less than $350 with 12GB of RAM and a 256 GB SSD. And so far it makes my old Windows 10 computers look like they're in slow motion.
Windows 10 was a free upgrade to Windows 7 and Windows 8 users. Windows 11 is a free upgrade for Windows 7, Windows 8, and Windows 10 users. Albeit it won't run on many Windows 7 or Windows 8 PCs since they're all more than 4 years old.
Windows 11 will run on most computers 4 years old or newer. And even newer budget computers can run Windows 11.
Consider this. By the time Windows 10 is no longer supported, those computers that won't run Windows 11 will be closing in on 10 years old or older. Ten years is a long time for a computer — at some point — if you want to keep on computing you're going to have to buy a new computer because eventually, all hardware wears out. The average lifespan of an HDD (standard hard drive) is about 7 years. Motherboards, graphic cards, sound cards, network cards, wireless cards, etc. don't work forever, and over time display screens fade and eventually stop working. Installing Linux won't fix your aging hardware.
Windows 11 is much more like Windows 10 than most people have been led to believe. And it's far closer to Windows 10 than any available distro of Linux is.
We like to think we're Windows experts. We don't write much about Apple devices or Android devices –while we use them but we are not experts with them.
And while I am familiar with Linux, I am certainly not an expert with it and I don't have the time to put into becoming a Linux expert. I do know most average Windows users would not be happy with Linux. If someone is an advanced Windows user they may be able to make the transition. But there are tens of thousands fewer freeware programs available for Linux than there are for Windows, which is another drawback.
We have written tutorials on how to install Linux on Windows machines before. And, I read that there's a new version of Linux (Linuxfx) coming which uses WINE so that it can run Windows programs. From the previews I have seen, it looks like Windows 11 – but it's still in development and won't be released for a while yet. Should that Linux distro see the light of day we'll be glad to look at it and write articles about it.
I guess, Rex, after all these years, we are still trying hard not to be "jacks of all trades and masters of none"…so we've stuck with what we know best, and that is Windows.
There are many great free alternatives for Microsoft Office that run on any version of Windows, including a free web version of MS Office that includes Word, PowerPoint, and Excel. You can read about some of them here.
Thanks again for your long-time support and your nice comments.
---
Tammy wants to know what PDF conversion site we recommend
There are so many sites that convert PDF files to work. I'm afraid to try them without some guidance. What website do you recommend for converting PDF files to Word? Any help is appreciated. Thanks, Tammy.
Our answer
Hi Tammy. There are many PDF conversion sites online. I tried three of them today and this one seems to me to be the easiest to use and works very well.
Just click on "Select a file to convert" and Windows Explorer opens. Navigate to the PDF file you want to convert and click "Convert". When it's done you'll see a download link to download your Word document. You can do as many as you like, just click "Do another conversion." I did 3 PDF to Word conversions in less than 2 minutes.
We hope this helps you, Tammy.
---
Buy a Cloudeight SeniorPass at the regular price and get Reg Organizer free! Save $25
Our Cloudeight SeniorPass is valid for unlimited computer care & repair for one computer for 365 days – starting with the first time you use it. The clock does not start ticking until you use your SeniorPass for the first time. A great deal that just got better during our Christmas sale! When you purchase a SeniorPass at the regular price we'll give you a lifetime license for Registry Organizer free That's a $25 value!

Having a SeniorPass is just like having insurance for your computer. With a Cloudeight SeniorPass you can get help with almost any computer problem whenever you need it and as often as you need it. Plus, our SeniorPass gives you the option of Anytime Support! If you request it, we can set up unattended support for you so all you have to do when you need help is just let us know. We're here to help you. PLUS…during our Christmas Sale when you purchase our SeniorPass we'll give you a lifetime license for Reg Organizer FREE!

Buy a Cloudeight SeniorPass at regular price and get a Reg Organizer free! Save $25
Get more details and/or get your Cloudeight SeniorPass + Reg Organizer here.
Our Christmas Sale prices are good through December 27, 2022.
---
Cathy's computer becomes non-responsive
My desktop computer keeps freezing and nothing responds. I can't even bring up the CTRL+ALT+DELETE to turn it off. Then I have to shut down the computer by using the power button. After I do this it starts working again but when I walk away from the computer and come back later it does not respond.
I have to shut it down again using the power button. Was there an update that may cause this to happen? It's been doing this for 2 days now. Is there anything I can do to fix it? I have windows 10…Thanks, Cathy
Our answer
Hi Cathy. I wish I could give you a simple one-two-three presto answer, but I cannot. This is the kind of thing we work on almost every day with our Cloudeight Direct Computer Care service. It could be too many programs running on startup. Open Task Manager, click the Startup tab and disable as many startup programs as you can. Be careful not to disable your antivirus, sound, and graphics.
It could be Windows corruption. You can try running SFC and DISM scans to see if they help.
It could be you have only 4GB of RAM which is not enough to do extensive multitasking. You should have at least 8GB of RAM. To find how much RAM (memory) you have, type ABOUT in the taskbar search and press Enter when you see "About your PC" appear in the search results. Look next to "Installed RAM" in About Your PC. You can add RAM inexpensively.
It may be Windows search indexing and SysMain (SuperFetch) services using up too much CPU (processor) or RAM or disk.
It could be dozens of other things. Sometimes when we work on a PC it takes us a while to diagnose the problem. There is no easy answer.
I hope something in our answer helps you to pinpoint your problem. Or if you want us to look at it, we'd be happy to. You can buy our repair keys here.
---
Leora doesn't want Windows 11
I do not want Windows 11. I don't think my computer can handle it but I want to make sure I don't get it. What do I do to make sure I don't? Thank you. Leora.
Our answer
Hi Leora. Microsoft is not going to force you to upgrade to Windows 11 even if your computer supports it. That is not to say that Microsoft won't twist your arm constantly but it won't force the update. Windows 11 will be an optional update until October 14, 2025, assuming your computer supports it. And if you should install it by mistake, you have 10 days to go back to Windows 10 without losing anything. 
Just an FYI: After using Windows 11 for 3 weeks now, I think the press has not been fair. Keep in mind Windows 11 was supposed to be Windows 10 21H2 "Sun Valley" – it did not start out as a new operating system. And honestly, those who do move from Windows 10 to Windows 11 will find it a lot smaller leap than going from Windows 7 to Windows 10 or even Windows 8 to Windows 10.
But no worries – it will be an available update but it will not install automatically – at least that is what Microsoft is saying.
---
Dennis appears to be getting a lot of spam
Some guys might enjoy it, but I am so fed up with getting invited by the "ladies" at various email locations but all the email addresses end with appspot.com. Using outook.com, I block them but they keep at it. Is there a way to block an address that has several dots before ending with the final ".appspot.com"?
Our answer
Hi Dennis. This sounds like spam to me. Since you're using an Outlook.com address, you'll be glad to know that you can block entire domains in Outlook.com. I cannot tell by your question whether you're using Outlook.com on the Web or Outlook email client on your PC. Either way, this should work.
Log in to your Outlook.com on the web.
1. After you log in to your account click the gear icon in the upper right. In Outlook settings choose View all settings.
2. In Outlook settings, choose Mail > Junk email.
3. Under Blocked senders and domains, choose Add.
4. Enter a domain name appspot.com and click Save.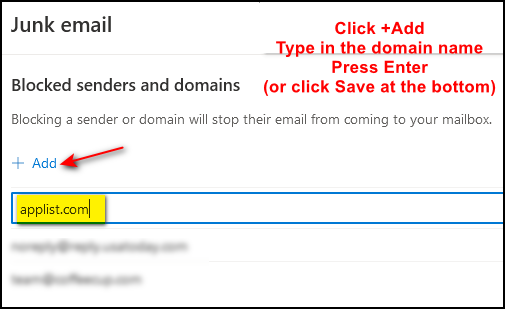 Once you press Enter or click "Save" you'll see the name appear below as a blocked domain.
All mail that comes from appspot.com will be trashed.
We hope this helps you. Dennis.
---
Here's your chance to get Emsisoft award-winning anti-malware and antivirus protection plus free installation and configuration by Cloudeight Direct. This special offer includes a one-year single PC license for Emsisoft Anti-Malware/Antivirus and complete removal of your current antivirus software. and installation and configuration of your Emsisoft Anti-Malware and antivirus program by Cloudeight Direct Computer Care.
Our regular price for Emsisoft with Cloudeight Installation is $45 With our Christmas Special, you can get Emsisoft plus FREE Cloudeight Installation and setup for just $29. You save $16 and you'll have the peace of mind of knowing your computer is protected by Emsisoft's world-class protection and that it's installed and set up correctly get more information and/or buy Emsisoft with free Cloudeight Installation for just $29 here.
Our Emsisoft + Free Installation and set-up is a great deal. Take advantage of our Christmas sale and protect your computer with Emsisoft – the same security software we use on all our business and personal computers.  This special offer of Emsisoft with free installation and set-up and a one-year Emsisoft license for just $29 is available only for a very short time.
This offer applies to single-PC Emsisoft licenses only.
Our Christmas Sale prices are good through December 27, 2022.
---
Gary asks about Firefox and "Google"
Hello Darcy: For some time I have been using Firefox. Just a day or so ago Google comes up as my go-to search engine even though I click on the Firefox icon. Is there any fix for this or am I stuck with Microsoft abusing its power? Gary.
Our answer
Hi Gary. I'm not sure if you're asking about a default search engine or a default browser. Google is not a browser, it's a search engine.
Google and Microsoft are fierce competitors. If Microsoft was going to force you to use a search engine it would not be Google – it would be Bing. If Microsoft were going to force you to use a browser it would not be Google Chrome, it would be Microsoft Edge. Google is the default search engine for Firefox. So it's likely Firefox updated or you changed a setting. You can choose whatever search engine you want. Just go to Settings > Search > Default search engine and choose whatever you want.
Chrome is Google's browser and Edge is Microsoft's browser. If Google Chrome is coming up when you click Firefox – I'm not sure how that would happen. Do you mean when you click a link it opens with something other than Firefox? If so that's easy to fix also. Type DEFAULT in the taskbar search and click "Open" when you see "Default apps" appear. When "Default apps" opens, look under Web browser. If you don't see Firefox there, click the browser's name you see there and a list will appear. Choose Firefox from the list and close your browser.
---
Robert asks about Windows Updates
Just a question, answer when you can please. If you know, are the updates to windows that Microsoft puts out on the second Tuesday of each month and any updates during the month, when do the updates get added to the windows download so you can get a fresh copy of Windows? I hope I asked this right.
Our answer
Hi Robert. I believe you are asking about Windows 10 version updates such as Windows 10 version 2004, Windows 10 Version 21H1, Windows 10 Version 21H2, etc. Version updates (called "Feature updates" by Microsoft, roll out slowly, so not everyone gets them at the same time. Version (Feature) updates roll out over weeks, even months. When the version update is offered to you, it will appear in Settings > Updates & Security > Windows Update. It will look something like this:
When you see the above in Windows Update you can click "Download and install" if you want to install it. If you don't want to wait, you can download the newest "feature" update of Windows 10 from this page.
It may take a few days for Microsoft to update that page whenever a new "feature" update becomes available. However, this is a good time to remind you that is always best to wait a while when Microsoft introduces a new feature update – many early adopters often feel like they are MS guinea pigs.
We hope this helps you, Robert.
---
Terrence has problems with Windows updates
I just tried your directive "How to Reset Windows 10 and Keep all your Files, Apps and Programs", and followed the directions which were very good, but alas windows wouldn't reinstall. Error code 0x8007001F – 0x20006 popped up as the code in the SAFE-OS phase. I have been wallowing with error code 0x80070002 plaguing me for the past several weeks as any Windows update attempt ends in this error code.
Have tried a number of the solutions proffered at various sites but none seem to solve the problem. I'm in dire need of keeping some of those old programs/apps in my system as they're almost as old as I am (85) and no longer exist. My grandson says I'm going to have to bite the bullet and do a FULL reset. I'm just about at the point where I buy an OEM Windows 10 and install it on my second blank 1TB SSD drive, then try and move critical apps over there. Grandson doesn't think much of that idea.
Our answer
Hi Terrence. First, you said, "I'm in dire need of keeping some of those old programs/apps in my system…". So you should be aware that doing a reset (Reset and keep my files) wipes out your programs – so if the reset had been successful, you would have kept your personal files but lost all your programs/apps.
Sometimes there are physical reasons (bad hard drive, old hardware, etc.) that prevent you from doing a reset – our guide applies to most cases, but like everything else there are exceptions. Windows error codes are so vague as to be useless.
If your case I suggest you do a Windows repair installation, which not only allows you to keep your files but also your programs. It takes longer to do than a reset and requires more attention to details, but it's yet another way to fix a corrupted or aging Windows system. Our tutorial for doing a repair install can be found here.
Since I don't know what drove you to want to do a reset, I am going to suggest before you do a repair installation, that you run SFC and DISM scans to see if they help solve whatever problem(s) led you to think about doing a reset. Instructions for doing those scans are here.
We hope this helps you, Terrence.
---
Buy One Cloudeight Direct Computer Care Repair Key and GET ONE FREE!
During our Cloudeight Christmas Sale, when you buy a Cloudeight Direct Computer Care repair key, we'll give you one FREE. That's right! From now through December 27, 2022, when you buy one Cloudeight Direct Computer Care repair key for $50, we'll give you a second one free!.

With our Cloudeight Direct Computer Care service, we connect directly to your computer via the Internet to fix your computer problems, remove viruses or malware, optimize your PC, and more. You never have to leave your home or leave your computer with a stranger. You'll be invited to watch us while we fix your Windows computer. And, we can fix your computer regardless of where you live. Our Cloudeight Direct Service is available worldwide. We offer world-class computer care services from the company you trust.
Take advantage of our Christmas Buy One Get One free special NOW!

Our Christmas Sale prices are good through December 27, 2022.
---
Larry wants to know how to exempt websites in uBlock Origin
I have been using uBlock Origin for some time now and was glad to see your recommendation in today's newsletter. However, I have not had any luck finding out how to add Trusted Sites. I went to their site and had no luck there either. Would you point me in the right direction? Thank you in advance, Larry.
Our answer
Hi Larry. If you want to exempt a website from ad filtering – in other words, you want to support a site by allowing advertising on a site -it's easy to do. Open the uBlock Origin dashboard, and click on the "Trusted sites" tab.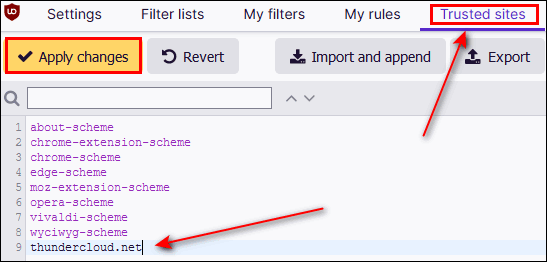 Type the site's URL (minus the http:// or https:// or www) that you want to allow to show you ads. As you can see in the screenshot above, I've added thundercloud.net to the Trusted sites list. Once you have added the site, don't forget to click "Apply changes".
We hope this helps you, Larry.
---
Leslie wants to know how to reinstall Windows and also where to download Windows 11
Hi, Darcy & TC. I know you have the info, but I have searched for half an hour and can't find the instructions on how to make a Windows 10 installation disc or thumb drive so that I can reload Windows when I clear the hard drive so that I can load the operating system again. Also, is there a place to download Windows 11?
Our answer
Hi Leslie. You can do a clean install of Windows 10 without using a disk or USB drive. You can go to Settings> Update & Security > Recovery and click "Reset this PC". If you want to wipe out everything and do a clean install choose "Remove Everything" and then choose the Cloud option to download the Windows 10 installation file.
If you want to install Windows 11, go to this page and choose the "Create installation media" option. Please be sure your PC can run Windows 11 before you do this. Use the updated Windows PC health check app to check your computer for Windows 11 compatibility.
Keep in mind we're not recommending installing Windows 11 yet. While we like it, we recommend waiting for a while yet before updating – just to be on the safe side.
We hope this helps you, Leslie.
——
Leslie wrote back: "Thanks again for your expertise. As always, it is much appreciated. Best & Stay Safe. Leslie"
---
Delores wants her beautiful daily desktop wallpaper back
Hi there. Since installing Windows 10 Version 21H2, my Bing wallpaper is gone. I miss those beautiful pictures on my desktop that automatically changed each day. Do you know how I can get this back on my computer? I always looked forward to the next beautiful picture every day. Thank you so much for your help – you two are the best! Delores
Our answer
Hi Delores. Thanks for your nice comments.
Here's the article we wrote about the Bing wallpaper app. It contains a download link and other information.
We hope this helps you, Delores. If you need anything else, just let us know.
---
During our Christmas Sale when you renew a single PC Emsisoft license, we'll add 365 days to your current license, PLUS we will give you a Cloudeight Direct Computer Care Checkup key that you can use to schedule a computer checkup whenever you like – you can use it anytime. Our checkup includes checking your hard drive, checking your Windows services and startups, as well as checking your browser add-ons and extensions, your installed programs, and doing a deep scan to check for hidden problems. The free PC checkup applies to one PC only.
This special Christmas offer includes a one-year renewal license for Emsisoft Anti-Malware/Antivirus and a Cloudeight Direct Computer Care checkup key. The Cloudeight Direct checkup key never expires – it's good until you use it. You can use it any time your computer needs a checkup.
Our regular price for a one-year Emsisoft renewal is $25. You get the Cloudeight Direct Computer Checkup key plus a one-year Emsisoft renewal all for $29!.
NOTE: This offer applies to Emsisoft Single PC license renewals only.
Learn more and/or get your deal here.
Our Christmas Sale prices are good through December 27, 2022.  
---
Sally has something strange going on with her Google Chrome searches
Hi, you two. All of a sudden when I search from the search bar in Chrome, I get a list of "Trending Searches" that drops down from the address/search bar. None of them are relevant to my search. It's crazy. Have you ever heard of this? Help!
Our answer
Hi Sally. It sounds like you may have unintentionally installed an extension that is causing the "trending searches" dropdown – which sounds like an advertisement trying to get you to click something.
You should reset Chrome and clear its history by following the instructions on this page.
After you reset Chrome, close it and then reopen it. You should not see any "trending" because "trending" is not part of Google search on Windows.
————-
Sally wrote back: "Thanks so much! I reset Chrome and now the trending searches dropdown is gone. You guys are great! Sally.
---
Bob asks why we don't recommend backup software anymore
In a response to a question that backup programs are no longer necessary. Now I can't find that question and answer anywhere. Did you really mean that backup programs are not necessary? And if so, why would they not be necessary? Bob R.
Our answer
Hi Bob. We never said you shouldn't back up your files and folders. We noted that File History is included with all versions of Windows 10 and it would serve most people well. If you have MS Office 365, OneDrive is a good backup option, because when you have MS Office you get one terabyte of OneDrive space.
What we did say is that image backups are not nearly as important as they once were because of all of the Windows 10 recovery options including Reset and the fact that you can download and create Windows installation media free of charge.
Everyone should keep good backups of their files and folders.
You can read one of our articles about backups here.
We hope this clears things up for you, Bob.
---
Barbara gets way too much disgusting spam
Hello TC and Darcy. I use Gmail for a lot of my emails for places like Hobby Lobby, etc. Recently all of a sudden a ton of raunchy, sexually-oriented emails started appearing in my Spam folder of Gmail.
Now I know that just selecting them all and deleting is one way to take care of them but I do have people who contact me through Gmail also and don't want to miss one of their emails in case it goes into my Spam folder. So I feel I must go through them all to make sure I'm not deleting any important emails. Is there some way to stop them from coming in? I can't seem to find anything to do it.  Why they started is not because I clicked on something sexual which would be the first thing you might think I did. I didn't. But I did join an art group, supposedly a Christian group, for lessons. Unfortunately, I don't remember what I signed up with! It might have been Gmail. IAnd anyway, I have since left the group and unsubscribed.
And……what is the point of changing one's password? Would that keep those who have spammed my email from sending things to me?
Thanks, guys…Barbara.
Our answer
Hi Barbara. Billions of nasty pornographic spam and other disgusting spam are sent each day by spammers. It has nothing to do with you or your password. If you could get rid of spam by changing your password spam would be easy to control.
Keep in mind when you sign up for updates and notifications from retailers they may sell your email address to others who then may sell it to spammers. I'm not saying Hobby Lobby is selling your email address, I'm saying the more stuff you sign up for, using your email address, the more spam you're going to get. You should get a throwaway address to use for signing up for things and not use your main email address. A good idea right now for you would be to get a new Gmail address and then let all contacts know you'll be using a new Gmail address. And use the new address only for friends, banking, etc. Don't use it to sign up for things.
There's no way I know that will separate "Real" spam from good emails that end up in the spam folder. We get hundreds of emails a week and hundreds of spam emails, and we find very few good emails in our spam folders. It's pretty easy to identify the spam by the subject lines. Check your spam folder every day rather so there won't be so many emails in that folder – and if you find a good email in the spam folder, highlight it and click the Not Spam button at the top. If you mark something as "Not Spam" it should never go back into the spam folder.
We hope this helps you. Barbara.
---
Don't need any of our products or services right now?
When you support us with a small gift, you help us continue our mission to keep you informed, separate the truth from the hyperbole, and help you stay safer online. Plus, our computer tips make your computer easier to use.
Did you know that we provide support to thousands of people? Every week we help dozens of people via email at no charge. The questions and answers you see in our newsletters are from the email answers and help we provide to everyone free of charge.
Thanks to your gifts, we do a lot more than provide this free newsletter. We help you recognize online threats, fight for your online privacy, provide you with the knowledge you need to navigate the Web safely, provide you with suggestions for safe, free software and websites, and help you get more out of your PC.
Please Help us keep up the good fight with a small gift.
Interested in making an automatic monthly gift? 
Visit this page. Help us keep helping you… and help you stay safe on the Web. 
---