The Death of Windows Disk Cleanup Has Been Greatly Exaggerated
All the tech sites we looked at the last few days all seem to be abuzz with news from a Microsoft Blog that announced that Windows Disk Cleanup (cleanmgr.exe) is being "deprecated" in Windows 10 October 2018 Update (Version 1809).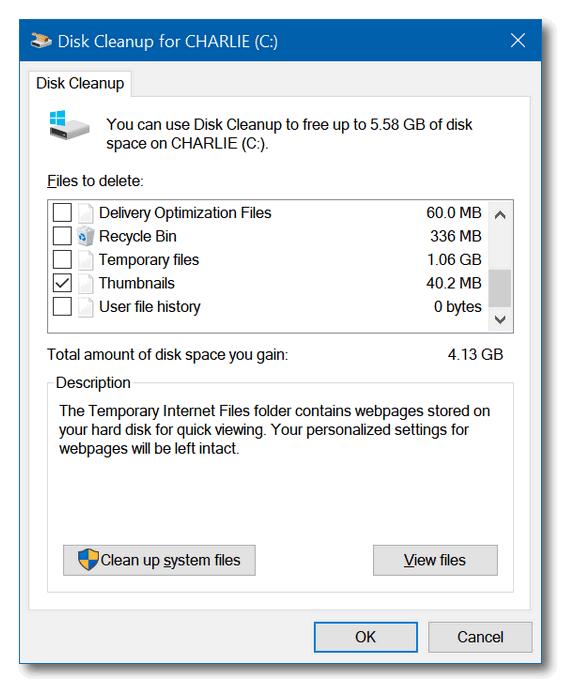 Above: The venerable, classic Windows Disk Cleanup 
For some reason – well I know why- to get clicks – the news was that Microsoft was deprecating Windows Disk Cleanup in the next version of Windows 10 (Version 1809) – which most of the articles intimated that that meant Windows Disk Cleanup won't be included in the next version of Windows 10.  But deprecated doesn't mean Microsoft is removing cleanmgr.exe (Disk Cleanup) from the next version of Windows 10. Microsoft deprecated Windows 7 Backup in Windows 10 long ago – but it's still there and you can still use it if you choose.
To be deprecated means – according to the Oxford dictionary:
(to)"…be deprecated (chiefly of a software feature) be usable but regarded as obsolete and best avoided, typically because it has been superseded…"
Microsoft will be pushing Windows 10 users to use Storage Sense to manage unnecessary / junk files and clean the hard drive.
Disk Cleanup will be in the next version of Windows 10, but still, it might be a good time for you to start familiarizing yourself with Storage Sense  It offers some automatic clean up features you may find useful.
To access Storage Sense on Windows 10:
Open Settings > System > Storage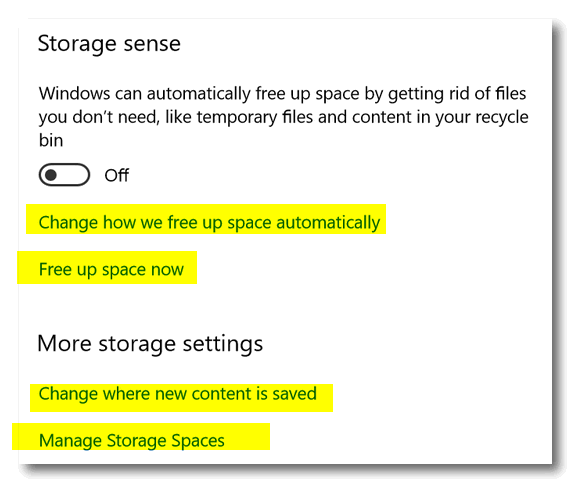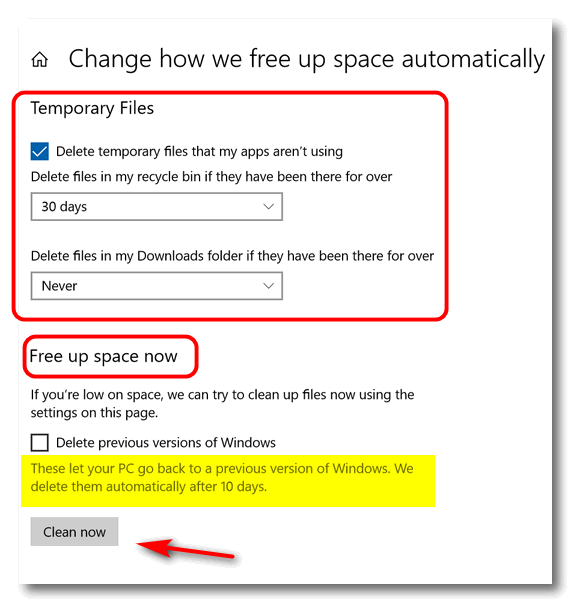 As we get closer to the October 2018 Update, we'll be featuring detailed tips on how to use Windows 10 Storage Sense in Windows 10 Version 1809 (October 2018 Update). The screenshots above are from Windows 10 Version 1803 (April 2018) update.
In the meantime, despite all the hoopla that Microsoft is going to get rid of Disk Cleanup in Windows 10 October 2018 Update (version 1809), Disk Cleanup isn't going anywhere any time soon.