What's Your Computer's Up Time?
This tips works in Windows 7, Windows 8.x and Windows 10 (all versions)
How Long Has It Been Since You Started or Restarted Your PC? We leave our computers running 24/7. If you asked us how long it's been since we last restarted our PCs, we couldn't tell you without looking at our up time. If you're like us, you probably don't know how long it's been since you rebooted either.
So, how long has your computer been running since the last boot?
If you want to know how long your computer has been running since the last time you started or restarted your PC (your PC's "up time" ), there are many ways you can find out.  We're going to show you two ways. The first way, not only shows you how long it's been since you last started r restarted your computer, but when your current version of Windows was installed. If you're using Windows 10, you'll see the date of the last major (version) update.
Open a Command Prompt.
On Windows 7, type CMD in the start menu search, click on CMD when it appears at the top of the search results. On Windows 8.x, press Windows Key+S and type CMD into the search box and click on Command Prompt when it appears in the search results. In Windows 10, right-click the start button, choose Command Prompt (if you see Windows PowerShell, see this article).
When Command Prompt opens, at the prompt, type
systeminfo
And press Enter.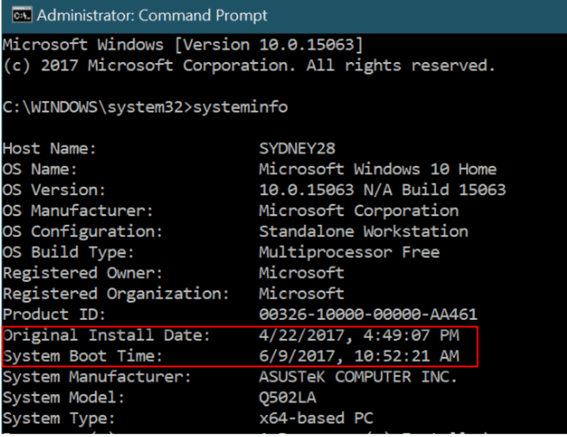 You'll see the last time you booted or rebooted your computer. As you can see mine has not been restarted since 6/9/2017 (4 days ago). Also note that above it, you'll see "Original Install Date". I'm using Windows 10 and 4/22/2017 was the date I installed the Creators Update (Version 1703). It was not the date that Windows was originally installed on this PC.
If you're using Windows 10, another way to see how long your computer has been running since the last reboot, is to use good old Task Manager. And luckily for me, no matter what version of Windows you're using, you can open Task Manager by using the keyboard shortcut CTRL+SHIFT+ESC.  So open Task Manager and then click on the "Performance" tab. Click on "CPU" and look near the bottom.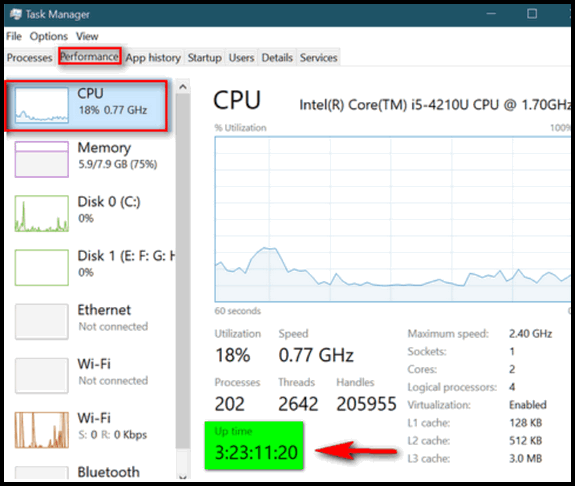 You'll see, under "Up time" that my computer has been running for 3 days, 23 hours, 11 minutes and 20 seconds since the last time I restarted my PC.
So … what's your Up time?
---