Windows 10 Tip: The Notification Area and How to Take Control of It
We've gotten emails recently from people using Windows 10 who have discovered that the Notification area has expanded to cover a great deal of the taskbar. Unlike the taskbar, icons in the Notification area can't be removed by right-clicking and choosing "Unpin from taskbar" from the menu. So, in order to control the size of the Notification area and the icons that appear on it, you need to take control of the Windows 10 Notification area. And we are going to show you how to do that…
But first, let's define the Notification area. Back in the days of Windows 9x and even XP it was referred to as the "System tray". The best way to define it is that it's the area of your taskbar that contains the clock. Here's a picture:


Above: The unexpanded Notification area – Windows 10. The up-arrow (highlighted by us in a red square) expands the Notification area. When it has been expanded you can (generally) see icons of (some) programs currently running in the background including some that start with Windows.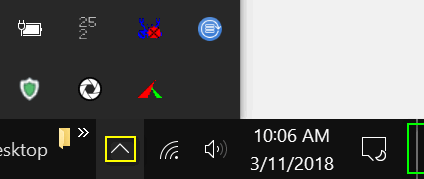 Above: The expanded Notification area. We have highlighted a couple of features. One the "up arrow" – highlighted by the yellow box – expands and contracts the Notification area.  And highlighted in green, the thin vertical rectangular area at the very far right edge of the Notification area is the "desktop" icon. Click that thin narrow area and you'll go directly to your desktop. Try it – we'll be here when you come back.
Taking Control of the Notification Area
Now that you know what the Notification looks like and where it is, we're going to show you how to control it.  If the Notification area has expanded and is consuming most or almost all of the taskbar on your Windows 10 computer and looks more like this:

Than this:

Here's how to tame the Notification area.
(1.) Right-click on your taskbar and choose "Taskbar settings"
(2.) In Taskbar settings scroll down the menu until you see "Notification area"… then click on "Select which icons appear on the the taskbar"
(3.) In the "Select which icons" dialog – under "Always show all icons in the notification area" turn the Switch to "Off". You can select which icons you want to show in Notification area by turning the switch next to it to "On". For instance, below I have Network and Volume control set to show in the Notification area.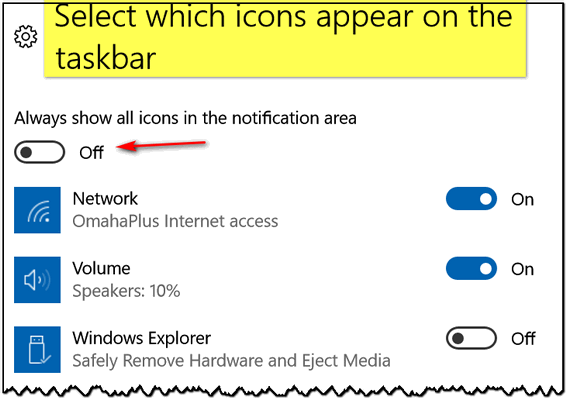 (4.) If you want more control over the Notification area…under Taskbar settings > Notification area, click on "Turn system icons on or off"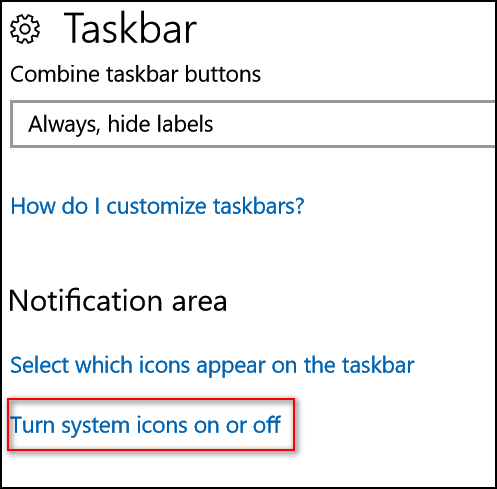 And you'll see a menu appear from which you can turn system icons on or off.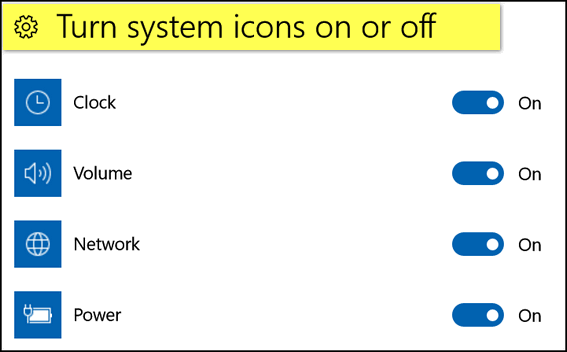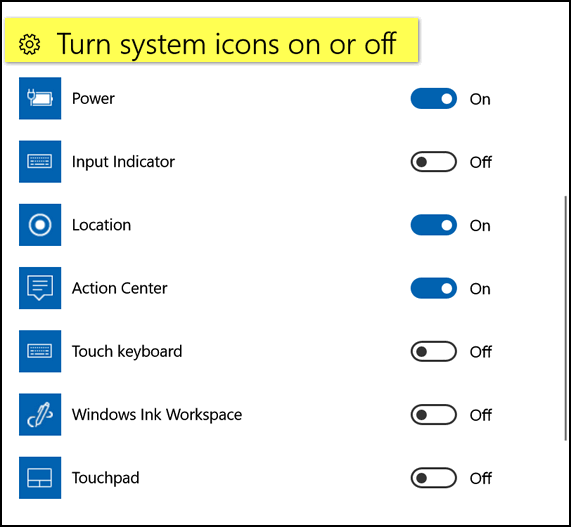 You'll want to use discretion in turning system icons on or off. Some are very useful such as Clock, Network, Volume, etc.
By using the information above, you can take control of your taskbar and the Notification area.