10 Endlessly Fascinating Websites to Waste Your Time On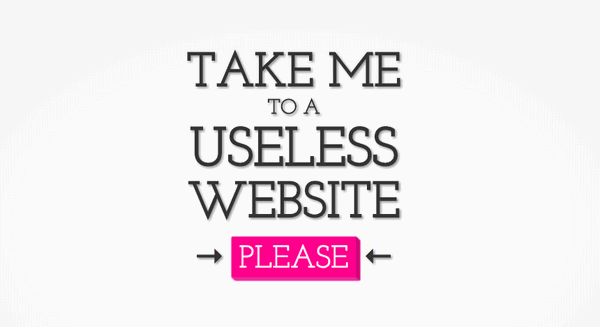 Today's site pick isn't a site, it's a page. But its name says it all. Some days you just have some time to kill – especially around here in the winter when the wind blows the cold air right through your old bones and you want to stay inside and keep warm. Or maybe you're someplace warm and you are spoiled and bored with the constant sunshine and the palm trees swaying and the sounds of drunken people having barbeque parties?
If you're looking for ways to kill some time, this is the place for you. I think Mashable sums it up rather nicely when they write…
"…If you're like a majority of people, the internet is also a deep rabbit hole of ways to waste time. If you're looking for options to spend hours looking at baby animals or read about the world's wildest conspiracy theories, look no further.

Here are 10 sites to waste time on when you're bored with the rest of the world…
But rather than send you to each site, we're going to tell you a little about a few of them and see if we can fire up your curiosity a bit. Then we'll send you off to the Mashable page where you can explore each of the ten time-wasting sites.
EyeBleach
Have you ever seen something on the internet that's just plain horrifying? Or a particularly rough news story that you really wish you didn't have to read? You probably need some eyebleach — something to cleanse your mind.
How about a list of conspiracy theories?
Wanna go down this rabbit hole? What a fine way to waste time!
"Is the Denver International Airport the headquarters for the New World Order? …Did Coca Cola change its formula for cheaper production at the cost of a worse flavor?"
Watch the rave worm!
Check out a website where you can make a little black worm dance.
"When you move your mouse, the worm will follow. If you move quickly enough, it'll burst into an electric rainbow rave. Warning: This page does include flashing images, so be careful!"
Pent-up anger?
How about slapping someone with a virtual eel? Not advocating violence but sometimes a little healthy virtual slapping might be just what you need.
Find the most useless websites on the web with a useless site finder.
If you've got time to kill and a good wifi connection, this may be the perfect place for you. This website will take you to the most useless pages online…
And these are but a sample of what you'll find. Is your curiosity piqued? Do you feel like wasting some time? Whether you live in winter's pit of misery – like me – or live in a tropical paradise like good old Darcy… there will be times when you feel like wasting time.
When that time comes, climb aboard our time-wasting train that takes you to 10 Endlessly Fascinating Websites to Waste Your Time On.
Well, what are you waiting for? A blizzard? A coconut to fall on your head? Get going and waste some time.
Visit this Mashable page with its fascinating list of time-wasting sites you just might need.