You know I love it when I come across a freeware program that is so excellent I actually get goose bumps. It just shows you how boring my life really is. Anyway, I love it when freeware exceeds my expectations and actually exceeds any commercial program I've ever tried. And when the freeware program is created by a programmer who is actually MORE verbose than I, it really sends my heart a'soaring. I know you're giggling and thinking I'm just being hyperbolic – that no one in this world, not even the folks at that other Windows newsletter, who can drone on and on about Dropbox for 15 pages, are more verbose than I am. But you're so wrong. The developer of Freemake Free Video Converter may well be the most verbose person on Earth. He makes me sound laconic.
Here is what the developer has to say about his very own Freemake Free Video Converter:
This is Free Video Converter
Freemake Video Converter is designed without any limitations, hidden costs, sneakware or adware! This is freeware of new level, which offers a quality alternative to paid products.
200+ Input Formats
Input any video files: AVI, MP4, MKV, WMV, MPG, 3GP, 3G2, SWF, FLV, TOD, AVCHD, MOV, DV, RM, QT, TS, MTS, etc. Import music (MP3, AAC, WMA, WAV), and photos (JPG, BMP, PNG,GIF) to turn them into video free and easily! 200+ supported formats.
Unique! Convert Online Videos Directly from 40+ Sites
Freemake is the only free video converter that rips online videos through direct URL copy paste from YouTube, Facebook, MTV, Vimeo, Dailymotion, ComedyCentral, 40 more sites, downloads online videos to iTunes, and converts them to any format or device available. 40+ supported sites.
Output to AVI, WMV, MP4, MKV, FLV, SWF, 3GP, MP3
Convert video free to the most popular video formats. Rip DVD movie (unprotected) to AVI, WMV, MP4, MPEG, MKV, FLV, SWF, 3GP. Convert video to Flash and embed it directly to your web page. Convert video and audio files to MP3 with our free video converter.
Convert Free to iPod, iPhone, iPad, PSP, PS3, Android
Optimize videos for Apple, Sony, and Android devices. Convert videos free to iPod Classic, iPod Touch, iPod Nano, iPod 5G, iPhone, convert to iPad, Sony PSP, PS2, PS3, BlackBerry, Xbox, Apple TV, Android mobile devices, smartphones, etc.
Burn Blu-ray Video
Convert your movies to video Blu-ray format and burn high-quality BDs for free. Create Blu-ray discs out of any input content: video, audio, photos, URLs. Burn multiple Blu-ray copies and save the resulted Blu-ray video to HDD as an ISO image or Blu-ray folder.
Unique! Burn DVD – up to 40 hours!
Unlike other software, our free video converter doesn't have a two-hour limit and can burn video DVD up to 20h to a Standard DVD or 40h to DVD-DL. With our free video converter, you can make multiple DVD copies and save the output DVD video to your PC as an ISO image or DVD folder.
Free Video Converter with Subtitles Support
Convert DVD, MKV, MOV with embedded subtitles to any video format or device for free. Add SSA/SRT/ASS external subtitles to any video with our free video converter.
Advanced Preset Editor
Take total control of the output result by customizing conversion parameters. Create your own presets by establishing video and audio codecs, frame size, etc. Choose an icon, and save you custom preset for further usage with our free video converter.
Beta! Fastest Video Converter with CUDA and DXVA
Freemake is the only free video converter that features integrated both CUDA and DXVA technologies for the fastest ever video conversion and less CPU usage. The software automatically detects the optimal conversion parameters and switches on/off CUDA and DXVA for better conversion results.
Unique! Upload Photos and MP3 to YouTube
Upload videos, photo slideshows, MP3 to YouTube with our free video converter. Upload AVI, WMV, MP4, 3GP, JPG, BMP, GIF, MP3 to YouTube. The program will cut videos (if required) into 15-minute parts and insert them into one YouTube playlist.
Make Slideshows and Visualizations
Turn photos and MP3 into slideshows with background music for free. Edit your slideshow by moving, adding, deleting, and shuffling photos, or enable panorama effect. Create music visualizations and upload your photos and music to YouTube for free!
Cut, Join, Rotate, Limit size, Adjust to aspect ratio
Cut video parts from your file. Flip or rotate video. Join several videos into one file, add transitions between parts. Fit the output file size to any limit (e.g. 700 Mb, 1.4 Gb, 4.7 Gb). Adjust output video to the established aspect ratio: add black bars, stretch, zoom, auto-adjust."

You've never heard me say this before: I am at a loss for words? What more can I say? What can I add? What can I tell you that he didn't say? I can show you a picture: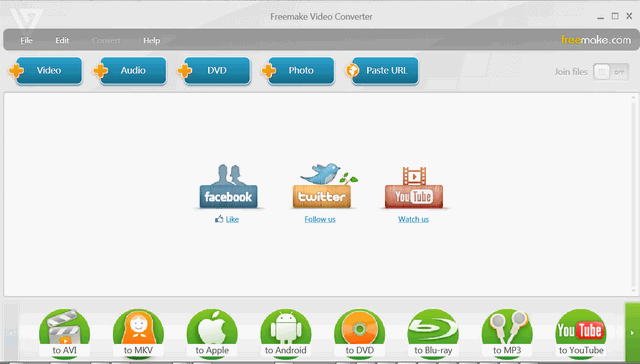 If video conversion and making videos or slideshows from still images is something you like to do – or would like to do, you cannot find a better program – regardless of price than Freemake Free Video Converter. Hey! We did good! Go get it now before the guy changes his mind and decides he can charge $39.95 for this and make a lot of money.
The scoop:
Freemake Free Video Converter
Windows XP, Vista, Windows 7
35bit and 64 bit
14.3 MB Windows Installer
What is it? A video converter unlike any other…Free Video Converter Extraordinaire
Do you have a freeware program you love? Tell us about it!