A Dollar Ain't What it Used to Be
The Inflation-O-Meter is here…
This is an oddball tip, but it's something most everyone (at least here in the USA) will find interesting. Have you ever wondered what inflation has done to our dollar?
There's a site where you can see how much $100 in today's money would be worth, let's say, in the 1960's money. If you're curious, $100 in 2019 money would have purchased about $11.70 worth of goods/services in 1960. A home that cost $40,000 in 1970 would cost $266,000 in 2019.
It's really not called Inflation-O-Meter but that's what we call because we can call it anything we want! And you, my friend, can call it whatever you want. But I bet you will call it fun.
You'll find it interesting, if not useful. Check out the Inflation Calculator here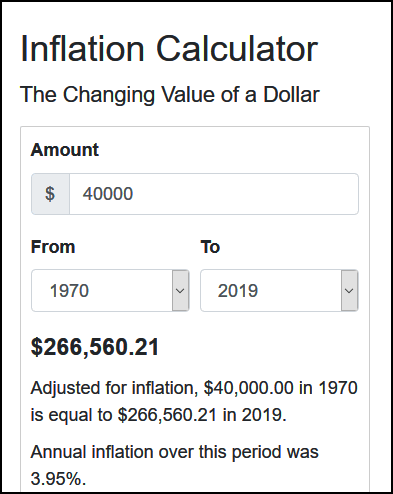 If you're living in someplace other than the USA,  do not fret. Do you know how easy it is to convert U.S. dollars to your brand of money? If you use Google as your default search engine, just type the following into your browser's address bar.
Great Britain
100 GBP USD
Australia
100 AUD USD
New Zealand
100 NZD USD
Canada
100 CAD USD
Instant conversion!