Recently, Microsoft launched a new Web site ostensibly to allow users to check their browser to see how well it's protecting them from real threats they may encounter on the Web. Unfortunately, what it really is a HUGE advertisement for Internet Explorer (SURPRISE!).
Just this week, Internet Explorer usage slipped below 50%. This means that less than half of the people browsing the Web use Internet Explorer. There was a time when over 96% used Internet Explorer. What browser you use might not seem to be important to a company's bottom line – but it is. Browsers' come with default home pages and these home pages generate a lot of income for their respective companies. So Microsoft loses a lot of revenue when its users defect – and many of them have defected over the last two years.
Microsoft's current browser "Internet Explorer 9" touts itself to be the safest browser on the planet. If you look at www.yourbrowsermatters.org you'll note the reason why it claims to be the Web's ultimate safe browser is due to something called Internet Explorer Smart Screen filter. It stands to reason if a filter blocks any download without a digital signature or one that isn't popular or isn't well known, you're going to eliminate a lot of really bad downloads. But like blocking spam – the more it blocks doesn't mean it's better. Many good downloads get undeserved (and incorrect) warnings from Smart Screen (ours for instance). We don't use digital signatures and we don't generate huge volumes of downloads — although we do generate significant downloads- for instance over 10,000 downloads a day during the Christmas season. Yet our downloads generate false warnings from Smart Screen and that scares away a lot of people who don't know us and who have just recently discovered our site. So we call Smart Screen, "Dumb Screen" because it really can't tell a good file from a bad one a lot of the time. Like spam filters that put good email in with the bad in a spam folder, Smart Screen fails so much that it is not useful as it can and will prevent users from downloading some excellent free programs. But using its Smart Screen filter as its holy grail, Microsoft proudly proclaims its IE9 browser as the safest. It rates IE9 4.0, Chrome 2.5, and Firefox 2.0 – with 4.0 (of course) being the best. Apple's Safari browser doesn't rate at all…. gee we wonder why.
I tested www.yourbrowsermatters.org with Chrome, Firefox, and Safari. Microsoft's rating system would not give me a rating for Chrome or Safari, instead I got the message: "We can't give you a score for your browser." (See the Screen Shot from Google's Chrome Browser below.)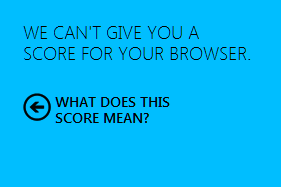 I got the expected 2.0 rating using Firefox. Microsoft says that Internet Explorer 9 is twice as safe as Firefox. Most wouldn't agree with that, in fact many experts who test browser security disagree.
It would be nice if Microsoft would put aside its bias and do something really nice and really help people stay safer on the Web. Microsoft's Internet Explorer usage has dropped below 50% for the first time since Netscape ruled back in the early 1990's. It seems rather obvious that Microsoft doing everything they can to get people to come back to Internet Explorer – even if they have to twist some numbers to do it. We don't think that's fair to you or to anyone who is trying to do all they can to stay safe on the Web. The unbiased truth would make this new site a great idea but we don't see that happening soon.
Every browser company is, of course, going to say it has the safest browser. Statistics can be twisted anyway to support anything you want to support. We've read reports claiming Safari is the safest, Firefox is the safest and Chrome's the safest. If we had to pick one, we'd say that Chrome is the safest browser right now because of this: http://blog.toggle.com/google-chrome-safest-browser-web-browsers-internet-security/ . If Chrome pays hackers a lot of money to find security flaws then they're putting their money where their mouth is.
The important thing for you to remember is this: Use an updated browser – don't keep using IE6 or IE7, or outdated versions of Firefox, Safari or Chrome

It is a fact that there isn't one browser that can make the claim that it's the safest. But we can tell is this: If you're using any browser that is not up-to-date, it's not safe. Some of you are still using Internet Explorer 6 and 7 – and those are not safe browsers. And even Microsoft will admit that. If you want to use Internet Explorer – that's fine. Just be sure you're using IE8 (for XP) and IE9 for Vista and Windows 7. Outdated browsers are an invitation to disaster and a big reason why there are so many computers infected with nastyware. So no matter which browser you choose to use, make sure it's up-to-date.