Easily Switch Between the New Gmail and Classic Gmail
NOTE (Added 9/29/2018): TO USE THIS TIP YOU MUST LOG IN TO GMAIL USING CHROME. This tip does not work in Firefox, Edge, Internet Explorer, or Opera. We have not tested it with Vivaldi or Chromium. If you have tested it in either of those browsers, please leave a comment.
A few months ago Gmail announced the new Gmail with a new  interface. But if you're a fan of the classic (or old) Gmail, no problem. Google has done something many companies don't do much anymore and that's give you a choice. If you don't like the new Gmail, you can easily switch back to classic Gmail – or the "old Gmail" as we call it.
Whether you like the new Gmail or the classic (old) Gmail, it's easy to switch back and forth. This tip is to remind you that you can switch back and forth and we show you how.
Sign into Gmail (using Chrome) and click on the Settings icon (it looks like a gear). If you're using the new gmail, click on "Go back to classic Gmail" and Gmail will quickly switch back to its old look.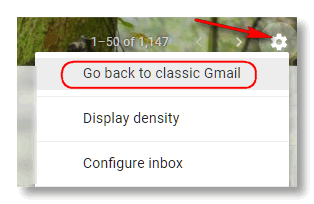 If you're using classic Gmail and want to try the new Gmail, click on the Settings icon, and click on "Try the new Gmail"and Gmail will switch to the new look.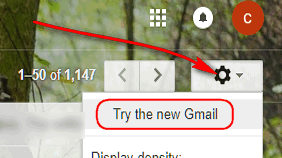 You can switch back and forth as much as you like without affecting your email messages.
New gmail or classic Gmail: Which do you like best?