Cloudeight InfoAve Premium
Special Announcement
April 12, 2019
Dear friends,

Thank you all very much for your continued support and friendship – and for making our spring sale a success.
We are going to continue our spring specials for a few more days, so you still have time to get in on these Cloudeight Specials. And don't forget, your purchase helps support our small business!
THANK YOU FOR YOUR HELP, FRIENDSHIP & SUPPORT!
---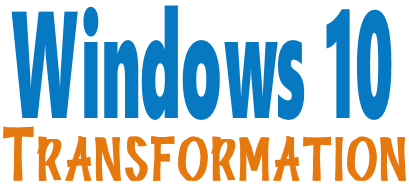 The end of Windows 7 is coming on January 14, 2020. Using Windows 7 after that date may put your computer at risk as Microsoft will no longer be sending security updates and fixes for it.
Whether you upgrade your Windows 7 to Windows 10 (still free) or buy a new Windows 10 computer, we can make you feel right at home on Windows 10 with our Windows Transformation service. We can take your Windows 10 computer and make it look like this: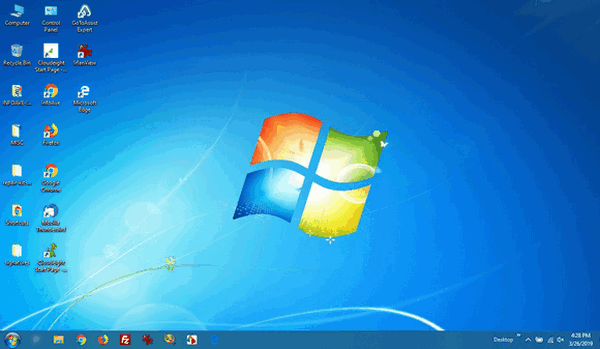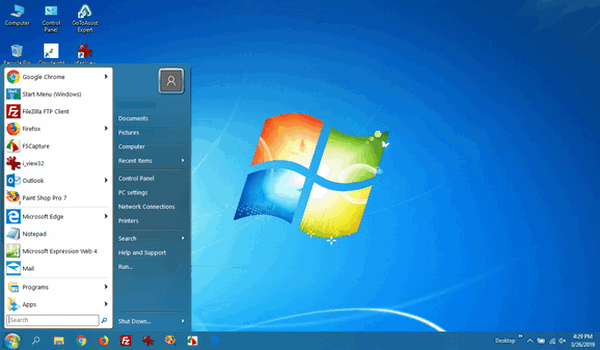 Above: Windows 10 or Windows 7? 
Both screenshots are of a Windows 10 computer. It looks very much like a Windows 7 computer doesn't it?
Change the start menu back to Windows 7 classic style and include your favorite programs

Change your taskbar and start menu colors to your preferences

Add an authentic Windows 7 start button

Add Windows 7 Wallpaper (if desired)

Change Windows 10 File Explorer so it works more like Windows 7's Windows Explorer

Add My Computer to your desktop (if desired)
Regular price is $35 – but during this introductory period,  we'll make your computer work and look very much like Windows 7 for just $25.  Buy now and use later! Our Windows 10 Transformation service keys are good until you use them. Get yours now, save $10, and get the peace of mind of knowing when you change to Windows 10 your learning curve will be a whole lot easier.
And if you're currently using Windows 10 and like what you see in the screenshots above, we can transform your Windows 10 PC for you too.
It's springtime and it's time to get your computer ready for summer. With our new Spring Cleanup service, we'll make that EASY for you.  
We'll check your PC, clean it up, optimize it and get it ready for summer…  
Here's what we'll do for you:
We'll connect to your computer and do a deep scan for malware

We'll check your computer for suspicious programs

We'll check your browser for problematic extensions/add-ons

We'll optimize your startups.

We will check your hard drive

We'll check to make sure your System Restore is set up properly

If you choose, we'll remove your current security software and install Emsisoft and give you a FREE 3-month license
Get your Spring Cleanup today! Just $30 and only for a very limited time.
*Our Spring Cleanup Service does not include repairs. If repairs are needed, we'll give you a special price on our Cloudeight Direct Computer Care repair service.

NOW Includes "Anytime Repair" with Our Unattended Support Feature!

SeniorPass: A Great Deal for Our Friends 60 and Older!

With our Cloudeight Direct Computer Care SeniorPass, our friends age 60 and older get one full year of unlimited computer care and repair for one low price. With our SeniorPass you'll get the best computer care anywhere – any time you need it!

SeniorPass is valid for unlimited computer care & repair sessions for one full year starting with the first time you use it. The clock does not start ticking until you use your SeniorPass for the first time. A great deal! 

Having SeniorPass is just like having insurance for your computer. You'll get one full year of computer care and get help with almost any computer problem whenever you need it. We're here to help you.

Computer care & repair for one full year just $99!

Get your SeniorPass and/or get more information here.

Help us by sharing us on your Facebook page!

Do you use Facebook? If you have a Facebook page, please help us by sharing us on Facebook. You can help us by sharing one of our articles or pages. You can also help us by sharing our InfoAve web site at https://thundercloud.net/infoave/new/ or our Facebook page at https://facebook.com/cloud8internet/. If you have used our products and services and are pleased, mention us on your Facebook page. Thanks so much for your help!


THANK YOU!

Thank you so much for being a Cloudeight subscriber and for your continued friendship and support.

Best wishes,

Darcy & TC
Cloudeight InfoAve Premium

Need help? Have a question, suggestion or comment? Please let us know.