Over 50 Image Editing and Painting Tools on One Website
Just about everyone loves playing around with graphics; manipulating images is fun and a great pastime. When you edit images with the right tools you can do some very creative things.
If you have a favorite photo editor or paint program like Photoshop or PaintShop Pro, our site pick isn't going to replace it. But for those who don't have a professional image editing or paint program, this site has 55 image, paint and graphics editing tools. And even if you do already have a heavy-duty professional set of image editing and paint tools on your PC, you may just find a few things featured on our site pick you've never seen before. It's sure worth a look.
This site and all its tools are free to use – no registration required, and images you edit and create are not watermarked. Your privacy is assured since the images you edit from your computer stay on your computer… they are not stored online.
OK. Time for the nitty-gritty.
Here is a list of the paint and image editing tools you'll find on the site… in the order you'll find them listed on the page:
Resize, Crop, Rotate, Type, Sketchpad, Pop, Vintage, Art, Frame, Overlay, Stickers, Converter, Auto Fix, Red Eye, Color Picker/Converter, Dropper, Brightness/Contrast, Hue/Saturation, Vibrance, Curves, Blur, Sharpen, Smooth, Noise, Grayscale (Black & White), Threshold, Opacity, Vignette, Pixelate, Mosaic, Straighten, Skew, Perspective, Twirl, Bulge/Pinch, Wave, Splitter, Color Tint, Bump, Invert Colors, Palette Extractor, Optimize Palette, GIF Editor, APNG/AWebP, Mirror, Kaleidoscope, ANCII Art, 3D Anaglyph, Glitcher, RAW, Exif, PNG Metadata, Stenography, ANSI Art, Vector Graphics Editor,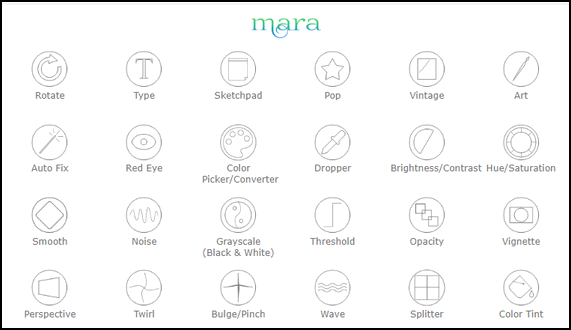 Above: Some of Mara's many image editing, paint, and other graphics tools.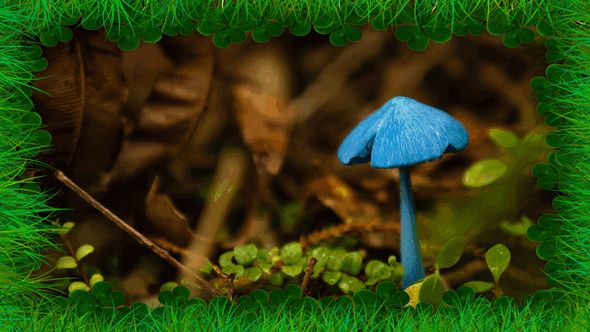 Above: Image frame added with Mara Photos.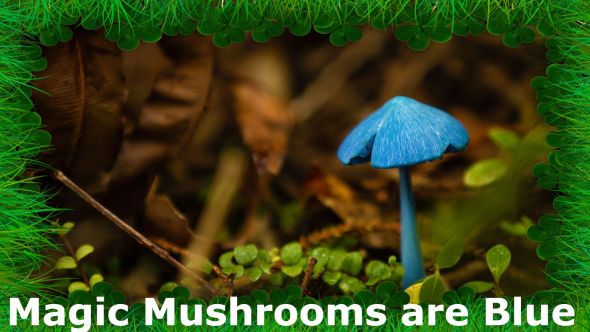 Above: Playing around with text in Mara Photos
OK, you get the idea by now, right? 
But, to be fair, we need to allow the developers a chance to say a word or two. Developers – are you ready? Take it away!
Mara is a web-based software suite for quick image editing and painting. Includes a huge set of tools, among which are traditional tools for graphic editors, as well as unique ones, which you will not find anywhere else.

The program is completely free. No premium features. No watermarks. Registration is not required.

Some Mara features:

– Of course, basic tools including resize, crop, rotate, auto-fix, etc.
– Dozens of real-time filters and effects
– Image enhancement tools
– Multiple image transformation types
– Painting tools
– Creation and editing of animations in GIF, PNG and AWebP formats
– Works with raster and vector graphics
– Cross-platform mobile-friendly
– Hundreds of hand-picked fonts, frames, stickers, and overlays
– Import your own custom elements
– Seasonal elements for everything from Christmas to Halloween
– Supports almost any image format, including RAW
– Import images from the clipboard
– Converting between image formats: JPEG, BMP, GIF, PNG, SVG, TARGA, TIFF, JPEG 2000, PDF, ICO, WebP and more
– Base64 decoder and encoder
– Suitable for all experience levels
– Intuitive interface
– No-hassle navigation
– No download is required…
If you enjoy using paint or image editing programs, or if you just like being creative and trying new things, we think you'll find the 55 graphics-related tools on Mara Photos very interesting and maybe even useful.
Go and do some magical things with the 55 image, paint, and graphic tools waiting for you on the Mara Photos website.
BONUS:

While you're on the Mara Photos website, take a look near the bottom of the page and you will find some other very interesting stuff such as:
Onlive Clock
Web Media Center
Click & Relax
System Scanner (all about your PC plus an Internet speed test)
Desktop Lux (an image gallery and a lot of free desktop wallpaper here)