Resize, Edit, and Watermark Your Photos [and more!] With Just a Right-click
First, we think the developer could have spent a little more time on naming this application… CoolTweak sounds like a bad-news system tweaker. I think we would have named it "Right-handed Bunny" or "Your Right- Is Left", "ImageMagic II". But it's CoolTweak, and the developer even has a snappy logo and cool "hip" web site. And the program's installer is a gem. It gives you a quick tutorial after you install it. So, we give this snappy little app the grade of A for what it does and a D minus for its name. But then a rose by any other name…
Enough of this rattle and yammer. Lucky for us, the developer is not shy with words. So, we're going to let him tell you what "CoolTweak" does. And keep in mind my friends, it does all of this with just a right-click on picture. Good stuff!
Take it away Mr CoolTweak!
Resize your pictures
Resizing and cropping your images gets really simple with CoolTweak. Downsize huge pictures from your camera in seconds to share them easily.

Watermark your pictures
CoolTweak makes easy to add a custom text or logo to all your photos before sharing them. Many cool options are available: set opacity, rotation, pattern repeat and much more.

Share on social networks
Sending your files to Facebook, Twitter, Flickr, Google+ and 500px is no problem. A publishing windows guides you along the process so you can choose where and how the files are posted.

Batch processing made easy
CoolTweak is just a click away, trigger your processing by right clicking any file or folder, that's it. The app can handle recursive browsing to process files in sub folders.

Edit photos metadata
Take control over title, author, GPS location and many more properties of your Jpeg photos. Edit one by one or an entire set with no effort thanks to CoolTweak Live editor…
That's a lot of stuff but it even does more that what's in included above.  Also, CoolTweak, is very customizable — you can modify or remove any of the program's presets, or even add  your ownto them.
Since the program has built-in tutorials and timely reminders to save your settings and your work, there's no reason why you shouldn't be able to use the program "right out the box". [NO EB. It does not come in a box. That's just a metaphor. It means you can download and install it and use it right away without too much fussing around with instructions. NO that's not a simile. If I said "It's mean as an EB"  that would be a simile.  Ouch! Do not hit me!]
If you often find yourself resizing huge photos from your digital camera so you can email them… or if you upload a lot of photos to share on social media like Facebook or twitter… or if you often need to resize a single image or a whole  folder full of images on the fly… you should give CoolTweak a try. It will save you a whole lot of time.
Here's some nifty screen shots for you…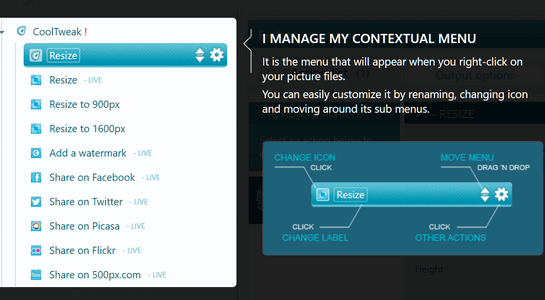 After you install CoolTweak, you'll be given a very classy walk-through of some of the program's features. Above: CoolTweak shows you how to customize its preset right-click menu.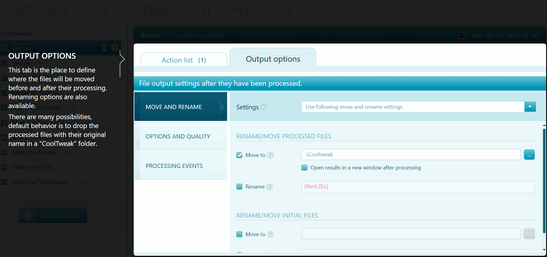 Above: More cool stuff  you can so with CoolTweak shown in the tutorial right after you install CoolTweak.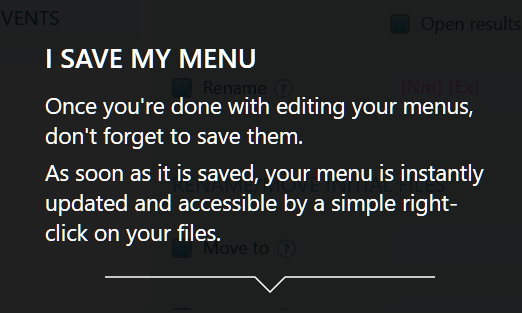 Above: The tutorial reminds you to save your customizations lest ye lose them.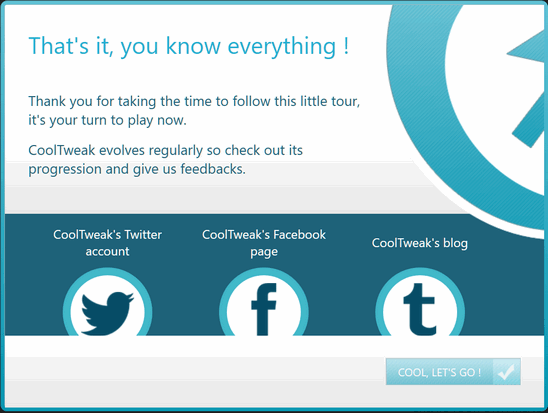 Above: See? If you take this "tour" (tutorial) you'll know everything! Ya think?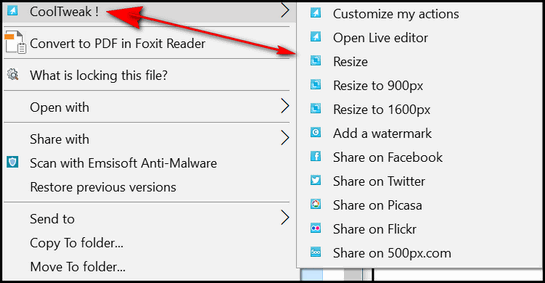 Above: We're playing with some of CoolTweaks' options. Notice options that come with CoolTweak – we hadn't customized any settings yet. Note you can right-click on any picture, resize it, watermark it, share it on Facebook, Twitter and online photo sharing sites.
So, if you think you would like the convenience of being able to right-click on any picture and resize it, watermark it, and/or share it, then CoolTweak might be just the tool you've been looking for.
It's free. There are no download tricks or bundled software/malware. Just good freeware.  Visit the CoolTweak website to learn more about it – and/or download it. 
IMPORTANT:
CoolTweak is a right-click menu enhancement. It's not a program you click a shortcut on your desktop or Start menu to run. Once you install it, you can right-click a picture and CoolTweak is available from your right-click menu. See the image below: