Saturday Bonus Questions & Answers – 012222
It's Saturday. The weekend is here and you know what that means. It's time for more Bonus Questions & Answers.
Sometimes the best tips and tricks are hidden in the questions and answers we publish. And rarely do we post questions and answers on this website. Today, we're featuring some of the questions and answers from past issues of our InfoAve Weekly newsletters. 
These answers were selected at random from past InfoAve Weekly newsletters.
---
Saturday Bonus Questions & Answers – 012222
Dianne's computer won't start after an update
My computer was acting strangely after an update and I tried doing a system restore. Unfortunately, I think it got caught in a loop, but I left it overnight, and wouldn't you know my hydro went out. Now I have a blank screen. I can get into it using f8, but it says it cannot be repaired. Is there anything else I can do to get my computer back? Will a windows repair disk help and how do I use it.
Our answer
Hi Dianne, try starting your computer this way:
1. Turn your PC off with the power switch
2. Leave it off for 5 minutes.
3. Hold down the SHIFT key and then turn on the computer (keep holding down the SHIFT key)
4. Continue to hold down the SHIFT key until you see the Advanced Boot Options menu
5. From the Advanced Boot Options menu, click on Troubleshoot and try running Startup repair.
You cannot fix a Windows version update with system restore, you have to use System > Update & Security > Recovery > Go back to the previous version of Windows (See our article here).
For cumulative updates, you can uninstall the offending updates by going to Settings > Windows Update > Update History. See our article about the Advance Boot Options menu.
You should only use system restore if you download and install something that causes problems or if you accidentally install malware. System Restore is not a good choice for rolling back problematic updates.
You can boot your computer with a Windows 10 installation disk which you can make by following the instructions here. Once you use it to boot your PC, you will be able to Reset your computer which saves all your files and reinstalls Windows – but you'll need to reinstall all the programs you use.
W hope this helps you. Please let us know if you need more help.
---
Linda says all of a sudden .docx files appeared on her computer
We have files on our computer that all of a sudden have the extension docx and when we try to open them a window pops up and tells us we have to purchase office 365 and we are unable to open them unless we do. Is there a way you can fix our files so we can open them again without purchasing office 365, which is $99 per year?
Our answer
Hi Linda. First, Microsoft Office 365 Personal is $69 a year or $6.99 per month.
Now on to your question: .docx has been the standard Microsoft Word document format for many years. You can open .docx files with WordPad which is included with all versions of Windows. All you have to do is right-click on any .docx file choose "Open with" and choose WordPad.
There are also many free office suites and free word processors that you can download and install that will open and even create .docx files. Here are some:
Free Office Suites (replaces Microsoft Office)
Open Office
www.openoffice.org
LibreOffice
www.libreoffice.org
Free Word Processor (replaces MS Word)
AbleWord
https://www.thundercloud.net/infoave/new/take-a-look-at-this-free-ms-word-and-pdf-editor/
We hope this helps you, Linda.
---
Sharon was to create a taskbar shortcut for Gmail
I have checked out several sites on how to make an icon on the taskbar for a shortcut (icon) to Gmail., but nothing works. I downloaded Chrome and use that but have to go to  Google and then Gmail.
Our answer
Hi Sharon. You can make a shortcut to Gmail on your taskbar this way…
Open Gmail in the Google Chrome browser. While your Gmail page is open, click the three vertical dots in the top right corner of the browser –> hover over More Tools –> click Create Shortcut…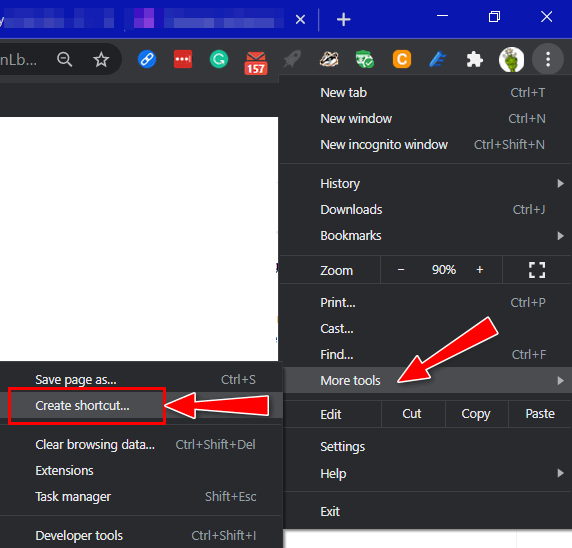 Tick the box next to "Open as window" … this will make sure Gmail opens separately from any other tabs or in any open browsers.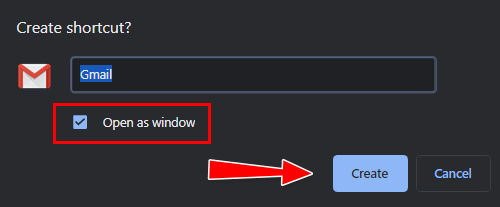 Gmail should open immediately. Now, look in your taskbar, right-click on the Gmail icon, and then click "Pin to Taskbar".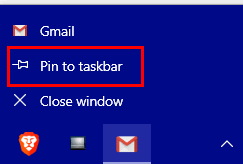 This creates a taskbar shortcut with the Gmail icon.
You can drag the icon around on your taskbar to place it exactly where you want it.
We hope this helps you, Sharon.
---
Rina says Edge is now her default browser, but she wants Chrome
Good morning. Thank you for always being willing to help I have no idea what to do without all your good advice. My question is this: I have Google Chrome which was my default browser. Just in the last 2 or 3 days, I get a message that says Chrome is no longer my default. I click on it and it directs me to Microsoft Edge. There is nowhere where I can change my default back to Chrome. I just hate all these changes for sure. I know you have the answer to this so thank you so much for your help. Rina.
Our answer
Hi Rina. In Windows 10's taskbar, search type Default Apps and press Enter when you see Default Apps appear in search results.
Scroll down to "Browser" and click on the browser listed. Once you click on the default browser, you will see a list of all the browsers installed on your PC. From that list, choose Google Chrome. Then close the Settings app.
That's it. Google Chrome will now be your default browser.
For those using Windows 11 do this…
1.) Type DEFAULT APPS in the taskbar/Start menu search
2.) On the Default Apps, page find Microsoft Edge and click the arrow to the right. A list of other installed browsers will appear. Select Google Chrome. Do this for every instance of Microsoft Edge you see on the Default apps page.  Microsoft will protest telling you Edge is better, but if you want Chrome to be default this is how you do it.
If you need anything else, please let us know.
---
Robert wants to clean install Windows 10
In one of your newsletters a while back you had how to do a clean install by downloading a copy of windows 10 to a flash drive and then saving I think Documents under user to a backup and that would put back all of your files except 3rd party programs. Can you tell me what date that newsletter was put out?
Our answer
Hi Robert. You can reinstall Windows 10 without using a flash drive, just by doing a reset. A "clean install" would by definition remove everything including your files. Here are some of our articles (and there are many) that you may find useful:
https://www.thundercloud.net/infoave/new/clean-installing-windows-10/
https://www.thundercloud.net/infoave/new/how-to-reset-windows-10-keep-your-personal-files/
https://www.thundercloud.net/infoave/new/fix-major-windows-10-problems-by-doing-a-repair-installation/
That should just about cover everything. We hope this helps you, Robert.
---
Sue is having problems opening her Downloads folder
Hi, When I try to open my Downloads folder, I get a message stating it is unavailable. I did a Google search on the issue, I ran the "sfc/scannow" program. It stated that it found and corrected corrupt file(s). I restarted my computer, but the message is still there, stating it is unavailable. Everything worked fine yesterday. Thanks so much for any help, you guys have helped me in the past, so I knew where to get help with this!
Our answer
Hi Sue. Thanks so much! First, turn off your computer. Power it off completely and leave it off for 5 minutes. Make sure all power lights, hard drive lights are off. After 5 minutes turn your PC back on. Now try opening your Downloads folder.
If that does not work try running System Restore. Here's how to do that:
Type RSTRUI in taskbar search and press Enter when you see rstrui run command appear in the search results. System Restore will start.
Pick a date that is before you started having problems. If you don't see any dates before you started having problems, look at the bottom of the System Restore window for "Show more restore points". Select t restore point and click "Next", verify the restore point date -then click "Finish". System restore can take a long time to run -sometimes over an hour. You mustn't shut down or restart your computer during a restore procedure. System Restore does not affect your personal files, folders, etc.
If that does not work try running a DSIM scan. To run a DISM scan do this:
1. Type CMD in taskbar search.
2. When Command Prompt appears in the search results click "Run as administrator"
3. At the prompt in the command window copy and paste (or carefully type) the following command…
DISM /Online /Cleanup-Image /RestoreHealth
It must be entered exactly as shown above, spaces are very important. After you've entered the command, press Enter. When it has finished running it will tell you it has been completed successfully. After it completes, you must restart your computer before you try opening the Downloads folder.
If none of those work, you may have to do a Windows reset. But let's cross that bridge when we come to it.
---
Carol can't find Contacts in Gmail
Hi TC and Darcy. I found a link in a Google search for Gmail contacts because i could not find a link to contacts in Gmail. This is crazy! Do you have a solution for finding the contacts page and adding contacts in Gmail without leaving the Gmail site?
Thanks again for all your help. I don't know where else we would go for the great amount of help we all need.
Our answer
Hi Carol. Yes, just log in to Gmail, then look in the upper right (where the "9" dots are). Click on the 9-dots and then scroll down until you see Contacts. You can add contacts or edit the theme there. See the screenshot below…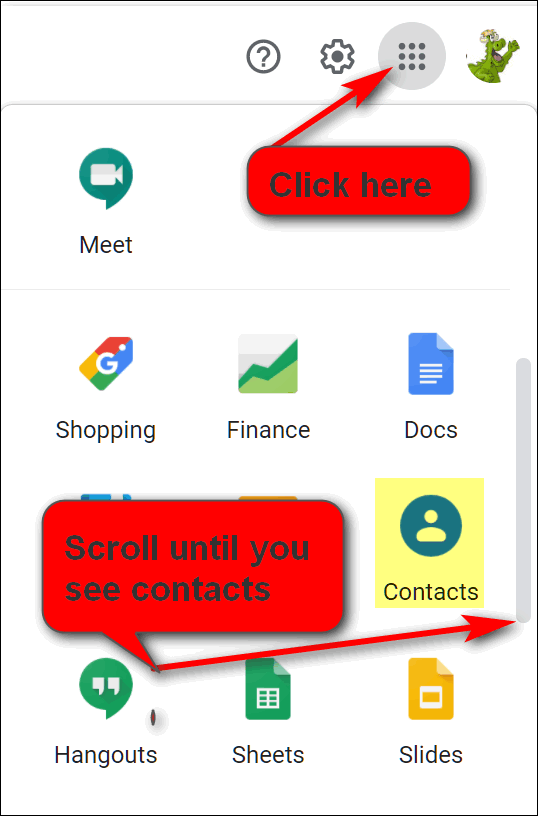 ---
Bonnie really messed up her display colors
I really screwed up the screen on my laptop. I tried using the black background with white fonts for a few days and today I wanted to go back to white background with black fonts and I've ended up with something I don't like. It's now black background with chartreuse fonts. Yuck! I tried to find your information about switching back and I can't find it. Can you help me and direct me where to correct this, Please?
Our answer
Hi Bonnie. All you need to do is turn off Color Filters. Here's our article on how to do that.

https://www.thundercloud.net/infoave/new/windows-10-color-filters/
We hope this helps you, Bonnie.
——–
Bonnie wrote back: "Thank you so much. It seems to be working the way I want it to be. Now what I have to do is quit messing with all those things then I won't get upset with myself and have to bother you… Bonnie."
---
Rex wants to know if he should update a driver
Hi TC/Darcy, I received a notification for an optional update and when I viewed the details it said AMD Other hardware – PCI bus. Msinfo32 shows that I have an Intel MB. If I install this update would it affect my PC negatively? My colleagues with newer PCs get a long list with boxes preceding them giving various technical details and numbers but the heading said these would keep the drivers up to date. What should we do? Thanks for all the help through the years for which we are all so grateful. Rex
Our answer
Hi Rex. Thanks! Are you having any problems with your PC? If you're not you don't need to install any drivers or update your motherboard.
You can have an Intel-based computer still have AMD graphics installed.
The keyword in your opening sentence "I received a notification for an optional update " is optional. If you're not having any problems, don't update drivers.
The notice you're getting sounds like something you'd get from a driver updater program – and they're bad news. Just because a driver is newer does not mean it's necessary or better.
The only time you should ever update a driver is if something is not working correctly (Sound, Graphics/Display, etc.).
---
Ron is afraid his hard drive is failing
Hi TC. I updated Windows 10 and reconnected my external backup hard drive and everything seemed to be fine for a few days. Then yesterday, I noticed that the HP diagnostics again said I had drive errors. I am attaching a photo of the message I had this morning. I decided to use the tools/check procedure you told me about on my C drive. The repair took over 4 hours; so, we will see if that fixed the problem.
Given the problems that I have had, plus my lack of patience 😉 (even with my daily meditating), I am exploring getting a new laptop. I have read your very helpful PC buying guide that you updated recently. In the past, I have purchased new laptops at Staples because they offered a service of transferring files and software from the old laptop to the new one. Is that something I can do myself or pay you to do? I wasn't sure if you could transfer items from one laptop to another remotely. I think I can get better prices on a new laptop at Costco or Amazon relative to Staples.
Oh, one more question. Do you recommend refurbished laptops? Friends have purchased refurbished Apple laptops and rave about them. But that might open up issues with a different operating system. I really don't know.
Our answer
Hi Ron. Be careful not to overreact. It's not telling you that you have errors, it's telling you to check your external drive for errors. This is a common message and it does not mean your drive is failing. All you need to do is open File Explorer, right-click on the drive, and click on "Properties" — In Properties click on the "Tools" tab then click the "Check" button. The problem may well be the HP program and not the drive. If a drive is failing, you don't get a "scan this disk" warning, you get a S.M.A.R.T. drive failure warning. It's a much more ominous warning than the warning your getting – so don't assume the drive is failing – it almost certainly is not.
As far as File History, it's very sensitive to the drive being disconnected and reconnected. It's best to always leave it connected. If you're sure you've left the drive connected, the problem could very well be File History – you may need to reset it. See this page to learn how to reset File History (it's not difficult).
File History errors are common and again should not be taken as a sign of hard drive failure. Most of the time, it is an error with File History – not the drive -assuming you're leaving the external drive plugged in most of the time.
We do copy files from the old computer to an external and then to the new computer… but we do not recommend nor do we move programs from one computer to another – it usually ends up a mess.
How to copy files from one computer to another using an external drive is covered in a previous newsletter…  see the question from Carol. The only thing you have to be careful of is when you copy files back to the new computer. Many make the mistake of copying the entire folder and copying it to the corresponding folder on the new computer. For instance: Pictures. You should open the pictures folder on the external and copy all the files and folders in it and then copy them to the Pictures folder on the new computer. If you move the Pictures folder on the external hard drive to the Pictures folder on the new computer you end up with a mess where Pictures is a subfolder of Pictures. The same holds true for Documents, Music, Videos, Favorites…etc.
If you add Copy to / Move to … to your right-click menu on the new computer it makes these tasks much easier. It's easy to add "Copy to / Move to" to your right-click menu. We cover that here.
I know it's very easy to panic and misread warnings, especially when you think your data may be at risk. An HP imminent drive failure warning looks like this: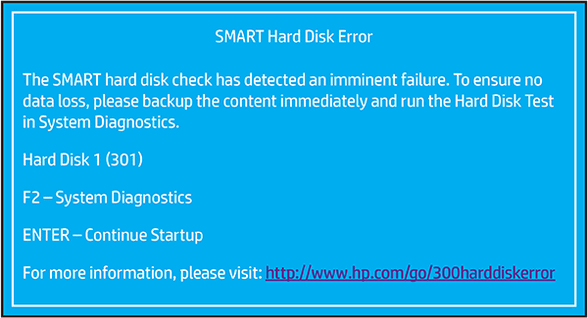 If you want to learn more about this, read this HP page.
If you want us to copy the files from the old PC to an external drive and then copy them to a new PC, we can do that if you have a Cloudeight Direct Repair key. If you don't they're available at https://thundercloud.net/direct/. It may require two short sessions – one to start the copy to the external which may take several hours depending on the amount of data and the speed of the drive… and conversely, it may take several hours to copy the files to the new computer. Keep in mind we do not transfer programs from one PC to another as we have found – over time – that it's best to install the programs you want on the new computer. So, we don't do this, and we don't recommend it.
As far as refurbished computers – if they come with the same warranty as a new computer you should be fine. Our experience with Apple users is that Apple can't do anything wrong – but that, of course, is not true. Apple users have plenty of problems with Apple devices, but they're just not as willing to talk about it. Windows users, on the other hand, love to bash Microsoft.
We hope this eases your mind and helps you, Ron.
---
Sandra wants to know if we recommend Wi-Fi boosters
Do you recommend using a Wi-Fi booster?
Our answer
Hi Sandra. Wi-Fi boosters, also called "Range Extenders" are useful if you have a large house and your router is not centrally located in your house. A Wi-Fi extender can extend the range of the Wi-Fi signal.
You can see our article on Wi-Fi range extenders (Wi-Fi Boosters) here.
Beware… there are scams (software & hardware) that claim to "boost" your Wi-Fi speed. You can't boost your Wi-Fi speed faster than the speed your ISP provides.
---
Barbara wants to know if clicking the "Skip ad" button on YouTube is risky
Hi TC and EB. I have been wondering if it is okay when I am on YouTube and those ads come on and want me to sit still for a few minutes while they try to sell me something or tell me how to vote and I don't have the patience to sit there, I click the Skip Ad button. Two different people have told me it is okay to do that. It won't cause my email to fill with junk mail. But it seems that I am getting a ton of it since I have been watching teaching videos. Can you set the record straight?
I'm sure I am not the only one who wonders if it is safe to skip those annoying ads and click that Skip Ad button. Thanks, and take care of yourselves! Covid free hugs to both of you. Barbara
Our answer
Hi Barbara and thanks! Yes, definitely click the "Skip ad" button when it appears. It takes a few seconds or more for the button to change to "Skip ad".
If you click before the ad is done, it often leads to a new page, so always wait until the button changes to "Skip ad". You can see how many more seconds you have to wait by looking in the lower right-hand corner for a countdown showing how long you'll have to wait before you see the "Skip ad" button,
---
Debb wants to know why Google says her email is not secure
Good Afternoon, TC/Darcy. Google keeps sending me (on occasion) an email saying, "Help strengthen the security of your Google Account". Upon opening their email it prompts me to "Turn off less secure access" and that my personal information is vulnerable because I am allowing apps and devices to access my account in a less secure way".
I am using Thunderbird to download my email as I loathe going to Gmail online to read my mail. I am using the latest version of Thunderbird, so why is Google telling me it is not safe to allow this app to access my email account? I'm annoyed by these messages from them. Is it safe to ignore these warnings? Surely Thunderbird is safe, right?
Thanks for your advice. Debb.
Our answer
Hi Debb. If you turn off "less secure apps", you will not be allowed to use some email programs. So, leave that as it is.
"Less secure" is not the best wording. By allowing it you can view mail on an external email program or app, but they refer to that as less secure vs. only getting mail at Gmail.com or using a Google-approved mail application. As long as you trust the app/device, you are fine. The same goes for checking email on a phone… you have to allow "Less secure apps" as well.
——
Debb wrote back: "Hi Darcy. That cleared things up perfectly. I figured that was what was going on, but they should really change their wording, IMHO… Thanks for all you do, Debb."
---
Jane lost DuckDuckGo and her ad blocker
I can't install DuckDuckGo. I didn't mean to delete it. When I tried to reinstall it, I could not do it.
I also had an extension to stop ads that I have lost. Please help! You have helped me so much since I found your site in the late 90″s. Jane.
Our answer
Hi Jane. Thanks for your nice comments and your support.
DuckDuckGo does not install. You can make it your default search engine and the default search from your browser's address bar. If you go to https://duckduckgo.com/ you'll see a button on the page that says "Add to Chrome", or "Add to Firefox" or "Add to Edge", etc. depending on what browser you're using at that time.
I don't know what extension you were using to block advertisements. The two we recommend are Privacy Badger and uBlock Origin.
You can learn more about and or install Privacy Badger from https://privacybadger.org/
You can learn more about and/or install uBlock Origin for Chrome here. Or for Firefox here. Or for Microsoft Edge here.
We hope this helps you, Jane.
---
Wait! Before you go…
Every week we help dozens of people with their computers without charge or any expectation of payment. And we have helped many folks who have fallen for tech support scams or other scams designed to steal their money.
And we now depend more on readers like you to help keep us going. Your donation helps us to help more people with their computers and helps us keep everyone safer online.
Please help support our small business and help us to keep on helping you.