Saturday Bonus Questions & Answers – 120421

CYBERWEEK OFFERS ARE GOOD THROUGH  MONDAY, DECEMBER 6, 2021.
Check out our special Holiday prices on SeniorPass, Cloudeight Direct Computer Care Keys, Emsisoft & more.
---
It's Saturday. The weekend is here and you know what that means. It's time for more Bonus Questions & Answers.
Sometimes the best tips and tricks are hidden in the questions and answers we publish. And rarely do we post questions and answers on this website. Today, we're featuring some of the questions and answers from past issues of our InfoAve Weekly newsletters. 
These answers were selected at random from past InfoAve Weekly newsletters.
---
Saturday Bonus Questions & Answers – 120421
Rose wants to know the difference between USB 2.0 and USB 3.0
What is the difference between USB 2.0 and USB 3.0 other than speed?
Our answer
Hi Rose. Other than USB 3.0 being faster, the inside of the USB ports are different colors. The USB 2.0 Connector is colored white or black inside, while the USB 3.0 is colored blue inside. So if you want to know if a USB port on your computer is USB 2.0 or USB 3.0, you can tell by the USB port color inside.
If you plug a USB 2.0 device into a USB 3.0 port and it will work, but it will only run at USB 2.0 speed. And if you plug a USB 3.0 device is a USB 2.0 port, it will only run at USB 2.0 speed.
---
Bonnie wants to know about OneDrive, Dropbox, and Google Drive
How do OneDrive, Dropbox, and Google Drive work? How are they different? Thanks.
Our answer
Hi Bonnie. All of them are cloud backups made by different companies and offering varying amounts of space without paying. OneDrive, because it is from Microsoft and comes with Windows 10, is more tightly integrated with Windows 10. If you have Microsoft Office 365 you get 1 TB of space free. If you don't have MS Office 365 you get 5GB of space free and you can buy 100GB blocks of space for $1.99 a month. See this page.
Google Drive gives you 15 GB of space, but that 15 GB is the total space you get with your Google Account, and Gmail, Photos, etc. count against that. More space is available for purchase. You can get 100GB for $1.99 a month or 2 TB for $9.99 a month. See this page.
Dropbox gives you 2GB of free space, more space is available for purchase. You can get 2 TB for $9.99 a month. See this page.
We are both fans of Microsoft Office 365 and One Drive. One Drive integrates so seamlessly with Windows 10 it makes it snap to restore or access our files, folders, pictures on different devices. It also makes it really easy to access and restore your files when you purchase a new computer.
---
Bette says her email icon in her taskbar no longer works
Hi, my email icon in my taskbar does not open anymore. It was right after the last update, I believe. I used to be able to click on the M with the envelope and it would open my Gmail. Now I have to go do a thousand clicks to get to it. What happened? And how do I get it back? Thanks…and I love your weekly letters…they have helped me immensely. Bette D.
Our answer
Hi Bette. Thanks so much.  Sometimes – and it's not always because of an update – taskbar and desktop shortcuts become delinked – that is they are no longer connected to the program or function they are supposed to open. It doesn't happen often, but it does happen, sometimes for no apparent reason. Trying to fix them after they break is an exercise in futility.
The easiest and quickest fix is just to delete the faulty icon. Just right-click on the faulty taskbar icon and choose "Unpin from taskbar" from the right-click menu. Then create a new shortcut to Gmail on your desktop. Once you have done this, right-click on the desktop shortcut you just created and choose "Pin to taskbar" from the right-click menu. Then you can leave the desktop icon if you like, or you can delete it from the desktop.
---
Bryan wants to update Word 2007 (MS OFFICE 2007)
Hi TC: A few months ago I purchased a new laptop At that time I decided to install my old faithful Microsoft Word 2007 and did so. While it has worked reasonably well, there are some time-consuming (thus irksome) features that I have been faced with. In particular, every time I go into Word, I have to wait for at least a minute while the 'Configuration' process takes effect for the relative program to appear. There are also little bits and pieces where things just don't run all that smoothly.
Okay! I've had enough of that to the extent where I am going to try Microsoft 365 (Personal), Could you please run me through the procedure for doing this. I take it that I would be obliged to uninstall Microsoft 2007 in the first instance. In its day it's been a marvelous application but apparently not for today's world. Naturally, I want the change-over to run as smoothly as possible, hence a detailed 'go to woe' step-by-step procedure would be much appreciated.
Kind regards & best wishes, Bryan

Our answer
Hi Bryan. Here's what you need to do.
Just go to
https://www.microsoft.com/en-us/microsoft-365/buy/compare-all-microsoft-365-products
Choose a product and buy it. We suggest MS Office Personal. The U.S. price is $69.99 annually or $6.99 billed monthly. Once you buy it you will get an email with instructions and you'll be able to download and install MS Office. The whole process is easy once you click the "Buy" button.
After you purchase Office 365 and before you install it, uninstall MS Office 2007, then install Office 365.
---
Linda wants to convert Adobe Illustrator (.ai) files to .jpg or .png image files
Is there a free program that will convert an ai file to a png or jpeg? I have tried Converter 365. It states it was successful but when opened it is blank. Thank you in advance for your assistance. Linda H.
Our answer
Hi Linda. Here are a couple of suggestions for you to convert Adobe Illustrator files (.ai files) to .png or .jpg format online:
https://cloudconvert.com/ai-to-png
https://www.zamzar.com/convert/ai-to-jpg/
We hope this helps you, Linda.
---
Mary wants to know what to do about bandwidth throttling
I'm hoping you can help me with this problem. Do you have any ideas about what I can do/get to help with bandwidth throttling? Thanks for taking the time! Mary
Our answer
Hi Mary. Bandwidth throttling is done by your ISP (Internet Service Provider) or your cell service provider, it's not done on your end.
If your bandwidth is being throttled you need to call your provider to find out why and find out what you're doing that is causing them to throttle your bandwidth. It's not something you can control other than by knowing your providers' limits and keeping your bandwidth usage below the limits your provider(s) set.
---
JoAnn asks about BitLocker
Hi Darcy or TC. Thank you for all you do for us! I saw this article on BitLocker Drive Encryption for Windows 10. I don't see it on my PC and wondered if I should download it and add it for extra protection. Always appreciate your help and time! JoAnn
Our answer
HI JoAnn. Thank you! BitLocker does not come with Windows 10 Home; it comes with Windows 10 Pro and Enterprise. You can't download BitLocker and install it on Windows 10 home. There are encryption utilities from 3rd-parties but we've never used them or recommended them.
Make sure you use a good password or PIN on your computer if you're concerned with privacy. For most home users password/PIN protection is plenty.
Most of the time users have data stolen because they are tricked into downloading malware via phishing mail or tricked into logging into fake bank sites, etc., or by being tricked into giving email passwords.
Home users are almost never hacked directly – home users' devices are not very high-value targets. Hackers do not target home users; they target businesses where rewards are greater. Hackers can be spammers who send out millions of phishing emails with links to counterfeit sites, password-stealing malware, or other malware. Remember, most personal information and identities are not stolen – hackers trick people into giving up personal info.
We hope this helps.
——-
JoAnn wrote back: "Hi TC. Thank you! Thank you! Thank you! That really helped me understand so much! I truly appreciate your expertise and way of explaining things! Sincerely, JoAnn."
---
Sandy asks about MajorGeeks and CCleaner
Some of the fellas I'm friends with are looking to download CCleaner. I told them what you said, even sent them the link to what you said about CCleaner. I told them I don't trust anything or any programs till I check them out with you. And I told they should do that too. One of them told me that he uses Major Geeks to check everything out. What is MajorGeeks and is it safe? It can't be as good as you people. I don't trust anyone but you.
Our answer
Hi Sandy. Thank you so much. Major Geeks is basically a software download site with recommendations. It was number 2 on our safe download sites behind our top-rated download site, Snapfiles.
We are not a software download site so our site does not rely on the number of downloads we serve for our popularity. In the case of CCleaner, the article we wrote was about Microsoft warning Windows 10 users not to install it. Once CCleaner was purchased by Avast it became (in our opinion) untrustworthy.
Here is our chronicle of what happened to CCleaner after Avast bought it:
https://www.thundercloud.net/infoave/new/avast-buys-ccleaner-then-distributes-an-infected-hacked-version-to-users/
https://www.thundercloud.net/infoave/new/ccleaner-now-comes-with-advertising/
https://www.thundercloud.net/infoave/new/ccleaner-does-it-again/
https://www.thundercloud.net/infoave/new/ccleaner-avast-still-playing-games-with-users/
https://www.thundercloud.net/infoave/new/windows-10-warns-users-not-to-install-ccleaner/

Each time Avast was caught changing CCleaner with ads, collection of user data, they "fixed" it and then turned around and did something else to it. So you may well see Major Geeks offering CCleaner for download without mentioning the tainted history it has had since Avast bought it.
And I can't tell you whether you can trust Major Geeks as much as you do us – that's a decision you'll need to make. We tell it like it is — and always will.
---
Isabelle wants to know how to tell when it's time to update drivers
I have followed you for many years. I love your newsletters and suggestions. Now I need your help. My husband and I are wondering how do we know if our computers are running with outdated drivers? Is there a way to find that out and which ones would need to be updated even if they are not outdated? Is there a list and where could we find that? I am afraid to just look on the Internet and then make a huge mistake by downloading and deleting something that was perfectly okay. Could you please help us out? Maybe you mentioned this in your newsletters before, but I can't find it. Your help is appreciated. I hope that you will always be here to help us! Thank you so much and stay safe. Isabelle C.
Our answer
Hi Isabelle. As we have always said: "If it ain't broke, don't fix it."
If everything is working correctly, you do not need to update any drivers. And a reminder: One of the worst things you can do is install a driver updater program. Those types of programs almost always cause major problems.
Windows 10 update does some driver updates automatically.
But basically, remember this – you need to worry about updating drivers unless a hardware device is not working correctly.
We hope this helps you.
———–
Isabelle wrote back: "Hi TC. Thank you for your prompt reply, it did help. Have a great day and a safe week ahead of you. Isabelle."
---
Bev says her touch keyboard taskbar icon is no longer working properly
Suddenly my Touch keyboard (still visible on the taskbar) does not work. If I bring up the keyboard in settings, the emoji button is not there. I'm not sure if it was after updating Windows or Thunderbird. I have queried thunderbird but there doesn't seem to be any subject about it.
I wondered if anyone had the same problem or if you or anyone knows how to fix? I have searched the internet but all I get is how to get the touch keyboard icon onto the taskbar. I am using Windows 10 version 1909. Thank you, Bev P.
Our answer
Hi Bev. First of all, you can open the emoji panel using Windows Key +. (Period) or Windows Key + ; (semi-colon), so if your touchscreen keyboard is not working correctly you can open the On-Screen keyboard by typing OSK in taskbar search and pressing ENTER.
Next, try right-clicking on your taskbar and unchecking "Show touchscreen keyboard" . Then restart your computer.
When your computer restarts, right-click on your taskbar and check "Show touchscreen keyboard". Then try it. See if it works. If that does not work, let me know.
—–
Bev wrote back: "Wow! I knew you could do it. I have the Keyboard back. I wonder why it had quit? Oh well, it is fine now so I will keep these instructions for later. (hope I don't have to use it then). Your letters, tips & tricks are the greatest. Keep them coming. I love your site. Bev P."
---
Jack's spell checking stopped working in Chrome
Good Morning &Happy Monday. If my memory serves me correctly…some time ago you said Google Chrome has a built-in spell checker. It was working fine for me, but a week or so ago it disappeared. Is there a way to get it back wherever it may be? "Thank You" for all your help thru the years with Premium Issues and daily updates. I especially appreciate the way you explain things so even a non-geek like me can understand. Again "Thank You"…keep up the good work & take good care of each other…Jack

Our answer
Hi Jack. Thanks so much. Since turning on Spell Checker in settings didn't work for you, then it seems to me you have something installed on your computer that is superseding the built-in spell check in Chrome- for instance, a browser extension. Or it could be that your Chrome browser is corrupted and needs to be repaired.
You can try repairing Chrome; just follow the simple instructions on this page.
If that does not work then you'll need to figure out what you installed on your system that is blocking the spell check in chrome – I would guess some kind of spell checking application or extension, but just a guess.
Let me know if you need more help.
Jack wrote back: "Thank you for your help! Repaired Chrome as per your instructions. Back in business. When talking about computers with friends I always mention the two of you. They ask if you are really good. My answer is always the same, I simply say "You are the best…bar none." Some you have helped are of the same opinion. Stay healthy & happy. Jack."
---
Jody wants to know if there's a way to get a retrieve a password from Chrome.
I would love to know if there is a way to retrieve a password that I let Google save and I've forgotten the password. Thanks a million for your help. Jody
Our answer
Hi Jody. You're in luck. It's really easy to retrieve a password from Chrome. Just to this:
1. Click on the "3 vertical dots" icon at the top right of the browser
2. Click on "Settings" in the menu that appears.
3. In settings, scroll all the way to the bottom and click on Advanced
4. In Advanced settings scroll down until you see "Manage passwords". Click on "Manage passwords". Look for "Saved passwords". Click on the "eye" icon to see any password in plain text that you have saved in Chrome. If your Windows account is password-protected, you'll need to type in your Windows password to see your passwords in plain text.
We have a tutorial that will help you too. Just visit this page – and see step-by-step how to manage passwords with Chrome and how to see whatever passwords Chrome has saved.
We hope this helps you, Jody.
---
Dianne's computer won't start after an update
My computer was acting strangely after an update and I tried doing a system restore. Unfortunately, I think it got caught in a loop, but I left it overnight, and wouldn't you know my hydro went out. Now I have a blank screen. I can get into it using f8, but it says it cannot be repaired. Is there anything else I can do to get my computer back? Will a windows repair disk help and how do I use it.
Our answer
Hi Dianne, try starting your computer this way:
1. Turn your PC off with the power switch
2. Leave it off for 5 minutes.
3. Hold down the SHIFT key and then turn on the computer (keep holding down the SHIFT key)
4. Continue to hold down the SHIFT key until you see the Advanced Boot Options menu
5. From the Advanced Boot Options menu, click on Troubleshoot and try running Startup repair.
You cannot fix a Windows version update with system restore, you have to use System > Update & Security > Recovery > Go back to the previous version of Windows (See our article here).
For cumulative updates, you can uninstall the offending updates by going to Settings > Windows Update > Update History. See our article about the Advance Boot Options menu.
You should only use system restore if you download and install something that causes problems or if you accidentally install malware. System Restore is not a good choice for rolling back problematic updates.
You can boot your computer with a Windows 10 installation disk which you can make by following the instructions here. Once you use it to boot your PC, you will be able to Reset your computer which saves all your files and reinstalls Windows – but you'll need to reinstall all the programs you use.
I hope this helps you – please let us know if you need more help.
---
Sharon wants to create a taskbar shortcut for Gmail
I have checked out several sites on how to make an icon on the taskbar for a shortcut (icon) to Gmail., but nothing works. I downloaded Chrome and use that but have to go into the start page and then Gmail.
Our answer
Hi Sharon. You can make a shortcut to Gmail on your taskbar this way…
Open Gmail in the Google Chrome browser. While your Gmail page is open, click the three vertical dots in the top right corner of the browser –> hover over More Tools –> click Create Shortcut… –>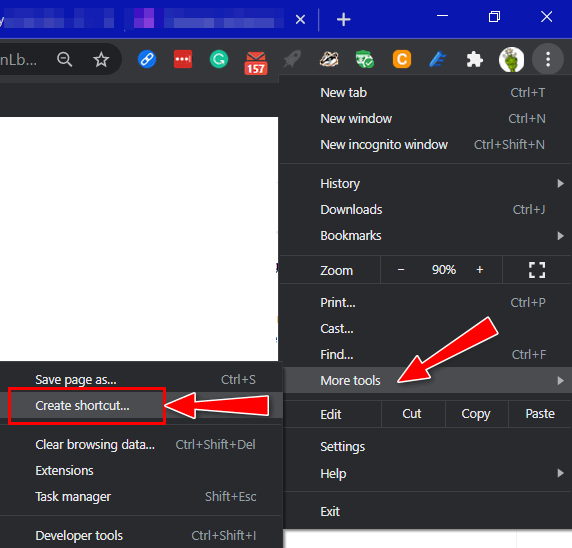 Tick the box next to "Open as window" … this will make sure Gmail opens separately from any other tabs or in any open browsers.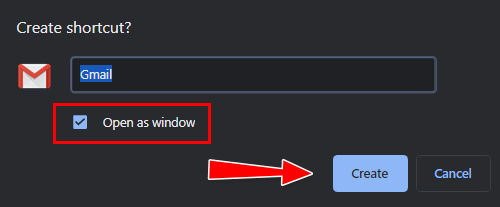 Gmail should open immediately. Now, look in your taskbar and right-click on the Gmail icon, and then click "Pin to Taskbar".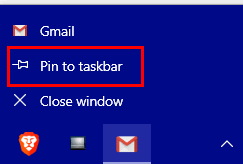 This creates a taskbar shortcut with the Gmail icon.
You can drag the icon around on your taskbar to place it exactly where you want it.
Hope this helps you, Sharon.
---
---

Check out our special Holiday prices on SeniorPass, Cloudeight Direct Computer Care Keys, Emsisoft & more.
CYBERWEEK OFFERS ARE GOOD THROUGH  MONDAY, DECEMBER 6, 2021