Delete All the Diagnostic Data Microsoft Has Collected About Your Windows 10 Computer
This tip applies to Windows 10 Version 1803. Don't know your version of Windows 10 – learn how to  find your Windows 10 version here.
Microsoft has been under fire for its collecting so much data about Windows 10 users. Windows 10's telemetry phones home to Microsoft purportedly to help Microsoft improve Windows 10.
With the release of the April 2018 Update (Version 1803, Microsoft is much more transparent about the information it collects from you. Now using its Diagnostic Data Viewer app, you can erase most of that information by clicking a "Delete: button.
If you're using Windows 10 Version 1803, go to Settings > Privacy > Diagnostics & feedback, and choose what you share. You can choose to share a minimum amount of information (Basic) or share a lot of information (Full). You can see that I'm using a Windows 10 version from the Windows insider program and Basic is pre-selected. But you can see choosing "Full" would give Microsoft a lot of information – including the Websites you visit.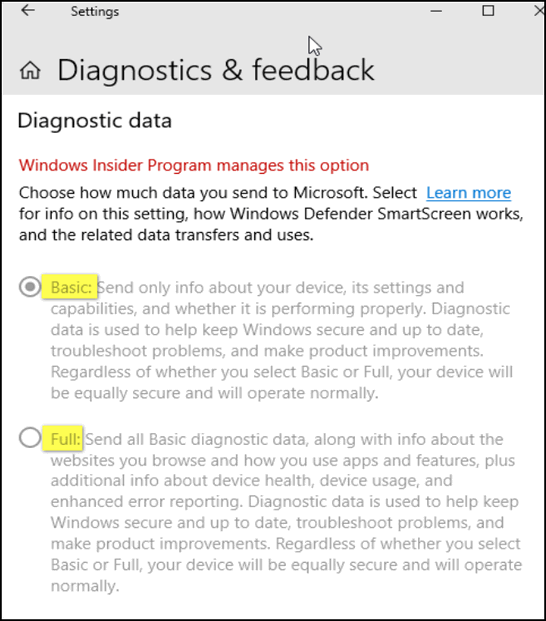 After you select your sharing level – Basic or Full –  scroll down past "Inking" and "Tailored experiences" and you'll see "Diagnostic data viewer". You'll need to turn the switch beneath it to "On". Once you click the Diagnostic Data Viewer button, you'll be on your way to the Microsoft Store where you'll install the Diagnostic Data Viewer app. When you run the app and you'll be able to see everything Microsoft has collected about you – but be forewarned: Don't expect to find easy-to-understand English – it's a lot of techno speak. But if you are willing to spend some time, you'll be able to make some sense out of it. This data can take up to a gigabyte of space. That's a lot of data.
Now let's delete the data… Beneath "Diagnostic data viewer", you'll see "Delete diagnostic data". And under it is the Delete button. Clicking the Delete button deletes all of the diagnostic data Microsoft has collected from your computer.