How to Sort Bookmarks in Chrome and Firefox
How to put Chrome bookmarks in order by name
1. Open Chrome
2. Click on the Menu icon in the top right corner… (3 vertical dots)
3. In the Menu which appears — click Bookmarks ==> then Bookmark Manager.
4. Highlight the folder (on the left) you want to organize.
5. Above your Bookmarks, on the right, click the 3-vertical dot icon to Organize your bookmarks.

6. Click Sort by name.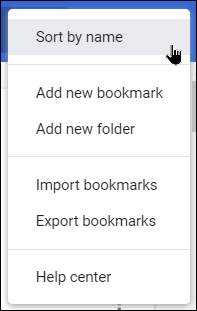 Your bookmarks will be sorted in order by name.
---
How to sort your Firefox bookmarks in alphabetical order
1. Open Firefox
2. If you don't see a toolbar at the top of Firefox press the ALT key
3. From the toolbar, choose "Bookmarks" then "Show all bookmarks"
4. When the Bookmarks library dialog opens, click on the bookmarks folder you want to organize to open it.
5. Click on the arrow to the right of Views and choose "Sort" from the dropdown menu
6. Choose "Sort" then "Sort by Name" and "A – Z Sort order" (See screenshot below.)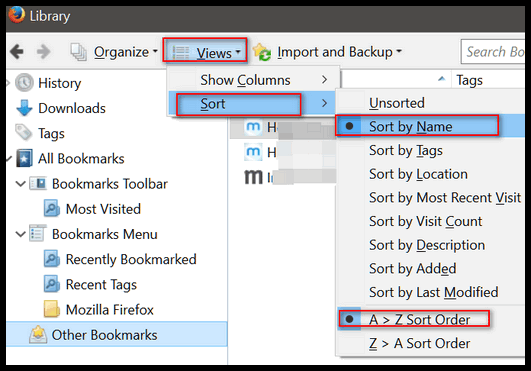 We hope this helps you get organized!