Microsoft Office Online
We received an email this morning that reminded me to remind those of you who want to create and open MS Office files that Microsoft offers a free online version of MS Office that's quite good. And though it is not a desktop application, MS Office Online is the closest you'll ever come to legally acquiring a free copy of Microsoft Office. Microsoft Office Online was created by Microsoft no doubt as an answer to Google Docs, but unlike Google Docs it has the Office applications with which you're no doubt familiar.
And let's be honest. Yes, it's true, it is a trimmed-down version of Microsoft Office. It lacks many of Microsoft Office's advanced features. But if you want basic Microsoft Office features, Microsoft Office Online may be just what you're looking for. Microsoft Office Online has online versions of MS Word, PowerPoint, OneNote, Outlook, and Excel that you can use free of charge.
Most file types that work with Microsoft Office will work with Microsoft Office Online. And that means you can edit any file and then save a copy to your computer or save online. You can also create files using Microsoft Office Online and save them in the cloud or download them to your computer

MS Office applications available with Microsoft Office Online are shown above.

Open a recent document or file, a document you've pinned, or one that was shared with you.
Upload a file from your computer to MS Office Online and edit it.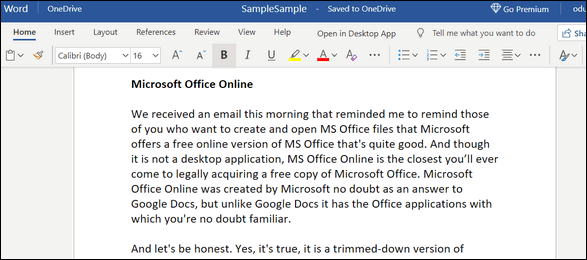 Edit a document using MS Office Online. In the screenshot directly above I'm editing an MS Word document I uploaded from my computer. You can also create new documents. And when you're done creating or editing a document, you can download the file(s) to your computer, save them online, or share them with others.
And just one more thing… You'll need a Microsoft Account (in other words a @hotmail, @outlook.com, @live.ca, @live.com or @msn.com email address) to use Office Online.
Get more information and/or sign in to Office Online with your Microsoft account here.
If you don't have a Microsoft account you can create one here. It's free and easy.