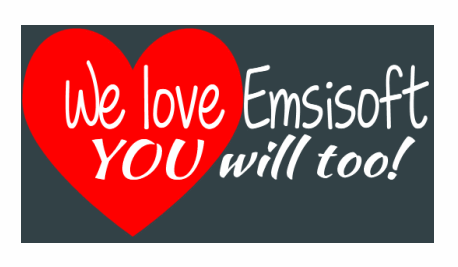 We Love Emsisoft and we know you will too. That's why we're presenting this crazy special offer!
We know if you try Emsisoft, you'll love it as much as we do. And we're not the only ones who love it either… Emsisoft just won the 2014 Top Rated Product Award from the prestigious independent antivirus testing lab AV-Comparatives"  That's quite an honor and it just proves we're not the only ones who know it's the best antivirus and antimalware you can install on your computer. It's the only security software program that protects you from PUPs too.
We'll clean your computer, we'll optimize it, we'll go over it to make sure it's free from Trojans, viruses, PUPs, and other malware, then we will remove your current anti-virus and install Emsisoft for you – and if that's not enough for you…WE WILL GIVE YOU A FREE EMSISOFT LICENSE good for 90 days – so you really have a chance to see how well Emsisoft protects your computer. And we'll do this all for just 30 bucks!  (That's $30 to those of you outside the USA.) Now don't you wanna know more? YES! You do!

We love Emsisoft and YOU will too! Get more all the details about this crazy special offer here.