Cloudeight Direct Computer Care
Windows Mail Setup for Windows 7 & 8.1
Missing Windows Mail or Outlook Express since updating to Windows 7 and 8.1? Are you putting off the update so you don't lose your tried and true email program? We can fix that for you!
If you're using Windows 7 or 8 and you've been unhappy that Microsoft took away Outlook Express / Windows Mail — we have some good news for you. You can use Windows Mail again! You can use our scrolling stationery again too.
We can make a direct connection to your computer – work our magic and in just a few minutes you'll be using the email program you've been missing. We anticipate many will take advantage of this offer, so with that in mind, your appointment may be scheduled a week or so out. Order below, of if you prefer to order by regular mail, click here.
If you miss Outlook Express / Windows Mail – we can install Windows Mail on  your Windows 7 or your Windows 8.1 computer for you!  Visit this page for more information or to order you Windows Mail Set-up session right now!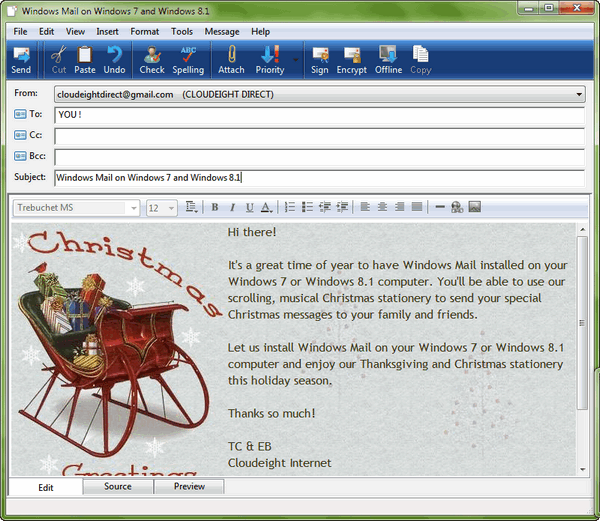 Windows Mail running on Windows 7 Home Premium. Works great on Windows 8.1 too!
Would you like to have Windows Mail running on your Windows 7 or Windows 8.1 computer too? Visit this page for details.