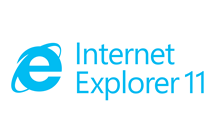 The following is from the Microsoft IE Blog. Please do note that the opinions expressed are those of Microsoft and not those of Cloudeight. The 30% faster makes us wonder — 30% faster than what? Faster than IE 10? Faster than other browsers. Are there such things Unreal world web site? Alien web sites? Anyway, we're just the messenger — install IE 11 if you like.IE 11 seems an awful like IE 10 to me (TC) – EB will probably love it.
Internet Explorer 11 (IE11) is available worldwide in 95 languages for download today. We will begin automatically updating Windows 7 customers to IE11 in the weeks ahead, starting today with customers running the IE11 Developer and Release Previews. With this final release, IE11 brings the same leading standards support–with improved performance, security, privacy, and reliability that consumers enjoy on Windows 8.1—to Windows 7 customers.

And with Windows 8.1, IE11 delivers the best experience of your sites and apps together. IE11 on Windows 8.1 delivers an experience that is fast, fluid and perfect for touch – the best Web experience on any tablet.

30% faster for real world Web sites

With IE11 we continue delivering the best performance for real world Web sites on your Windows device. IE11 on Windows 7 improves performance across the board with faster page loading, faster interactivity, and faster JavaScript performance, while reducing CPU usage and improving battery life on mobile PCs.

You can experience IE11's leading performance first hand with demos on the IE Test Drive site where you'll find examples of hardware accelerated rendering, interactivity, touch, and real world site patterns. EtchMark is a new test drive demo that's an entertaining HTML5 retro-drawing experience, one that also enables you measure your browser's performance.
If you're ready for "30% faster"  on "real web sites"  – download IE 11 for Windows 7 by clicking here.
If you want to go 50% faster on unreal Web sites, browse the Web with TC.