Windows 10 Version 1903 May Allow Users to Delay Updates
While many of you are still waiting for Windows 10 Version 1809 (October 2018 Update), Microsoft is busy working on the next version of Windows 10 – Version 1903 – tentatively scheduled for release in April 2019. 
One of the features that is currently showing up in the insider version is a setting on Windows 10 Home that allows users to delay Windows Updates.  Until now, only Windows 10 Pro and Enterprise have allowed users to delay updates, but it looks like Windows 10 Home users will be able to delay updates when version 1903 is released. 
We're currently testing the "Insider version" of Windows 10, and this change showed up in Settings > Update & Security: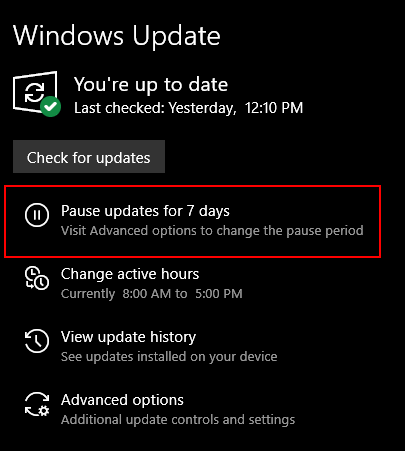 This setting allows Windows 10 Home users to delay updates for 7 days.
Clicking on "Advanced options" brings up the "Pause updates" dialog, with a drop down menu allowing users to delay Windows updates for "7 days" (according to Microsoft).
Yet, as I clicked to open the drop down menu, I showed dates that were quite bit later than 7 days from today ( 08 January 2018). As you can see, the last date is February 12, 2019, which is over a month away.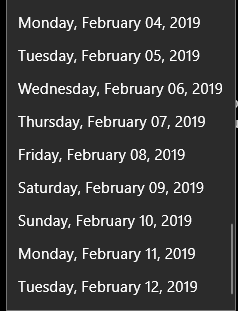 Anyway, it looks like Microsoft is going to have a setting so that Windows 10 Home users can easily delay updates for at least 7 days.  But keep in mind that these screenshots are from an insider build of Windows 10 , which is basically a beta version. From experience, we know that features in insider builds come and go like the witches in "The Wizard of Oz". 
We're hoping this new setting that allows Windows 10 Home users to delay updates – remains. It's something most Windows 10 Home users have been waiting for – let's just hope we all see it when Windows 10 version 1903 is released sometime this spring.
It should be noted, that as of now, after you delay updates and then click "Resume" updates, Windows will immediately check for updates and download and install any updates… and cannot be paused or stopped. We're hoping Microsoft modifies this.